[slideshow-1]
French photographer
Victor Habchy
traveled over 20 hours after a successful round of crowd-funding to reach Black Rock Desert for his first time at Burning Man. He has been slowly releasing his photos from the festival, accompanied by small captions describing the people he met. One such reads: "Because in one day, you can talk to a billionaire, climb on a robot-dragon, go to on a 'Ginger-themed' party, cross the city on a pirate ship and ending up the day on a very fancy restaurant made of glass and built for the occasion."
The Bay Area needs no introduction to Burning Man, as it was founded in SF and still has strong support here. But the original goal of Habchy's project as stated on his crowd-funding page is: "the festival covered through a different view." No matter how much you have seen or heard about the Burn, Habchy's images still stun. Already the youngest of nine Sony-sponsored
Team Alpha ambassadors
, Habchy's talent has reached an international audience with his outsider's look at Burning Man. 
[jump] His surreal images are the outcome of dust storms, funky fashion, and enormous art installations all mixing together to create sights that are so incredible that he frequently must defend them as un-photoshopped. Rather than just documenting the conditions and major events of the festival, his photos evoke the attitude and mood that he came to understand after numerous interviews with Burning Man attendees. Only small cameras are allowed at the festival, and resulting photos can't be used commercially, nor sold for profit.
We had a chance to talk to the self-taught, colorblind photographer about his ten-day adventure, his project, and becoming a part of the Burning Man community.
EBX: How did the weather and physical conditions like dust affect your experience and photography?
VH: It was terrible. But in such a positive way. When you struggle for basic things like drinking water which puts you in survival mode, you see everything differently. Honestly, it was really hard from a physical perspective. But then, everything is so sudden and so beautiful that you overcome your basic needs and are transported into this world of wonder, a place where you are reborn as a child and where everything becomes beautiful and rare.
Do you think technology has affected Burning Man since its beginnings?
I am not sure it has affected much the way people live there. You still have no electricity, no phone network, no internet connection. Your principal entertainment is basically to talk to a stranger and to get to know them, which remains the basic social need for humans since forever.
Were people sensitive about being photographed?
Depends what you mean by sensitive. They were, for sure, concerned about being a part of an artistic creation, but did care about the fact I could use their images for personal purpose. Everyone is so friendly that they are not afraid of anything, whether you can recognize their faces, whether they are naked, or anything else. The trust is so big, it is above everything.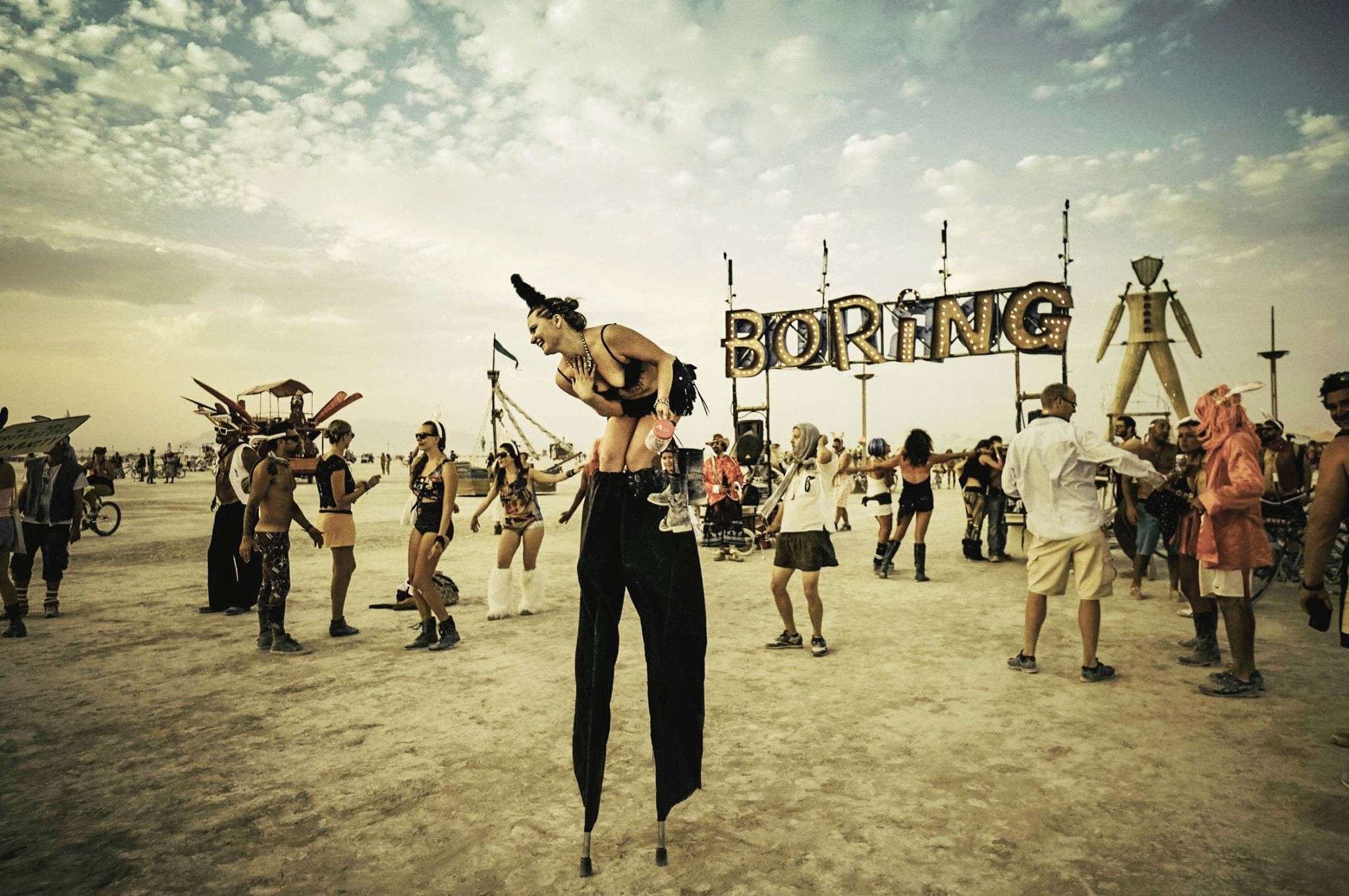 What is the essence of Burning Man to you?
To me, it's the fact that together, we can make something great, something beautiful, and something real. It is the hope that every single human can work together to build something magnificent, that selfishness can disappear when everyone is willing to put a brick in the wall of human achievement. 
What do you think Burning Man will be like in 10 years?
I might be one who will say "it was better before." But you know what? I talked to somebody that has participated at Burning Man for 17 years, and he told me: "Every year, I hear from someone that it was better a year ago. But that's not true. The best year was the first year you attended Burning Man, and it is not related to the year, only to your heart."
I am sure in 10 years it will still be the same, at least in its core motivation: Burning Man is not a week-long party, nor a place where you can do drugs, or walk around naked without troubles. It is much more, and I am confident it will stay the same.