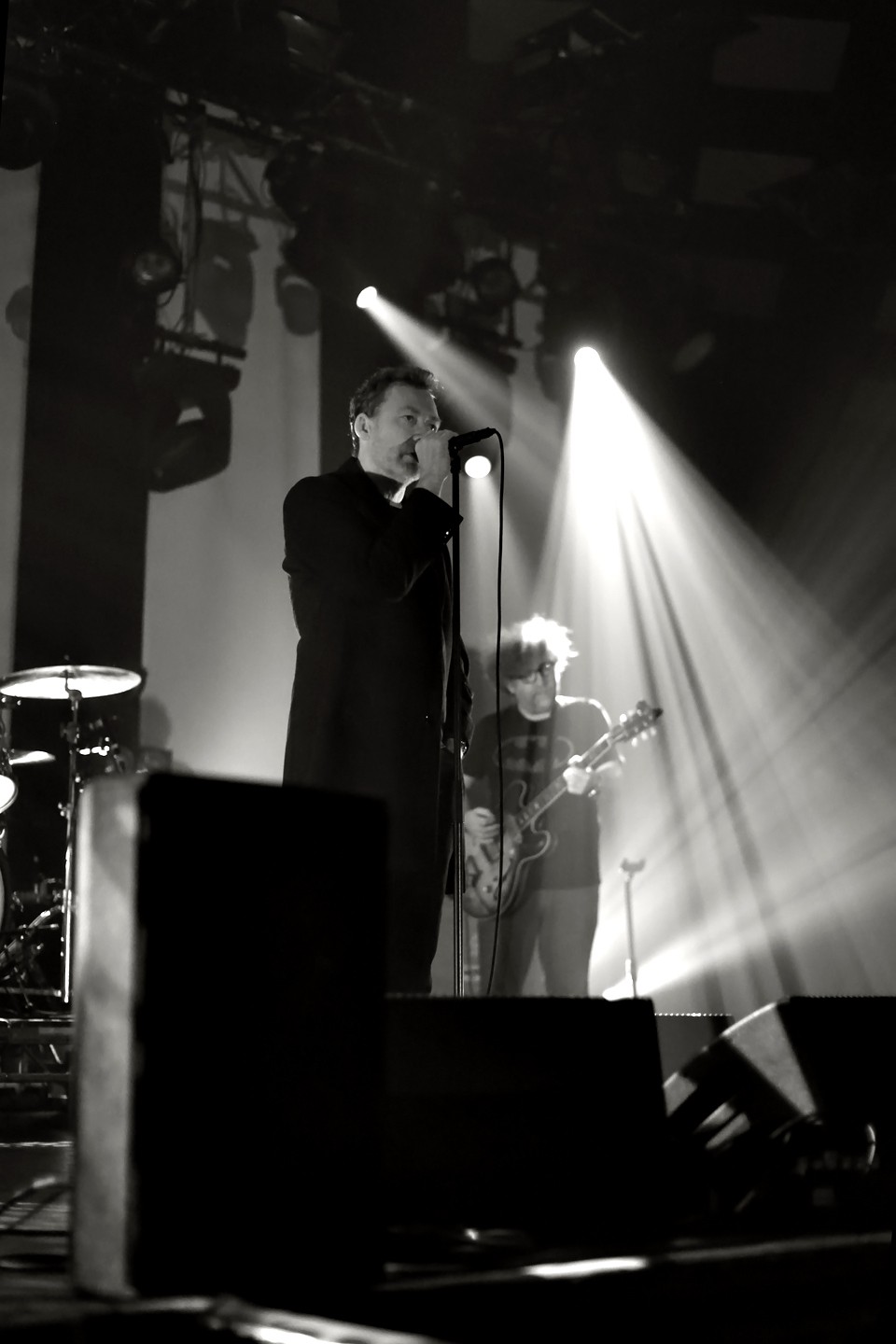 Psychocandy
has been a subject of revival since it appeared in 1985. On it, The Jesus & Mary Chain, helmed by Scottish brothers Jim and William Reid, triangulated the simplicity of 1960s bubblegum pop, the leaden thump of the Velvet Underground, and the sort of caustic guitar scree that reprobates have conjured from the instrument ever since the first one broke. This formula is always fashionable, but the contrarian Red Bros. discarded it by their next album,
Darklands
, which foregrounded hooks over the icky stuff. Still, as lead vocalist Jim Reid explained in a recent interview, other things don't change: rehearsal is loathsome, producers are basically useless, and the Reids' tempestuous fraternal relationship remains a core essential of The Jesus & Mary Chain. Also, Jim's
distinct Scottish brogue
is intact.
The Jesus & Mary Chain: 30th Anniversary of Psychocandy tour stops at The Warfield (982 Market St., San Francisco) on Saturday, May 16 and Sunday, May 17. 7 p.m. $35-$45.
TheWarfieldTheatre.com
[jump]
Certain songs, such as "Just Like Honey," have been live staples for a long time. What's it like returning to the
Psychocandy
songs that you might not have touched in thirty years?

One of the reasons we were finally persuaded to do this
Psychocandy
material — because we did resist it for a while — was that it suddenly dawned on us that there were songs on the album that we'd never played live. There are a good three, four, five songs that just didn't get included in the set. It probably comes down to our laziness and the fact that we didn't like rehearsing too much.
What songs hadn't made it into the set before?
To my knowledge, we never played "Cut Dead," "It's So Hard," "Something's Wrong," "My Little Underground," probably others. I can't remember why. We got a set and stuck with it. We hated rehearsing, as I said. By the time that got round to going out and playing
Psychocandy
we already had some of the songs from Darklands too.
Do y'all still hate rehearsing?

Ah, I detest it. I can't stand rehearsing.
How long does rehearsal typically last?

We do it because we have to, or it'd be a complete fucking mess. Back then we didn't care and we'd just rehearse every once in a while. Now we actually want to play the songs through.
What makes rehearsing tolerable?

Drinking! But the thing is, when we drink, we fight each other.
What effect does that hostility have on your music?
It's in there. The tempestuous relationship between my brother and myself has had an impact on what the band is. Had we been making each other cups of tea and helping each other out it wouldn't have been the Mary Chain and it certainly wouldn't have been
Psychocandy
. Part of the dynamic was that we both loved each other and hated each other at the same time. Those kind of a weird, confused emotions come through on every Mary Chain record there is.
I reviewed your show at The Fillmore in 2012. It seemed like the two of you were bickering, which I thought was pretty cool.

We always do. A lot of people think it's part of the image or what have you but we really don't get a long. It's just the way it is. We fight a lot. We try not to. There's a line that we can't cross. If we want to get the job done we have to at some point get out of each other's way. But if we're in an enclosed environment long enough we're at each other's throats. That's just the way it is. It doesn't help if you chuck some alcohol in the mix. That just makes thing worse.
Remember anything in particular about the last San Francisco show?

To be honest, no. I was probably pretty drunk. When you're on the road and you're drinking every night it's like one big show.
Do you and William see each other often when you're not on tour?

Well, he lives in Los Angeles and I live in the Southwest of England so there's a good few thousand miles between us. That seems to suit us both. We're not constantly trying to rip each other's throats out. There are times when we're fine, but eventually we'll argue about something. If anything's changed it's that in the beginning we'd argue about the music and somewhere along the line we started arguing about anything.
You've been playing again since 2007. What's up with a new record?

There's been talk about the album but as usual we've had a difference of opinion about how to go about it. Now we've finally started to — oh, god — started to
agree
with each other about how to approach the record.
What direction are you in favor of?

It's not about the sound so much. When we got back together in 2007 my kids were pretty young and he wanted to record in Los Angles. I didn't want to leave my kids. Also I didn't see the point of recording in an expensive LA studio. I wanted to do it quickly on Protools and not to travel. He's coming around to the idea of recording on a computer so it's starting to look like it will happen.
Who's in the band now?

We've still got Brian Young on drums. Phil King was on drums and Mark Crozer was on guitar, but they've switched around. Then there's me and my psycho brother.
One thing you've discussed a lot throughout the years is rejecting the idea of a producer. John Loder at Southern Studios engineered
Psychocandy
. Can you talk about working with him and what sort of bearing it had on the record?

At that time, we had a few aborted attempts to record the album. We kept running up against the same narrow-minded engineers or producers, call them what you will. We seemed to confuse a lot of people. It was a bit of a struggle. We got in touch with John Loder and went down thinking it'd be same shit — some guy saying, "Oh, you can't do that in my studio, Sonny Jim."
As it turns out, John was on our wavelength. We didn't know anything about recording studios, but he'd set the desk up and go to his office upstairs, since he had a record label, and just left us to our own devices. We hadn't a clue what we were doing. There were a lot of happy accidents — push a button and it starts screeching and going fucking bananas. We'd go, ah, that sounds good. We'll keep that.
Nowadays no one really needs a producer, with the accessibility of recording gear and what not.

Yeah, honestly maybe we gave producers a bad rap with the Mary Chain. We weren't against the idea of a producer who could bring something. With record companies it would be like you
had
to have a producer and we didn't see why. We knew how we wanted to sound. It was like you had to filter your ideas through another person, which seemed pointless to us. Had someone walked into the room and suggested something that sounded great we would've run with it. But we never met that person.