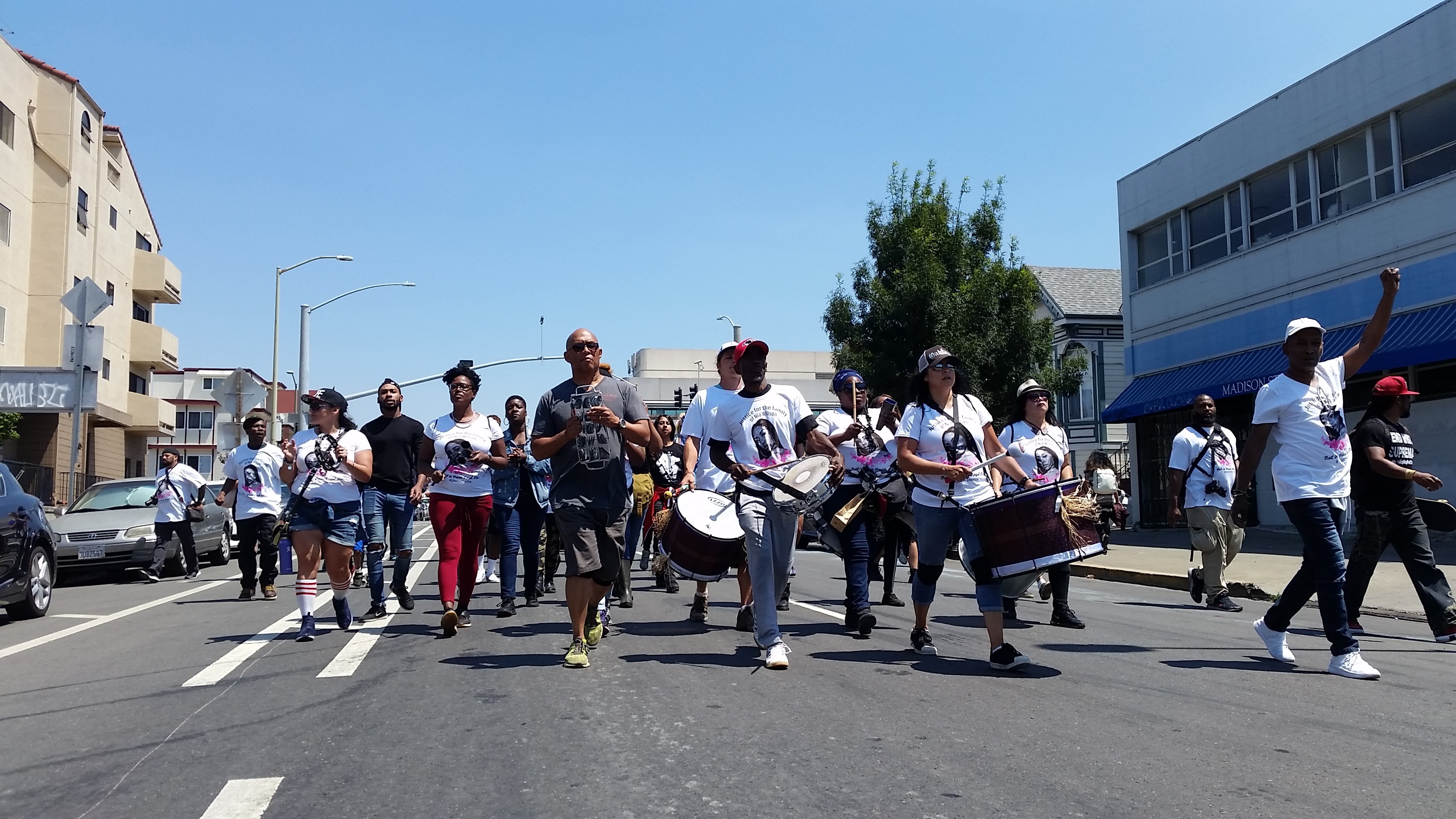 Roughly 50 protesters marched through the streets of Oakland today to demand accountability from local television news station KTVU for the airing of a photo that appeared to show Nia Wilson, the 18-year-old Black woman stabbed to death Sunday night at the MacArthur BART station, holding a gun.
It was actually a cellphone case. And for the community members, activists, and artists who rallied, the use of the photo represented a completely unacceptable act that perpetuated false and harmful stereotypes of Black Oaklanders.
"We have to send a message to Channel 2 [KTVU] and everyone else," said Theo Williams, a concerned community member and the artistic director of SambaFunk, a local collective for African Diaspora culture. "This isn't going to be another day where you get to say you're sorry and walk away."
KTVU, a Fox affiliate, aired the photo on July 23 during a noon newscast, less than 24 hours after Wilson and her sister were attacked by John Lee Cowell, a white man with a history of criminal activity and mental illness. Though police have not yet released a motive for the killing, community members say that the attack was most likely a hate crime, and that KTVU's use of the image must be seen in the broader context of the historic and growing racism in the United States.
"It's not just KTVU. It's the media," said Oakland City Councilmember Desley Brooks. "We have got to demand that they start treating African American communities, and people of color communities, with respect."
Brooks, Williams, and several other prominent Black community members spoke to a growing crowd at the Alice Street Mural this morning, addressing not only the death of Wilson and KTVU's actions, but also the structural violence that communities of color face. They also spoke of the need to respect and protect Black women.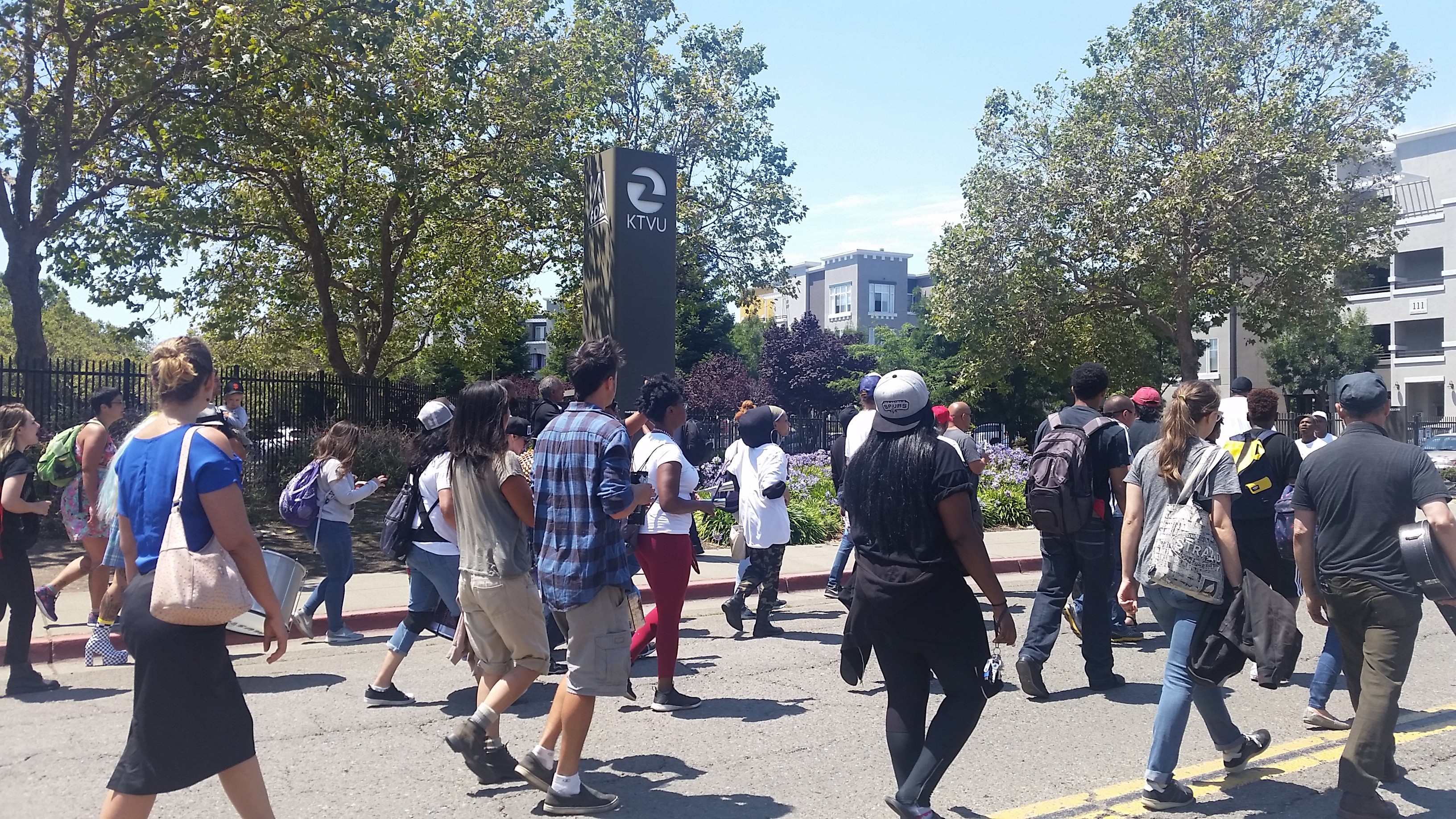 Public outrage spread quickly over social media shortly after KTVU's noon newscast. Frank Somerville, one of the station's anchors, quickly issued an apology for the action over social media, and then during a later evening newscast. But many at the protest saw the apology as being tepid and in poor taste.
The day after, the National Association of Black Journalists, the Bay Area Black Journalists Association, and the Robert C. Maynard Institute for Journalism Education issued a press release condemning the news station.
"The use of the photo can be seen as an attempt to dismiss her [Wilson's] humanity and silence those who view her death as a racially-motivated attack," the press release states. "Such depictions reinforce unconscious bias, particularly against people of color, who are over-represented in stories about crime and violence."
But some, such as Bay Area reporter JR Valrey, see the station's use of the photo as something much worse. "This was a hate crime," he said. "They made the victim look like an aggressor."
This is not the first time that KTVU has come under fire for questionable content. In 2010,
protesters rallied against the station for a sympathetic jailhouse interview with Johannes Mehserle
, the BART officer who shot and killed Oscar Grant. Then, in 2013, the station
aired four fake and racially insensitive names of Asiana Airlines pilots
one day after a crash that killed three passengers and injured dozens of others at San Francisco International Airport.
Both incidents were referenced by speakers and demonstrators as further evidence that the station not only has a history of racism, but is part of a larger, systemic problem.
As protesters marched from the Alice Street Mural to the television station, they chanted "Justice for Nia Wilson," and "What are we for? Why are we here? Nia Wilson," to the beating of drums by members of SambaFunk. When the demonstrators arrived at KTVU's property shortly after noon, they began chanting, chalking the entrance, and setting up an altar in memory of Wilson while they waited for Amber Eikel, the news director of KTVU, to come out and hear their demands. Wilson's sister, Latifah, watched from a chair, surrounded by community members standing solemnly behind her.
As a helicopter from the Oakland Police Department circled overhead, protesters paid their respects at the altar. Libations, in the form of bottled water poured into small, potted plants, were also offered, as the names of Black youths taken before their time were shouted out: "Oscar Grant," "Trayvon Martin," and "Nia Wilson."
Eikel did not make an appearance, but almost two hours later, Paul Chambers, one of the station's reporters, came out of the gated parking lot with a camera crew to speak with the protesters and record their demands.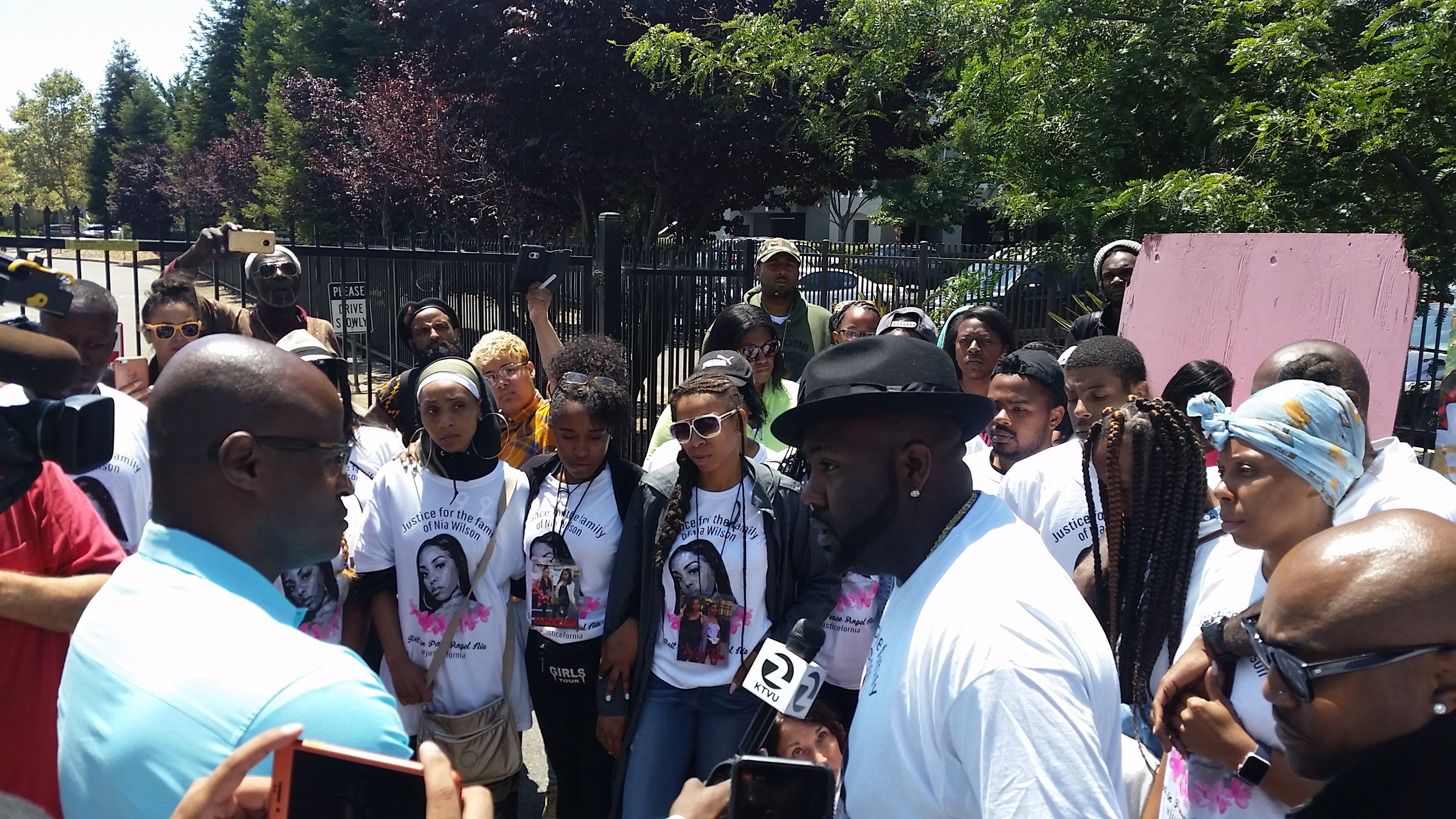 There were six: demonstrate accountability by firing those responsible, create a committee of Black Oaklanders to explore how and why the photo was aired, create a policy ensuring that similar incidents never happen again, distribute the policy through various local media organizations, start a Nia Wilson scholarship fund for students at Oakland High, and develop new internships at the news station for students of color.
Local Oakland rapper Mistah F.A.B., surrounded by protesters, spoke with Chambers in front of the altar, a large portrait of Wilson's face. Delivering the demands pragmatically, he spoke of the need for respect and dignity in this moment of hardship for the Black community.
"The criminalization of us as a people has gone on for far too long, and for us to be criminalized when we're hurting is wrong," Mistah F.A.B. said. "For years, we've been fighting for civil rights. What does that mean? It means we need someone to be civil with us."