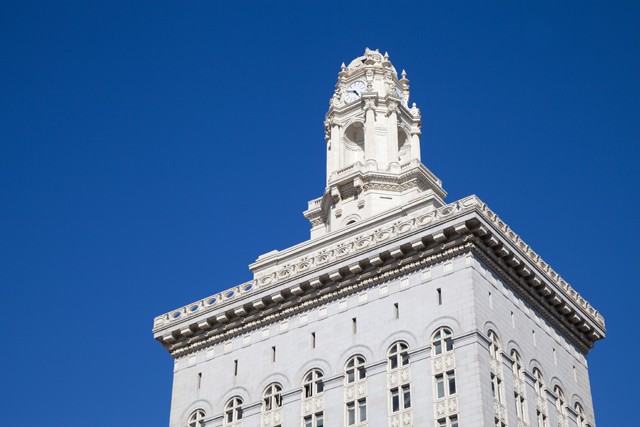 Democracy can be messy, but does it have to be
this
messy?
The last Oakland City Council meeting was a demonstration of just how messy democracy can get. The minutes haven't been published yet, but the KTOP video recording of the July 24 meeting is 10 hours, 52 minutes, and 25 seconds long. The meeting was scheduled to start at 5:30 p.m., which means that the party broke up around 4:22 a.m.
That isn't democracy, that's a raging party. Or, in the case of the city council, a raging wildfire.
Like most Oakland residents, I was asleep for most of that, even though there were several issues on the agenda about which I feel strongly enough to express my opinions to my city councilmember. The city council literally meets under cover of darkness while the people sleep.
The Washington Post
is right: Democracy Dies In Darkness. No one should be expected to stay up that long to find out what our elected officials are doing. The only people who stay are the chronic insomniacs and the people who are paid to be there: council staff and lobbyists for real estate developers.
[embed-1] Marathon city council meetings are a huge disservice to this city. Here's how bad it is. Oakland is currently supposed to meet the 1st and 3rd Tuesdays of every month. If there's a 5th Tuesday, it's a special meeting. The meeting on July 10 was more than six hours long and adjourned at midnight because a majority of the council wouldn't agree to extend the meeting, so quite a few agenda items were moved to that epic July 24 meeting. The July 3 meeting was canceled. The June 19 meeting was convened at 5:38 p.m. and adjourned at 2:05 a.m. That's an 8.5-hour meeting. The June 5 meeting was canceled, as were all the June 12 and 14 committee meetings.
This can't be normal, right? I checked the city council minutes at four cities of comparable size in California. Fresno meets every Thursday at 9 a.m. The last three meetings for which there were published minutes were all under eight hours, ending in time for everyone to have dinner with their families. Sacramento meets every Tuesday at 5 p.m., and the last three meetings adjourned before 10 p.m. Long Beach is a little more all over the map. Their meetings start at 4 p.m. in closed session, with open session starting roughly at 5 p.m. Of their last six meetings, one was canceled, one ended at 12:42 a.m., one ended at 9:39 p.m., and the other three were finished by 7:40 p.m. The canceled meeting came after the one that lasted more than seven hours. In other words, they got their work done before they canceled, not after.
Santa Ana, the next smallest city after Oakland, also has its meetings on the 1st and 3rd Tuesdays of the month, starting at 5 with closed session and moving to open session right afterward. They list the times of their meetings on their website and none of the last four were longer than 4 hours and 53 minutes.
Oakland is out of the ordinary in many ways. It might be that we have a different style of government, or we have more problems. Maybe we have more active, engaged citizens, who are more likely to show up at council meetings. I doubt those are the reasons why our meetings are so torturous.
This data suggests several things that the Oakland City Council could do to be more sane, manageable, and accessible.
The city has reached a size where we need to have city council meetings every week. That alone might improve things, particularly if the agenda is actively managed to keep similar items together.

City council meetings should be moved to start earlier. Long Beach does closed session at 4 p.m. If Oakland isn't prepared to meet during the day the way that larger cities do. Like Fresno, the Los Angeles Board of Supervisors meets once a week at 9:30 a.m. San Francisco Board of Supervisors meets at 2 p.m. once a week.

Committee meetings should not be canceled. The agenda items that make it to the regular meeting should already be fully worked out and ready for a vote.

Special recognition of staff and citizens and special proclamations should be moved to their own special meeting once a month, held for this purpose. The first hour of every regular meeting does not need to be spent recognizing one or two individuals when housing and police reform issues go unaddressed.

Individual city council members must acknowledge their constituents who reach out before the meeting with comment, so that people do not feel like they must come to speak again and again, fearing that their opinions have gone unheard.

The current state of city council meetings excludes a huge portion of the Oakland community. The council's insistence on holding infrequent meetings, late at night, disadvantages those of us who want to have our voice heard but can't stay up all night to make sure we are able to do so. It's time to update the process to make the city more democratic.
Andrea L. Dooley is an 18-year Oakland resident, labor arbitrator, and writer. She also serves as an alternate commissioner on the Oakland Police Commission.