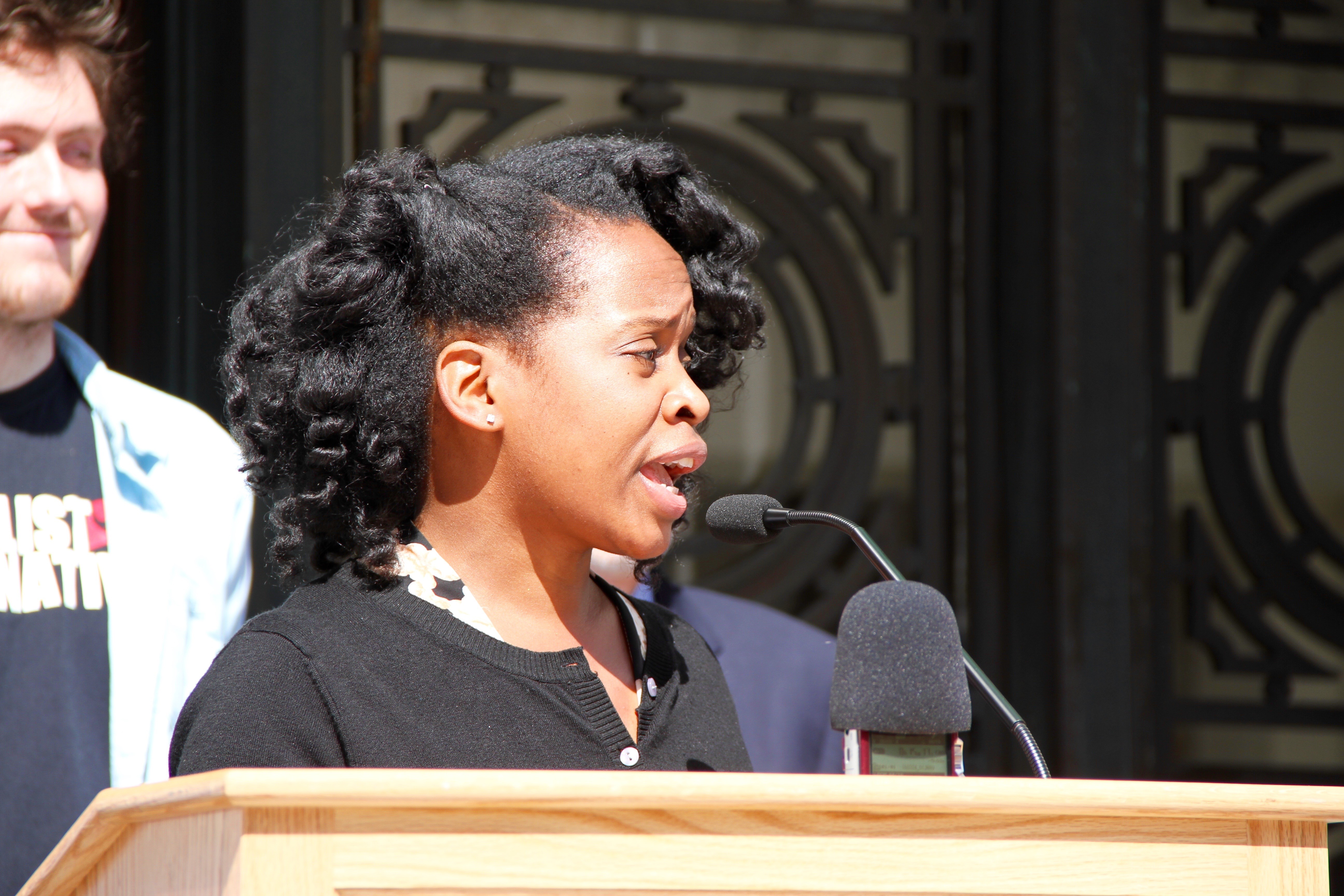 A broad-based political coalition has emerged in Oakland to campaign for three ballot initiatives this year that propose to raise the minimum wage to $20 by 2020,
establish a police commission
, and
strengthen renter protections
against eviction. Calling themselves the Oakland Justice Coalition, the group announced today at a press conference on the steps of Oakland City Hall that they intend to raise and spend at least $100,000 to campaign for their causes.
"We believe in solidarity among social movements and people who care deeply about the future of our city," said Carroll Fife, a member of the coalition.
[jump] The city council and Mayor Libby Schaaf are also considering making their own changes to Oakland's renter protection laws, and possible changes to the Citizens' Police Review Board, but not to Measure FF, the ballot initiative from 2014 that raised Oakland's minimum wage to $12.55.
But members of the Oakland Justice Coalition said they don't trust the city's leaders to do enough. The coalition's members have therefore
already filed three notices of intent
 with the city clerk's office, and stated that they will independently gather signatures to place their initiatives on the ballot, regardless of what the council and mayor do.
To qualify the minimum wage increase and renter protection ordinances for the November 2016 ballot, the coalition must gather 21,543 signatures from registered Oakland voters for each. The police commission proposal requires petition gatherers to collect 32,315 signatures because it would amend the city's charter.
The coalition's efforts are likely to run up against well-funded opposition from Oakland's landlords, the business community, and the Oakland police officers' union.
For example, two weeks ago, when members of the coalition announced their "Renter's Upgrade" ballot measure to strengthen eviction protections for tenants, the East Bay Rental Housing Association (EBRHA), a landlord advocacy group, issued a press release calling the proposal a "misguided change."
"The East Bay Rental Housing Association welcomes efforts to address the housing needs in Oakland," said EBRHA executive director Jill Broadhurst in a press release. "But once again, the owners of rental properties would bear the brunt of many of the changes proposed by the mayor and renter advocates." Broadhurst said most Oakland landlords own only a few properties and live on-property, and that landlords need to be able to evict "problem tenants" from their housing.
"[Landlords] invest heavily in their community and care greatly about quality of life issues — much more so than transient renters," said Broadhurst in the press release. "Driving these owners from the city would only destabilize Oakland's neighborhoods."
"Oakland tenants have struggled for over 30 years with renter protection laws that were written by landlords," said James Vann, another member of the Oakland Justice Coalition, at today's press conference. "In the midst of the worst housing crisis our region has ever seen, with rents growing faster than any other city in the nation, it is time for a measure that will ensure justice and fairness to tenants in danger of displacement."
Correction: the original version of this story misspelled Carroll Fife's name as "Carol Fife."