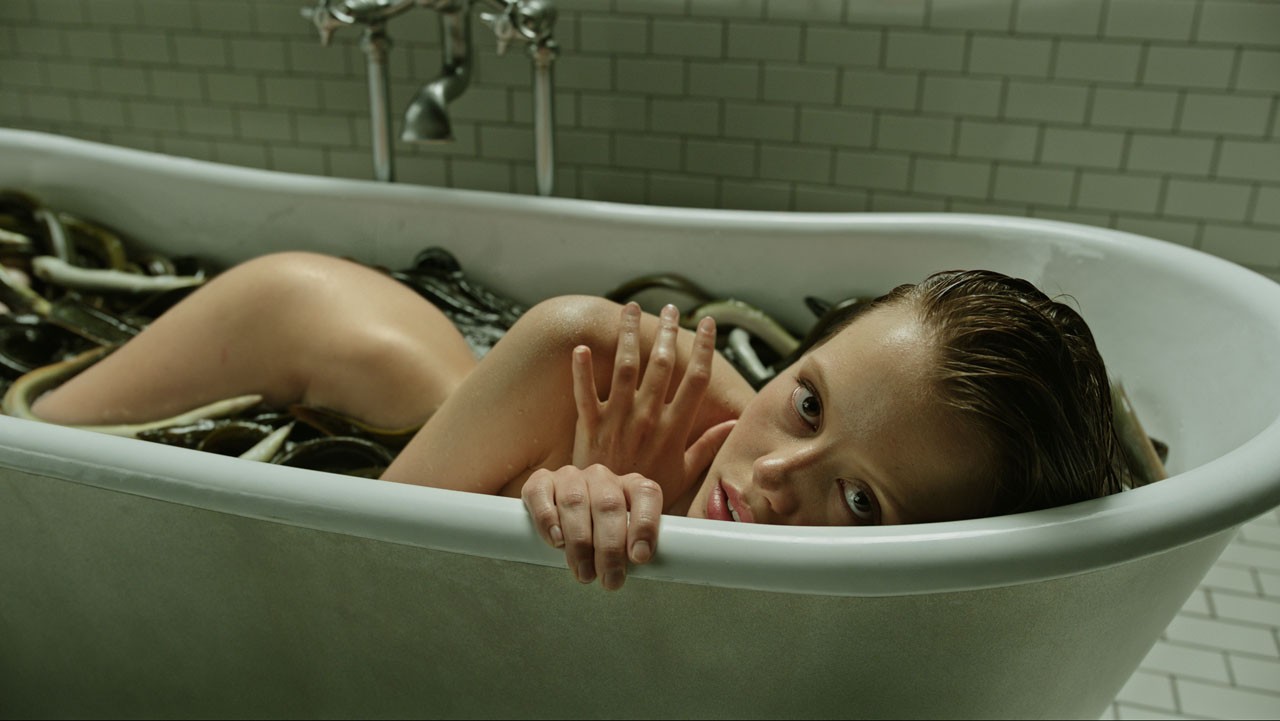 Gore Verbinski's
A Cure for Wellness
is monumentally silly despite its grandiose visual scheme and emblematic, humorless tone – both of which make it even more ridiculous. But that doesn't mean we can't have a little perverse fun watching Dane De Haan get put through the wringer at a sinister sanitarium in the Swiss Alps.
Actor De Haan (
Kill Your Darlings, The Place Beyond the Pines
), of the pallid face and weasel-in-the-henhouse expression, is aptly cast as Lockhart, a fiercely ambitious junior executive in a financial corporation that has a problem. One of their top earners has gone cuckoo at an exclusive spa in Switzerland and must be brought back home immediately. Lockhart has just the right attributes for the job — he's young, ambitious, and expendable, the ideal fall guy. And from the very beginning we hope he does fall. Lockhart radiates loathsomeness. He's the type of obnoxious business boy who deserves to get his foot run over by his Uber ride.
The sanitarium itself is a sinister place, a castle-like pile atop a mountain, decorated with deer heads and other oppressive Teutonic totems and dominated by the saturnine Dr. Volmer (Jason Isaacs) and his robotic blond staff. The patients are uniformly old and rich, and there's an odd docility about them that unnerves Lockhart, especially after an accidentally broken leg forces him to linger at the facility under Volmer's care. As if that weren't enough, in his idle moments Lockhart notices a pale, distracted teenage girl pacing the parapet up above — Volmer's zombie-ish "daughter" Hannah, played by the appropriately named Mia Goth.
How much more gothic can director Verbinski's screenplay — co-written with Justin Haythe — get? Plenty more, as it turns out. Before he's finished, poor Lockhart gets beaten by thugs, subjected to a dental torture session lifted from Marathon Man, and suspended in a large tank full of hungry eels (they're part of the iconology of the place). It occurs to us how closely mad scientist Volmer resembles Josef Mengele, but by then it's too late. We're trapped in a corny spook house full of naughty Nazis, creepy corridors, and terrifying tunnels.
Verbinski, who made the agreeably whimsical animated Rango but is forever cursed by having directed three of Johnny Depp's Pirate movies (not to mention the awful
Lone Ranger
), is obviously an artist who doesn't let things like a preposterous plot or creaky clichés keep him from larding on the high-priced visuals for their own sake. We can smell a video game here. The production design (by Eve Stewart) and cinematography (Bojan Bazelli) are of a richness, and Lockhart's ordeals are staged with care. Imagine
The Grand Budapest Hotel
as directed by the Brothers Quay. Or maybe the parts left out of
The Sound of Music
.
Annoying as he is, De Haan fits the role of Lockhart like a $900 hoodie; Isaacs' Volmer recalls a younger, cheaper Christopher Plummer from the dark side; and Ms. Goth (like Isaacs, a product of England) fills the need for this year's version of Mia Wasikowska. Verbinski's fans may eat this up, but scenery and décor can only carry a moth-eaten haunted-castle story so far, especially when Benjamin Wallfisch's (great name!) sappy female-voice choral theme comes on and Verbinski repeats grotesque motifs in the second half, just to pad out the running time. On second thought, cancel that post-movie snack of grilled unagi, please.