Dan Rush, the long-time face of union efforts to organize America's cannabis industry, pleaded not guilty Wednesday to federal charges of corruption, attempted extortion, and money laundering. Rush, an Oakland resident, faces up to twenty years in prison and fines of up to $500,000.
A federal grand jury in Oakland indicted Rush on September 17 with charges of taking illegal payments as a union employee, honest services fraud, and other crimes.
That indictment came after a bombshell affidavit in the case became unsealed in August. Rush was arrested on August 11 and posted bond for $500,000. The affidavit, and indictment contain a
litany of charges
.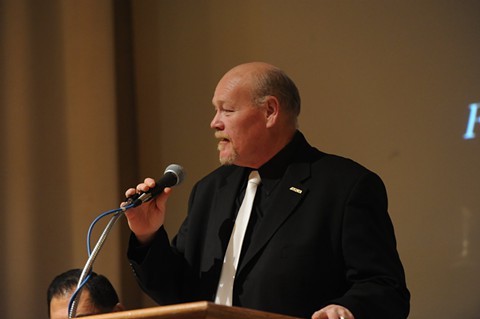 [jump] "Rush and a coconspirator formulated a scheme to obtain debt forgiveness in exchange for favorable treatment by the union," authorities stated in public documents. "The indictment also charges Rush with taking kickbacks from an attorney to whom he had referred medical marijuana dispensaries as clients. Rush, the indictment alleges, had a duty to provide honest services to the UFCW; that duty including refraining from self-dealing when interacting with the marijuana dispensaries whose workers it was his job to organize."
"In addition, the indictment alleges that Rush engaged in a conspiracy to commit money laundering and financial structuring, as well as substantive money laundering. The indictment and FBI agent's affidavit filed in the case explain that Rush took a loan totaling $600,000 in cash from a person engaged in the marijuana business. Rush and the attorney engaged in a series of structuring transactions designed to obscure the origin of the money. Over the ensuing years, Rush required the attorney to fund interest payments on the loan and, when Rush ultimately was not able to repay the loan, he offered favorable union benefits in exchange for forgiveness of the loan."
Rush is innocent until proven guilty. His not guilty plea Wednesday came with a strident statement online. He wrote on Facebook:
"Yes I was indicted today, why???! Because I refused to be their Rat and spread their Rat fabricated cases to other people (higher up and all around) in our Union and the Labor Movement (yes even the one's I don't like), and some other good and descent[sic] people, life long friends, elected officials, and others in the cannabis industry and political movements (and yes again even the ones I don't like). And, they had to stop one of their scum ball paid Rat's (and his son and their friend) in my case from stalking me and my family, everywhere (including in court)."
Four of Rush's associates, including his attorney Marc Terbeek, recorded conversations with Rush for federal anti-corruption investigators as part of a multi-year investigation. Terbeek is pleading guilty to related charges and cooperating with the government.
In one instance, Terbeek wrote a kickback check to Rush with the name of the dispensary associated with the kickback in the memo line of the check. Rush allegedly stated in a recorded conversation, "'Oh fuck'. … you know, you don't have to wrap the rope around my neck, buddy. I'm your brother."
The affidavit also states that Rush tried to get BLUM dispensary managers and parent company Terratech to subvert unionization at multiple dispensaries in exchange for money.
Rush allegedly told Terratech executive Derek Peterson, in a recorded conversation, that he wrote a "bullshit fucking [labor] neutrality agreement … specifically so you could pull away from it." BLUM is not unionized.
The United Food and Commercial Workers Union fired Rush in August and has distanced itself from him. The dismissal was a stark downfall for Rush after he spent nearly six years serving as the public face of union efforts to organize the cannabis industry.
As early as Prop 19 in 2010, the UFCW Local 5 embraced the medical cannabis industry long-before more mainstream groups such as the ACLU and NAACP did. Rush lobbied in hard in favor of medical cannabis across the state and country.
Rush ended up in federal crosshairs after a series of complaints to authorities from former or current industry operators. Some have called the cooperators "snitches," but they could also be seen as whistleblowers, sources close to the case say.
Former pot shop operator Carl Anderson and his son complained to federal authorities that Rush had de-frauded them in their attempts to win a dispensary permit in Oakland.
BLUM dispensary affiliate Martin Kaufman had filed ethics complaints about the Oakland permit awards process, drew the attention of federal authorities, and had been cooperating with officials since 2013. Kaufman lost more than a half a million dollars in bundled tax payments to Rush's alleged schemes, so he agreed to record Rush's conversations for investigators.
Rush's prosecution also casts a pall over the pending approval of a fourth dispensary in Berkeley.
"Rush was a member of the Berkeley Medical Cannabis Commission, which is a commission of the City of Berkeley organized to facilitate the appropriate licensing and regulation of medical marijuana in the city. Rush demanded a well-compensated job from a prospective medical marijuana dispensary in exchange for his influence as a member of the commission," officials state.
Rush is still a commissioner, Berkleyside
reports
. Rush will recuse himself from voting on the next Berkeley permittee, reports state.
Rush had also been active in dispensary licensing efforts in Vallejo, San Leandro, Las Vegas, as well as in the ReformCA coalition, which is working to put a pot legalization measure on next ballot, and at the California state legislature level.
Pending state medical cannabis regulations mandate that any company of twenty or more employees have the type of "labor neutrality agreement" Rush allegedly bartered to management.
Medical cannabis regulations sponsor Assemblymember Rob Bonta's biggest donors are all unions.
UFCW director Jim Araby said the state process is not tainted and the apparent links are conspiratorial thinking. "I think those are connections people incorrectly make. Dan Rush does not work for the UFCW. He acted on his own."