Outside Online on May 20 added to our cover story about the environmental effects of unregulated cannabis agriculture with a piece that poses the question: "does the fate of the state's salmon rest on weeding out the illegal marijuana farms?"
Catchy, but hyperbolic. First off, Outside doesn't know.

"It's impossible to know exactly how much water is being drawn from streams for marijuana farms …
many residents believe marijuana is the biggest factor threatening Humboldt's watersheds."
[jump]
Regulating cannabis cultivation could, of course, lessen this problem. But keep in mind that regulated farmers have no problem driving fish to extinction, either.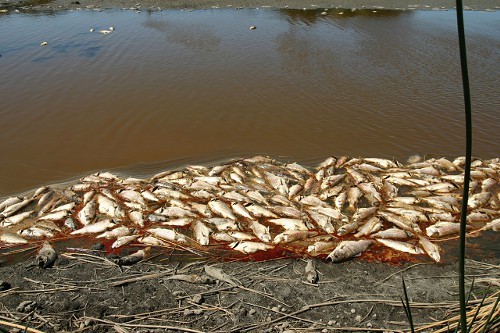 Jerry Neuburger, California Fisheries Network via IndieBay.org
Chevron killed these fish, but that's not as sexy as a weed story.
US Senator Dianne Feinstein is making waves this week for pooh-poohing environmentalists and supporting a law to:
"override Endangered Species Act protections by taking more water from the delta at the time when the baby salmon are moving through," the Chronicle writes.
"… the senator's bill would open a legal loophole to increase delta pumping beyond what is authorized by the court-approved biological opinions that protect California's embattled native salmon and steelhead."
Environmentalists "have never been helpful to me in producing good water policy," the Democratic senator said, who now sounds like Utah Senator Orrin Hatch. Yeezus.
Meanwhile, the word "delta" does not appear once in Outside's salmon tale, nor does "wine," or "wineries," which use lots of water.
We're all for raising awareness, but we're also for proportionality. Hyperbole may boost page views in the short term, but it hurts credibility in the long run. "The fate of the state's salmon" does not rest with weed farmers, but with us all.
To highlight one, relatively small form of agriculture while failing to mention — anywhere in the publication — other forms of agriculture that suck up huge amounts of water from the delta is — well — kinda fishy.