A new poll shows that a super-majority of California residents — 68 percent — say they support a ban on fracking in the state. Hydraulic fracturing is a controversial oil- and natural gas-extraction method that involves shooting massive amounts of water and toxic chemicals into the earth. It's been linked to groundwater and air pollution and to causing earthquakes. The new survey was published earlier this week by public policy opinion research firm Fairbank, Maslin, Maullin, Metz & Associates, or FM3. Of the 807 California voters who were polled over the phone at random, 68 percent suppored a moratorium on fracking, with 45 percent of respondents stating that they "strongly" supported it.
[jump]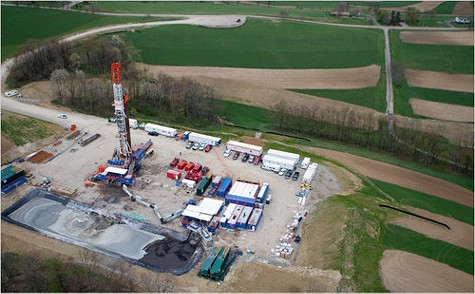 Just a week after FM3 conducted its poll — and on the same day that the firm released its poll results — Californians learned that the estimate of extractable oil via fracking or acidization in the state was significantly lower than originally thought. The Monterey Shale, a 1,750 square-mile rock formation stretching from Sacramento to Los Angeles, was expected to provide 13.7 billion barrels of oil. A new estimate by the US Energy Information Administration lowered the number to 600 million barrels — about four percent of the original estimate.
For years, the oil and gas industry and supporters of fracking have maintained that it would be a mistake to ban fracking in California because the state stood to gain economically from tapping into the Monterey Shale formation. But the new much lower estimate of the amount of oil available in the Monterey Shale has prompted some environmental groups to challenge whether the economic gains of fracking outweigh the potential environmental and health impacts.
The progressive group CREDO recently launched a campaign in support of a moratorium on fracking, forming a coalition of more than 100 groups and organizations against fracking, including the Sierra Club and the Environmental Protection Information Center. The day after the new oil estimate was released, the coalition submitted a letter to the California Legislature, urging lawmakers to pass Senate Bill 1132, which would place a moratorium on fracking. CREDO has also formed an "action page" that offers a forum for Californians to submit letters to the legislature in support of this bill. The bill calls for a statewide ban on fracking until a study can be completed examining potential effects of it on the economy, environment, and on residents' health.
SB 1132 was co-authored by Holly Mitchell (D-Los Angeles) and Mark Leno (D-San Francisco) and first introduced in late February; it has since been amended several times. After being postponed earlier this week, SB 1132 is now set for hearing on May 23 by the Senate Appropriations Committee. If approved, the bill will then move on for vote by the full Senate.