Port of Oakland staffers are recommending that the agency enter exclusive negotiations with a group of Oakland business leaders who are proposing to build a waterfront ballpark for the Oakland A's at Howard Terminal. The port published the recommendation this afternoon. The Oakland Port Commission is scheduled to take up the recommendation at its March 27 meeting.
[jump]
Under the proposal by port staff, the port would sign an exclusive agreement with Oakland Waterfront Ballpark, LLC (OWB), a group of city businessmen led by Clorox CEO Don Knauss, T. Gary Rogers of Dreyer's Ice Cream, and Michael Gheilmetti Signature Development Group, which just broke ground on a massive housing development near to where the proposed ballpark would be located. Former Oakland planning commissioner Doug Boxer and San Francisco developer Seth Hamalian are also part of the group.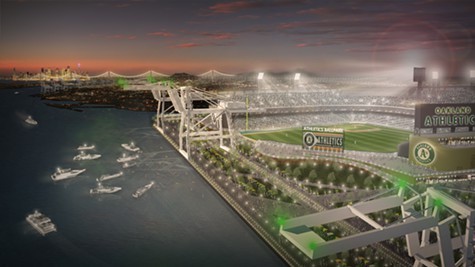 As the Express first reported, OWB sent an official letter to port Executive Director Christopher Lytle in January requesting that the port enter into negotiations to build a 38,000-seat ballpark at Howard Terminal. The port, however, could not agree to do so until the Port Commission had ruled out maritime uses for the site. The commission made that determination late last month, turning down a proposal to ship coal through the terminal.
As a result, the port is now free to enter negotiations with OWB. Under the port staff's recommendation, OWB would make a down payment of $100,000 to the port for up to a year of exclusive negotiations. During that time, the port and OWB would begin analysis of the feasibility and costs of building a ballpark on the fifty-acre site.
Although A's co-owner Lew Wolff has said he does not believe Howard Terminal is a viable ballpark location, OWB believes that it is.