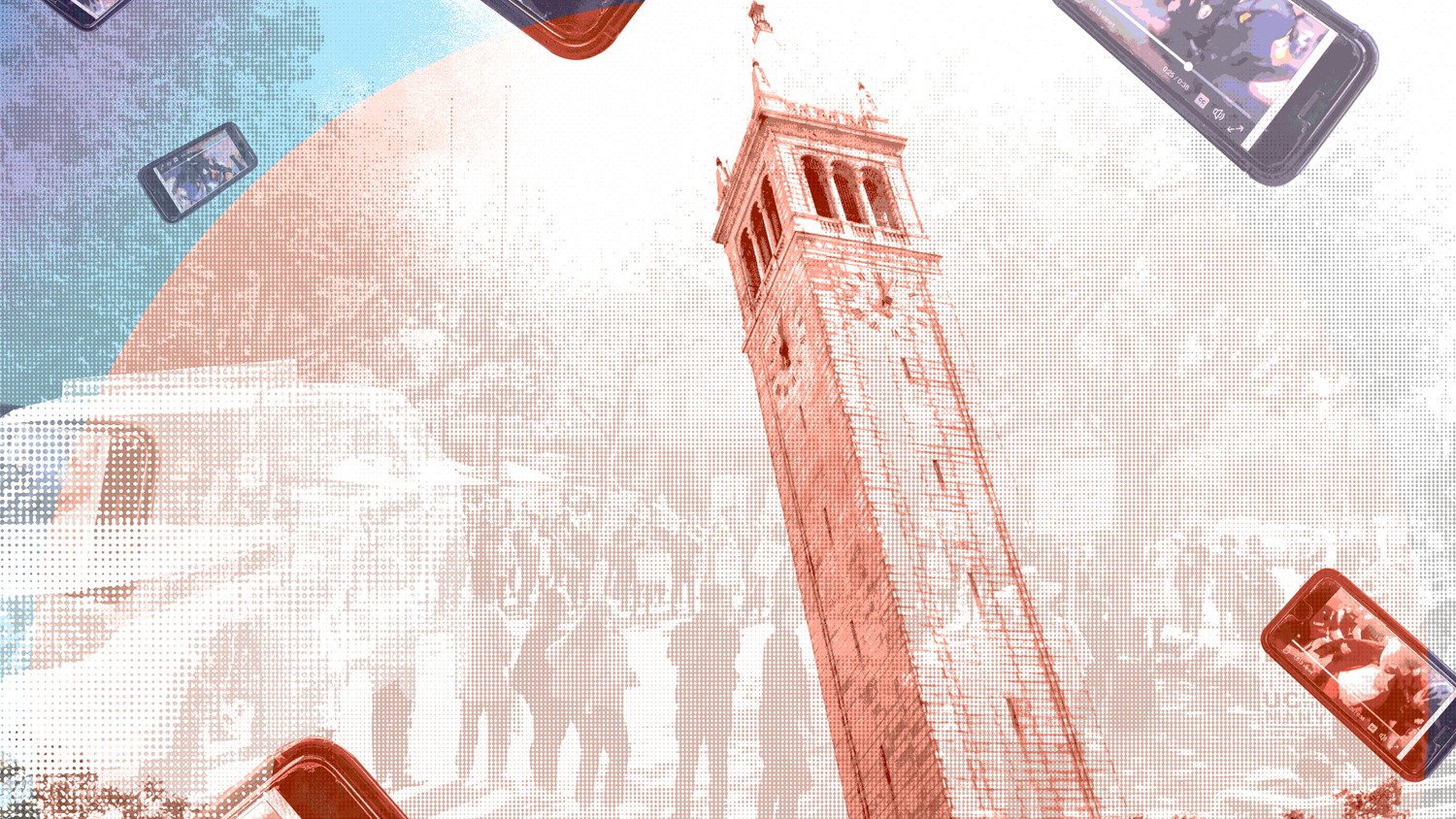 Earlier this year, UC Berkeley workers rallied to protest the university's treatment of employees. The Feb. 1 demonstration commemorated the 50-year anniversary of the Rev. Martin Luther King Jr. joining striking sanitation workers in Memphis and was designed to lift up UC workers' demands for a fair contract.
The protest, hosted by members of the campus' chapter of American Federation of State, County and Municipal Employees, Local 3299, climaxed when more than 100 demonstrators blocked the streets south of campus. Among them was David Cole, a 51-year-old campus cook and union member. During the protest, UC Police Department officers tackled and arrested Cole as he marched with a picket sign. What led to his arrest has been disputed and is still under investigation.
UC Berkeley officials immediately blamed Cole. The night of the protest, Marc Fisher, vice chancellor of administration, alleged in an email to all staff and students that when a car attempted to move through protesters blocking an intersection, Cole ran toward the driver "and threw the sign he was carrying at the vehicle." Fisher said the driver complained to UCPD and requested a citizen's arrest, so police arrested Cole. "When a UCPD officer attempted to detain the employee, he became uncooperative and disregarded instructions from the officer," Fisher further alleged in his email. "Due to the [Cole's] resistance, multiple officers were needed to take him into custody."
But Cole's union and staffers from Cal disputed that narrative and alleged that UCPD singled out and "assaulted" Cole because he is African American. Fela Thomas, president of the Black Staff and Faculty Organization, emailed Chancellor Carol Christ, calling on her to have the charges against Cole dropped. "David was singled out as the only Black person and was aggressively taken into custody," wrote Thomas, based on eyewitness accounts of protesters he said he had spoken with. Cole's union alleged that UC cops "deployed police tactics more befitting of the Jim Crow South" and noted how Cole was still holding a picket sign when the officers grabbed and tackled him onto the sidewalk.
Video of Cole being tackled by three UC police officers spread across social media. Within days, the Facebook video of Cole's arrest had more than 3,000 shares and 100,000 views. After being hospitalized and receiving stitches from the ordeal, Cole was arrested by police on charges of vandalism and resisting arrest. Supporters camped outside Berkeley's city jail for his release.
"I have three stitches in my eye, one in my nose. My leg is hurting. My foot is bothering me," Cole told reporters after his late-night release from custody. His union, AFSCME, later protested outside the campus' administration building, calling for charges against Cole to be dropped.
In the subsequent weeks, union organizers and Black staff hosted workshops about policing on campus. Most significantly, the use of force during Cole's arrest resurfaced long-simmering concerns that UCPD over-polices Black and Latinx people and lacks adequate oversight.
And a new Express analysis of UC police and its practices, along with the campus oversight panel that is supposed to monitor the department, also reveals that community concerns about UCPD's failure to address racial profiling appear to be justified.
---

Black students have complained for years about being disproportionately policed by UCPD. When Black students blockaded Sather Gate in 2010, student literature from the demonstration claimed that UCPD would regularly walk through the weekly "Black Wednesday" gathering near Sproul Plaza with police K-9 dogs in a manner students felt threatened by. To date, however, students have not had statistical evidence of biased policing.
But a new analysis of police stop data by the Express provides that evidence: UCPD has overpoliced Black and Latinx people during the past eight years, based on a comparison of campus and community demographics.
Since 2010, UCPD has collected and published vehicle stop data of motorists aggregated by race, gender, and campus affiliation. From 2010 to 2017, UCPD stopped 16,962 vehicles, of which 45 percent of the motorists, or 5,509, were white, 18 percent Asian, 12 percent Black, and 9 percent Latinx.
But according to campus data, just 3 percent of UC Berkeley undergraduates identify as Black.
Asians and white undergraduate students represent the largest student groups at Cal, at 40 and 29 percent respectively. About 12 percent of undergraduates are Latinx.
Because UCPD does not publish disaggregated data of traffic stops, it's difficult to determine at what rates police are stopping students, staff, or people who have no affiliation with Cal. Federal law requires campus police to maintain a log of daily police activity, and three reviews of Cal's crime logs conducted by the Express during the first half of 2018 showed most people contacted by UCPD had no affiliation with the university.
According to recent census estimates, Berkeley's city demographics are roughly 55 percent white, 20 percent Asian, 10 percent Latinx, 9 percent Black, and 4 percent multiracial.
An Express analysis of UCPD's published traffic stop data reveals the UC Berkeley's campus police have been stopping, searching, and arresting African Americans and Latinx in disproportionate numbers, regardless of whether the people stopped were students or members of the broader community. Black motorists were nearly twice as likely to be pulled over compared to white drivers over eight years.
From 2010-2017, UCPD reported arrests of 161 drivers. Black and Latinx drivers accounted for 19 and 21 percent of those arrested. Both Black and Latinx drivers were three times more likely to be arrested than whites. Black and Latinx drivers were also more likely than white drivers to receive citations.
[pullquote-1]

In 2015, UCPD began reporting additional data in traffic stops, including vehicle tows and searches. Over three years, UCPD searched 34 Black drivers, 25 white, and 25 Latinx. It is unclear what prompted the disproportionate searches of Black drivers, what those searches yielded, or if they resulted in arrests. Of the 69 cars reportedly towed, 23 belonged to white drivers, 16 Black, 11 Asian, and 10 Latinx.
Campus statistics also show that Black and Latinx drivers are more likely to receive warnings from UCPD than white motorists, thereby raising questions about whether campus police are stopping drivers of color for no legitimate reason. UCPD was about two and a half times more likely to release Black motorists with warnings when compared to whites, and nearly twice as likely to give Latinx motorists a warning.
UCPD, however, did not report the city of residence of drivers, which makes comparing percentages of traffic stops by race with the city's demographics difficult.
Campus officers on foot and bicycle who contact pedestrians and other people not in vehicles have also overpoliced Black and Latinx people, according to the Express analysis of UCPD data received from through public records requests. From 2011-2013, UCPD was two times more likely to contact and cite Black non-motorists than whites. During those years, UCPD contacted 5,414 non-motorists. Fifty six percent were white, 20 percent Black, and 12 percent Latinx. UCPD issued 2,639 non-mover citations in those three years. African Americans received 21 percent of the citations. The university has yet to respond to the Express' public records request for pedestrian stop data from 2014 through 2017.
Despite UC Berkeley being home to multiple researchers with expertise in the field policing, the campus does not review its own policing data. In response to the Express analysis of UCPD's data, UC spokesperson Janet Gilmore wrote in an email, "Not only would the data need to be verified but it would also be important to bring context to the numbers to provide an accurate account of what is occurring."
Why doesn't UCPD analyze its own stop data? According to Gilmore, budget cuts have led UC police "to prioritize safety response over data analysis." She added that "the issue of potential implicit bias in law enforcement is a matter UCPD is very much aware of and addressing through training." Gilmore also said UCPD personnel participated in fair and impartial policing trainings in 2013 and 2014.
Although the city of Berkeley enjoys its liberal reputation, Black and Latinx residents have long claimed its police forces are racially biased. Incidents over the past five years seem to bolster those claims. Berkeley's city police force has faced increased scrutiny due to high-profile incidents such as the in-custody death of Kayla Moore in 2013, the jaywalking arrests of two recent Black graduates as well as a lawsuit resulting from police response to Black Lives Matter protests in 2014, and multiple reports confirming community complaints of racially biased policing.
Last year, a report by the Center for Policing Equity found Berkeley city police were six times more likely to pull over Black drivers. Berkeley police were also more likely to search Black and Latinx people compared to whites, and more likely to use force on Black people.
Although the two police forces frequently cooperate, Berkeley Police and UCPD are separate agencies. Yet despite the increased attention on Berkeley's municipal police, UCPD has mostly been operating in the shadows.
---

Last October, UC Berkeley campus police sent an alert describing an assault at People's Park. A man told police that three or four men jumped him. The description provided to police, highlighted in the email sent out to all students and staff read, "The victim described the suspects as: Three to four Black males."
That imprecise description raised the ire of many Black students.
Asad Rahim, a doctoral student in Cal's Jurisprudence and Social Policy program, emailed UC Police Chief Margo Bennett and Vice Chancellor of Equity and Inclusion Oscar Dubón Jr., raising concerns about the alerts. "Suspects are sometimes described in the vaguest of terms, with only their race and sex," Rahim said, adding that the vague emails contributed to Black students feeling ostracized on campus. "There is nothing useful in this description that is going to help members of the community identify the suspects (how are these "three to four black males" going to be distinguished from the hundreds of black male students who attend the school?)."
Referencing multiple campus surveys that reported that Black staffers and students feel disrespected and that they do not belong on campus, Rahim wrote, "Instead, what it will most likely do is inflame implicit biases that make community members suspicious of black men on campus."
The federal Clery Act of 1990 requires campuses to maintain and publish statistics of certain campus crime and publish timely warnings of specific crimes, like homicide and aggravated assaults. UC Berkeley uses the Nixle service to send out advisories and timely warnings about criminal and suspicious activity via text and email to subscribers.
Most of the alerts sent out last school year that contained racial descriptions also included estimated ages, hair and eye colors, or descriptions of clothing. However, a few emails provided only vague racialized descriptions, such as, "Four to five Black male juveniles (15-16 years of age), all wearing black hooded sweatshirts"; "A Black male, approximately 24 years of age, wearing a black shirt and blue jeans"; and "Unknown race male, 5'10" in height, with a thin build wearing a black jacket."
[pullquote-2]

On Feb. 1, the same day UCPD arrested Cole, one of the three suspects in a different incident was simply described as, "Black male, no further details."
Campus officials didn't respond to Rahim's complaint about the alerts for months. Then a few weeks before Cole's arrest, UCPD added two disclaimers to its Nixle alerts. A new email header warned, "Please note this message may contain information that some may find upsetting." The email's footer also clarified when racial descriptions would be used. "Physical descriptions of a suspect, including race are included in timely warnings only when they provide several details that might help distinguish the suspect's appearance from the general population."
Soon after, Mia Settles-Tidwell, assistant vice-chancellor and chief of staff in the Division of Equity & Inclusion, emailed Rahim to inform him that Chief Bennett and Vice Chancellor Fisher reviewed his request. "Nixles will no longer include generalized racial descriptions," she wrote.
Then on Saturday, March 31, UCPD alerted community members about an aggravated assault the night before. The narrative stated a white male was "accosted by three to five Hispanic males in gray and black hoodies." UCPD sent an update and apology nine hours later with "physical descriptions that are more consistent with our current practice of informing our community." The updated description simply listed "three to five adult males," with no race information listed and the message, "We apologize for the error and any concern or misunderstanding it may have caused."
UCPD now omits useless racial descriptions of suspects. "Under the current process, when suspect descriptions are so vague to not be useful, UCPD will not include them in the Nixle alerts," UC spokesperson Gilmore said in an email. "However, when descriptions contain information that is helpful to a reader in identifying a potential suspect, they are included."
UCPD appears to have substituted racial descriptions for colorblind descriptions of suspects and found other ways to suggest race without directly mentioning race.
On June 7, UCPD sent out a warning about an armed robbery near campus reported to BPD. One of the men suspected of stealing a cellphone at People's Park was described as "Male, 25 years old, 5-feet-10-inches, thin build, wearing a hoodie, and holding a small, black semi-automatic handgun." His race was not included in the alert. Berkeley police received descriptions of both men's race, but UCPD omitted it from the alerts, although four other characteristics were also given for the passenger and driver.
On Aug. 22, a UCPD alert described a 65-year-old male aggravated assault suspect as having a "dark complexion." An Aug. 26 alert sent out by UCPD showed an image of an auto burglary suspect, but did not include race in the description of the "male suspect."
---

David Cole's arrest wasn't the first time people accused UCPD of excessive force. During both November 2009 protests over tuition hikes and the November 2011 Occupy Cal protests, UCPD repeatedly struck demonstrators with batons. Both incidents were reviewed by UC Berkeley's Police Review Board (PRB). Yet over the past decade, UC Berkeley's PRB appears to have primarily only responded to highly publicized crises and not addressed concerns of racially biased policing.
The PRB has rarely disagreed with UC police's rulings on civilian complaints. One complainant alleged an officer was racially biased during the 2010-2011 school year. UCPD rerouted the complaint to a Work File Memo, used for "minor" complaints. It was not reviewed by the PRB. The 2013 annual PRB report states that campus police "counseled [the] officer and reminded him/her of our expectation regarding the professional level of policing our officers provide our community." "Documentation" was placed in the unknown officer's personnel file, according to the report.
The PRB was established in 1990 and is primarily responsible for monitoring department policies and reviewing appeals to complaints received and reviewed by UCPD internally, according to its website. Complaints that UCPD's internal review deems unfounded, meaning they lacked evidence or did not occur, can be appealed to the PRB.
But the board has frequently lacked full membership and not held annual public meetings, an Express analysis of annual reports found. The board — which is composed of two faculty representatives; two students, one undergraduate and one graduate; staff, community, and a law enforcement representative not in active service — are appointed by the vice chancellor of administration. The current vice chancellor, Fisher, was appointed to the position last fall. The PRB, which has suffered from high rates of turnover (there have been three staff assistants for the board over the past five years), did not hold its annual public meetings 2013 or 2015, and instead of annual reports, has essentially hosted bi-annual public meetings and published reports every other year.
An Express review of annual reports posted on the PRB website suggests that complaints and board activity usually relates to large protests, but there is little systematic analysis of UCPD policies, procedures, and efforts to address racial profiling.
In 2014, members of the police accountability group, Berkeley Copwatch, called on UCPD to begin to make public its stop data. According to a subsequent annual report, published two years later in 2016, the PRB reportedly "reviewed summary data regarding UCPD traffic stops and race for calendar year 2014 and the first half of 2015, and has sought to facilitate the [d]epartment's effort to analyze the data further."
[pullquote-3]

Former PRB Chair Charles Weisselberg, a Berkeley law school professor, said the racial stop data presented by UCPD to the oversight body was inconclusive. "Our only conclusion from the summary data was that we could not tell what, if anything, was going on," he said in an email to the Express. UCPD was to work with a statistician to conduct a more detailed analysis, examining stops and outcomes by race, gender, and possibly compare to demographics and beats and shifts, he said. Columbia law school professor Justin McCrary, then a law professor and faculty director of the Social Sciences Data Laboratory at Cal, was the statistician connected with UCPD. McCrary did not respond to emails seeking comment. It's unclear if any further analysis occurred.
At its 2016 public meeting, only one member of the public and a Daily Cal reporter attended. The PRB's report stated, "We had an open discussion with the [c]hief, [b]oard, and reporter about some future steps with the [d]epartment, including how to monitor for racial trends in traffic stop data." The Daily Cal reported in 2016 that "no racial trends were found."
According to traffic stop data, UCPD stopped a total of 2,197 vehicles in 2014. That year, the Express analysis found, Black and Latinx motorists were most likely to be stopped and warned, while Asian-American drivers were twice as likely to receive warnings and citations as white drivers. Of the eight arrests during traffic stops that year, half were Black.
Last spring, the undergraduate student government, ASUC, adopted two resolutions to reform the UCPD Police Review Board and create an all-student review commission. The Daily Cal reported that the bill sponsor expressed concern of the "hypermilitarization" of police. In 2006, UCPD received a half-dozen M16 rifles as part of the Pentagon's 1033 military surplus weapons program. In August 2017, President Trump renewed the program, two years after President Obama curtailed it in response to the protests sparked by the shooting death of Michael Brown by Ferguson, MO police.
Last fall, UCPD also spent nearly $4 million for "Free Speech Week" protests, the campus newspaper also reported.
"This was a difficult interim year," said current PRB Chair Jonathan Simon, a law professor considered an expert on criminal justice issues. The PRB has not published a report this year. "Essentially, we had nothing to report," Simon said, as no appeals had been filed. Simon was unaware of the Feb. 1 incident involving Cole. Chancellor Christ appointed Simon as PRB chair on Feb. 15, he said. On Aug. 29, the PRB held its first meeting since 2016. No members of the public attended the annual meeting, according to Simon. The PRB's website also did not list the date, time, or location of the meeting. According to Simon, a new PRB meeting coordinator joined the vice chancellor's staff during the summer.
Still, Simon, is optimistic. Despite UC budget constraints and UCPD not being "entirely forthcoming with what data they have," Simon hopes the new PRB can leverage campus resources to study campus policing data to understand if and to what extent racially biased policing is taking place. "It's an important enough question to do more. We are a university. We have resources," Simon said. He noted that policing expert Nikki Jones, associate professor of African American Studies, is a faculty representative on the PRB.
Simon added that pedestrian stop data should also be made public, although the data won't indicate what happened in each interaction and it may also be necessary to review police reports to understand what is taking place during police-civilian encounters. He also hopes to receive input from the public on improving UCPD policies and said he'd consider hosting another meeting to hear from the public.
---
AFSCME workers
throughout California held a three-day strike from Oct. 22 to Oct. 25 to protest racial and gender pay inequality and UC job outsourcing. Missing from the frontlines of the picket lines in Berkeley, however, was David Cole.
Union representatives said Cole did not want to risk being hurt again and stayed home. As of October, Cole was still out on leave, according to colleagues at Crossroads Dining Hall.
Following protests and appeals to UC Berkeley administration and the Alameda County District Attorney's office, Cole will not be prosecuted.