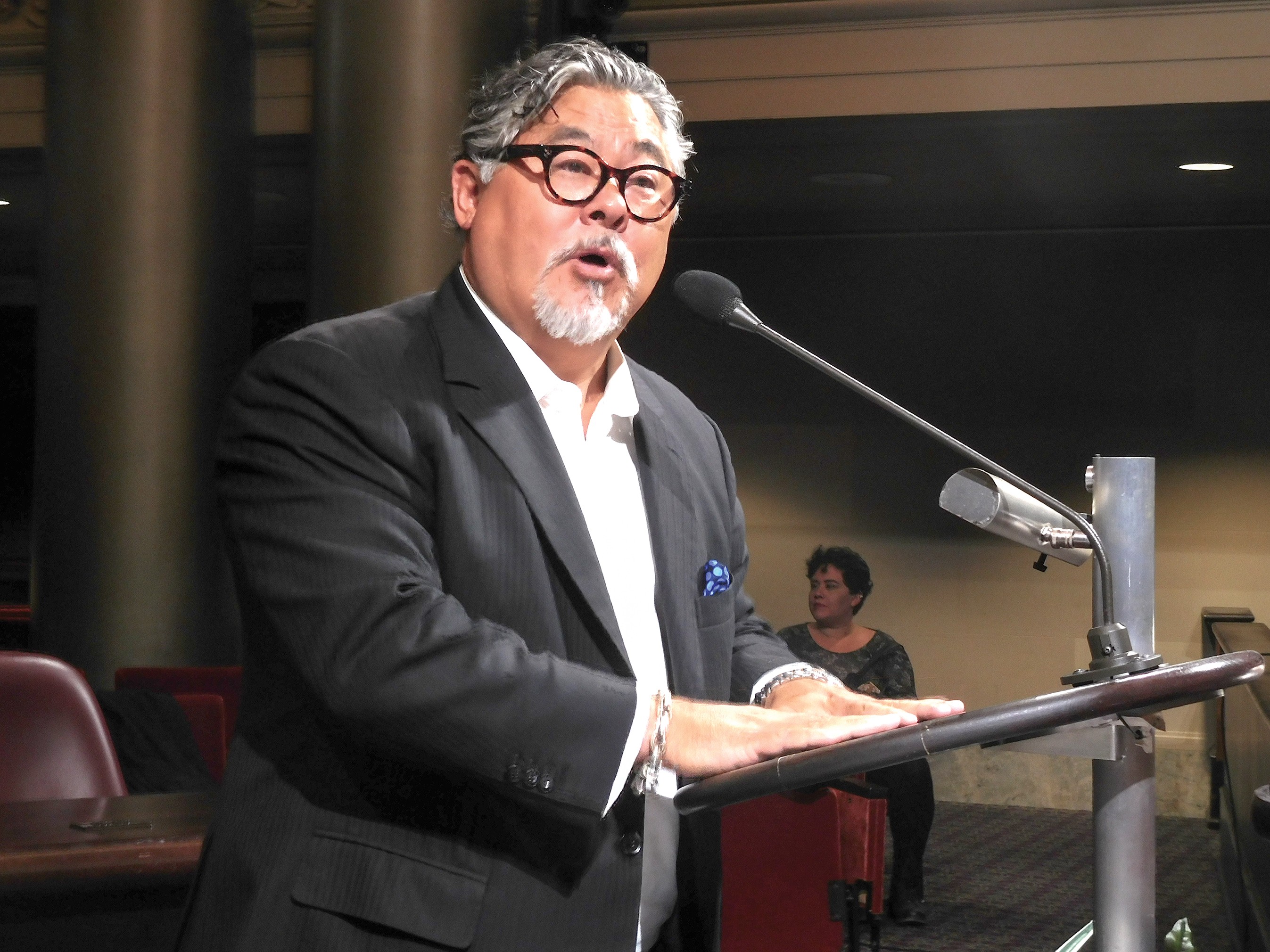 Oakland developer Phil Tagami has long claimed that he didn't originally intend to sign a deal to ship coal through the new marine terminal he's building at the former Oakland Army Base. In 2013, he was quoted in a newsletter published by his company that it was "simply untrue" that he had plans to bring coal through Oakland. In July 2015, three months after it became public that several Utah counties were planning to invest in the marine terminal to ship coal through it, Tagami downplayed the news and claimed coal was just one of many potential commodities the terminal might handle. But newly filed court documents reveal that Tagami recently admitted under oath that he first considered shipping coal through the facility in 2011 and engaged in talks with fossil fuel company executives that year.
And since the Oakland City Council adopted a citywide ban on coal handling in 2016, a Kentucky-based coal mining corporation has been paying for Tagami's lawsuit against the city in hopes of overturning the ordinance and transforming Oakland into one of the largest export hubs for coal on the West Coast. That company, Bowie Resource Partners, has paid Tagami's company, the Oakland Bulk and Oversized Terminal, at least $1.75 million to cover its legal bills.
Those are just a few pieces of new information revealed in numerous court documents made public last week after the city's lawyers and Tagami's legal team filed opposing motions for summary judgment in the case.
U.S. District Court Judge Vince Chhabria will consider the motions at a hearing scheduled for Jan. 10. If he rules in favor of either party, the lawsuit could come to an abrupt conclusion. Or it might go to trial, costing both sides hundreds of thousands more in attorney's fees and dragging the controversy into 2018.
Both sides are bracing themselves for a decision.
"The judge can end the case on Jan. 10 without a trial by granting summary judgment in favor of the city," said Ted Franklin, a coordinator of No Coal in Oakland. Franklin said the city's motion is strong, and he expects the judge to uphold the coal ban.
David Smith, an attorney representing Tagami's company, said that because the case is ongoing, he can't comment.
Oakland City Attorney Barbara Parker said the lawsuit has already cost Oakland $1,096,956 in legal fees. "What cannot be quantified are the costs that are the horrific impacts a coal export terminal will have on the health and safety, indeed the very lives, of West Oakland residents, particularly children, who are disproportionately African American and other people of color," said Parker. "We are continuing to vigorously defend the city's lawful policy banning storage and handling of coal."
Oakland also got a boost last week when California Attorney General Xavier Becerra filed a brief with Chhabria supporting the city's right to ban coal.
Tagami's attorneys argued in their court brief that Oakland officials caved to "political pressure" and violated the city's contract with Tagami's Oakland Bulk and Oversized Terminal (OBOT) by implementing the ban on storing and handling coal. They portray the city's prohibition as a hastily devised and illegal means of stopping an unpopular project.
"[T]rial is unnecessary because the ordinance violates the Constitution, is preempted by federal statues, and the city's application of that ordinance to the terminal breaches the development agreement between the city and OBOT," wrote Robert Feldman, an attorney with the Quinn Emanuel law firm, who represents Tagami and his partners.
One of Feldman's legal arguments is that several federal laws overrule Oakland's ability to prohibit coal from being stored and handled inside city limits. Feldman contended in court filings that the city's ordinance is a violation of the Commerce Clause of the Constitution, which bars local governments from implementing laws that "materially restrict the free flow of commerce across state lines. He also argued that the city interfered with the federal government's authority to regulate railroad transportation of commodities, like coal, and also federal laws regarding maritime shipping.
Finally, he wrote that the city violated its agreement with OBOT by enacting the coal ban years after it had already signed a contract in 2013 that allowed for the construction of a maritime terminal that would ship coal.
The city's legal brief fires back, portraying the plan to ship coal through the marine terminal as a surreptitious scheme that Tagami and his business partners hid from the city because they knew it wouldn't be permitted due to health and safety concerns. "OBOT secretly pursued plans to bring millions of tons of unhealthy, dust-generating, spontaneously-combustible substances to the Terminal," wrote attorney Kevin Siegel of the Burke, Williams & Sorensen law firm, who represents the city.
The contract between the city and OBOT doesn't explicitly state that coal would be a permitted commodity for the terminal to store and handle, and in several statements made prior to 2016, Tagami said coal wasn't being considered.
As evidence of the alleged secret plan to bring coal through Oakland, the city's attorneys referred to notes from a July 18, 2012 meeting between Tagami and Kevin Jones, an employee of the energy company Kinder Morgan. The meeting was held in Tagami's offices in Oakland's Rotunda Building.
According to the notes, which were taken by Tagami's assistant, Jones asked Tagami if he was opposed to any specific kinds of commodities. Tagami told him nuclear waste would be unacceptable.
"What about coal?" asked Jones.
"Not opposed," replied Tagami.
But Jones noted that it could "create a political storm."
In a deposition recorded in October as part of the ongoing lawsuit, the city's attorneys asked Tagami when he first started talking with coal companies. Tagami answered that he first considered coal in 2011, and then again in 2012 and 2013. Those plans didn't come to fruition. But later, Tagami signed a deal with former Port of Oakland Executive Director Jerry Bridges to allow Bridges' company, Terminal Logistics Solutions (TLS), to lease and operate the marine terminal once it was built. Unknown to many at the time was that TLS is owned by the Kentucky-headquartered Bowie Resource Partners coal company. Bowie operates coal mines in Utah and has been looking to expand its capacity to ship coal through West Coast ports to overseas markets.
In a deposition recorded in October, Bridges explained how Bowie came to be his financial backer and a business partner of Tagami. Bridges received a phone call in June 2014 from James Wolff, Bowie's chief financial officer, asking about Oakland.
"He identified himself and told me that Bowie was looking to do a bulk terminal — multiple bulk terminal in Oakland — and that he went out in his search for someone to manage that process and run the terminals," said Bridges.
Bridges agreed to be that manager and incorporated TLS in October 2014. One month later, Tagami's company signed a contract with TLS giving TLS the option to lease and operate the bulk terminal after it was built. Signing for TLS was John Siegel, the chairman of Bowie, a veteran coal industry executive — not Bridges, who was merely the public face of TLS. The agreement was amended at least ten times over the next several years, and Bowie, through TLS, paid Tagami's company "substantial sums," according to court records.
Oakland's attorney Siegel argued in his brief submitted to the court last week that the city didn't violate its contract with Tagami's company for construction of the marine terminal because the contract contains a clause that allows Oakland to apply health and safety regulations to the marine terminal — even if these regulations came after the development agreement was signed. The new regulations only need to be essential to protect the health and safety of Oakland residents and workers at the port.
As for the federal laws that govern interstate commerce, railroads, and shipping, Siegel wrote that Tagami's company OBOT, and Terminal Logistics Solutions, the Bowie Resource Partners subsidiary that will lease and operate the terminal, aren't railroads or ocean shipping lines, so the federal commerce laws don't preempt the city's health and safety regulations.
Attorney General Becerra argued similarly that cities and states have the right to protect public health and safety and that Oakland's coal ban doesn't apply to rail or maritime shipping activities, but instead focuses only on the handling and storage of coal, so it isn't preempted by federal commerce laws.
City officials have said that they still want Tagami to build the bulk goods terminal, but just not to ship coal and other fossil fuels through it.