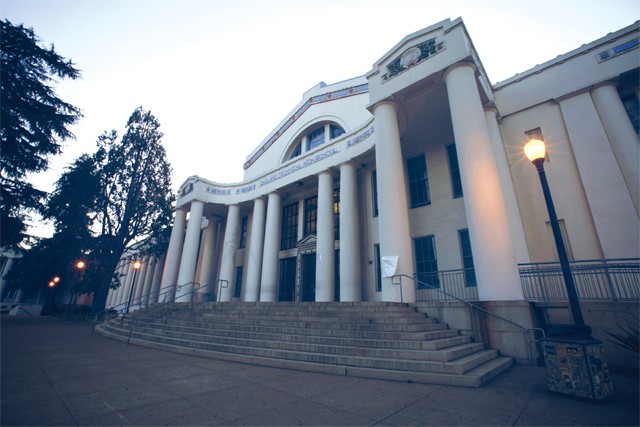 Oakland's school board can't turn away anymore. It has gotten a heartbreaking look from student after student, and numerous parents and teachers, in recent weeks at how things will play out if it pursues its plan to compensate for its own mismanagement — and especially overspending on administration — by cutting further from classrooms.
The people who have spoken out at meetings, calling on the board to pull back on a planned $4.2 million cut from schools, are not seeking iPads or fancy new software, not modern labs or updated and equitable sports facilities. They are asking for safety equipment and textbooks with both covers and all of their pages, for stability in their classes, a bit of college guidance, and the retention of programs that have been proven to keep kids in school.
The people speaking out want to know, in the words of one student, "How you can cut from us when we have nothing." They want to know how district leaders can live with themselves if they vote on Wednesday, Dec. 13 to cut from schools when Oakland still spends much more on administration than other big California districts.
The cuts the superintendent is recommending are not subtle, and there's no chance they'll land softly. Oakland Tech alone is asked to lop $413,000 off its budget for next semester. These cuts are not even the first that OUSD has imposed this year, though they promise to be the most devastating.
At least a dozen male students from schools across Oakland told the board on Dec. 6, for instance, that a life skills and Black history class the district is planning to cut, called African American Male Achievement, has changed their lives. Data emerging from the 7-year-old program show it has increased participants' grade point averages (by at least 25 percent), graduation rate (from 42 percent to 57 percent), and rate of admission to the University of California (by 6 percentage points).
There's no reason for the board and superintendent to destroy programs like that.
They had plenty of information to address this crisis earlier and more constructively. Their rationales — that they don't control declining state funding or the rising share of special ed students in Oakland, and that their outdated software leaves them unclear about their actual spending — may be accurate, but they're just not good enough.
The board and superintendent knew in January that they would have $30 million less to spend this year than they were budgeting. They easily could have met the annual March deadline under state law for notifying administrators who hold teaching credentials that their jobs might be gone in the fall. Instead, they opted for sleight of hand:
● Expenses were met in part by raiding a variety of accounts, including OUSD's self-insurance fund and its state-mandated 2 percent reserve, and by overestimating enrollment and underfunding contributions to the state retirement system.
● The budget shortfall was pitched as "part of the process"; nothing to see here.
● And then, on top of the $30 million, another $14 million-plus in salaries for administrators and other spending was never budgeted at all.
District leaders can't credibly claim their proposed $4.8 million cut in administrative spending is sufficient or blame overspending at schools for the crisis, though they keep trying. They've already cut or eliminated schools' funds for overtime, site-specific substitute teachers, basic supplies, extracurricular activities, and all other "extras."
The board and superintendent have repeatedly chosen the easy route, to the special disadvantage of students of color and those from low-income families. Now, even their warnings of a state takeover are starting to ring hollow. Oakland's last pass through receivership was unhelpful; it emerged in roughly the same condition as when it entered. But some are questioning whether that might be better — if it brings stability and fiscal responsibility.
District leaders must step up, focus on kids, and start planning for a more stringent future for the adults in the room.
Laura Impellizzeri is the parent of a senior at Oakland Technical High School and president of the school's Parent Teacher Student Association.