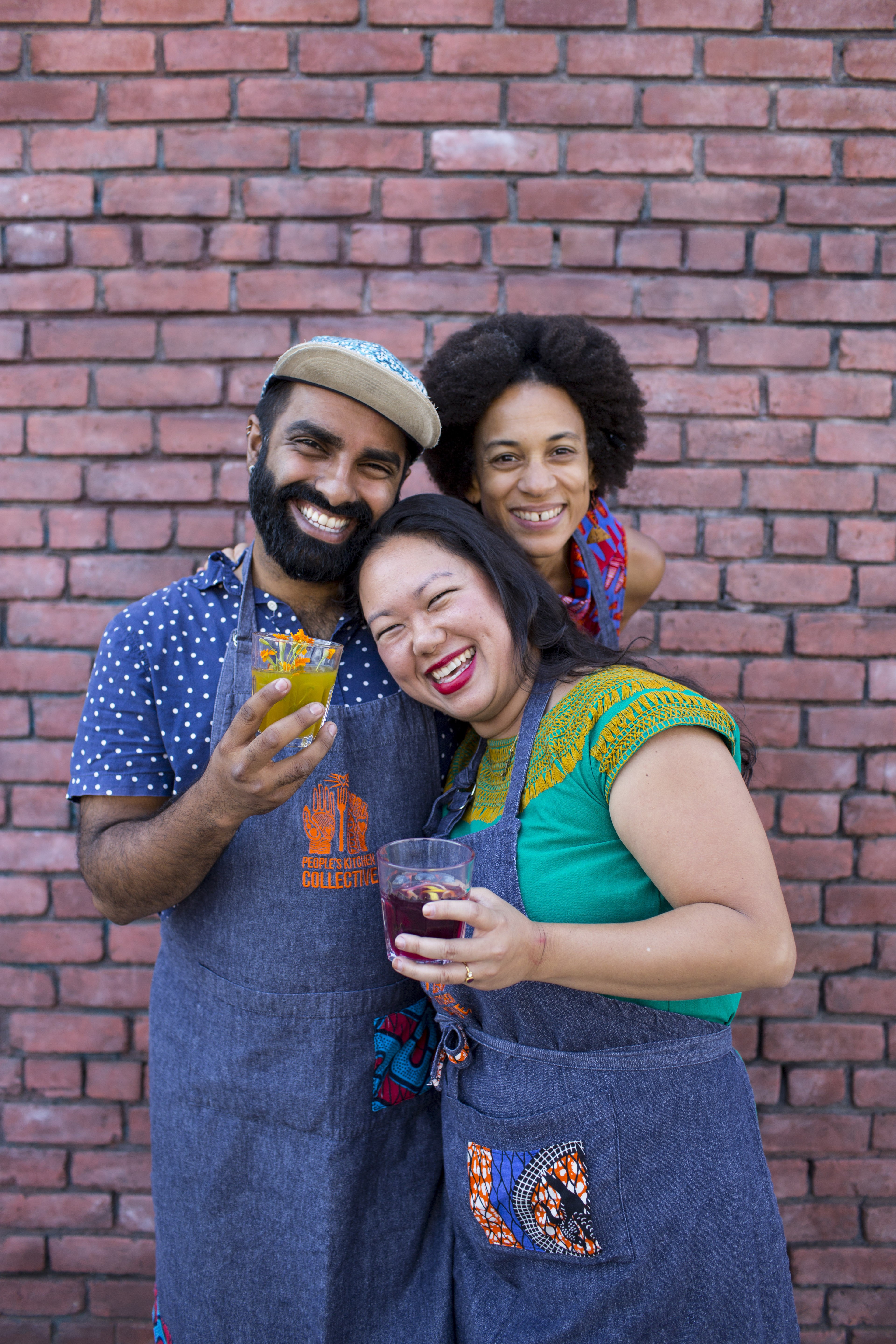 The People's Kitchen Collective wants to feed 500 people
on the streets of West Oakland. It's the culmination of a year-long project
uniting food, activism, and art in the name of healing. Like the group's past
events, this one will also center on the experiences of people of color.
Members Sita Kuratomi Bhaumik, Jocelyn Jackson, and Saqib Keval have been organizing community dinners in Oakland for years, but they recently shifted gears in their thought process. Instead of viewing their meals merely as dinners — granted, always with a social justice and historical storytelling bent — they began to see them as social art projects. With this in mind, they applied for a grant through the Kenneth Rainin Foundation Open Spaces Program to put on four in-theme events over the course of 12 months. They got it, and the first event was held earlier this year.
The grand finale will be "To the Streets" in May of 2018: a free, sit-down dinner for 500 people on a long table spanning three blocks in West Oakland. With it, they want to amplify the presence of Black and brown folks in the community and provide a healing space "in these times of gentrification and white supremacy," said Jackson. These aren't necessarily new ideas for the People's Kitchen, but this is easily the most ambitious format.
They chose West Oakland because it's the collective's home base — it started operating out of Alena Museum on Magnolia Street two years ago.
"We're accountable to the area that has welcomed us," Jackson said. "It's also the perfect place to speak to gentrification. On the blocks we're setting tables, people are being displaced. Even if transition is happening, it's important to claim the space as home, otherwise the history is lost."
Despite its size, the dinner is intended to feel intimate and foster discussion about self-determination and building social movements. Or, in Jackson's words: "What does it mean to be made invisible-ized? What does it mean to have one's home taken and still maintain a connection to the place?"
The People's Kitchen is reaching out to about 20 local organizations — urban farms, youth centers, and immigrant support agencies, among them — to create a specific audience for the event. Some spaces, however, will be accessible and free for the wider public.
Jackson said the menu will be the last detail figured out. It will be inspired by stories and discussions leading up to the May event as well as collaborations with local farmers. She expects that she and her collective mates will spend at least three days prepping — by now, they're used to feeding hundreds of folks at a time.
"That's our joy, knowing our hands and hearts are in the pots," Jackson said.
Despite the grant from the Kenneth Rainin Foundation, they still need about $30,000 to make the event possible; permits, food, and all sorts of rentals add up fast. Find the crowdfunding campaign on IndieGoGo or PeoplesKitchenCollective.com.