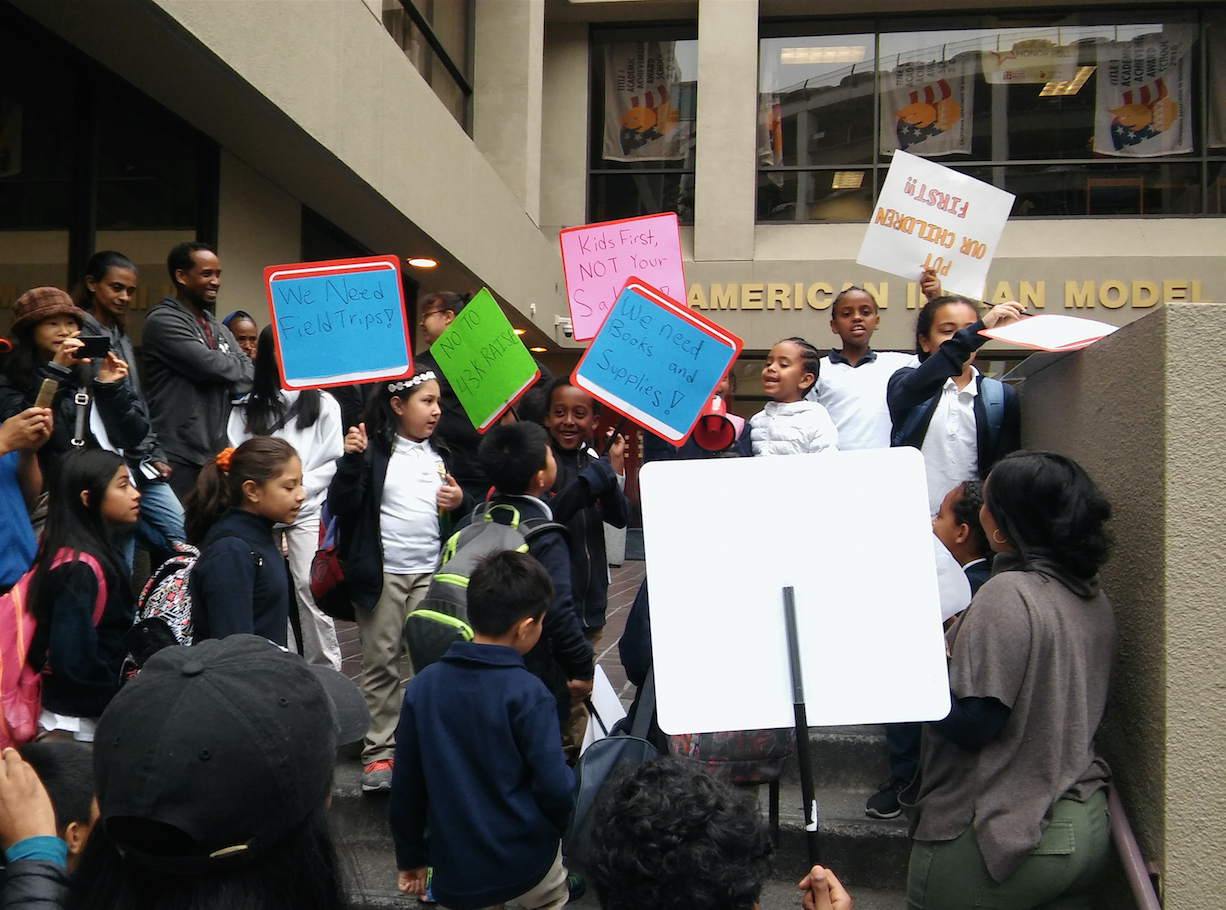 Dozens of students walked out of the American Indian Model Schools' downtown campus this morning, joining parents and teachers to protest what they say is the mismanagement of one of Oakland's largest charter schools.
"There are so many problems here," said Senait Mehari, a parent of a first grade student at AIMS elementary. "Great teachers are leaving."
"It's basically a dictatorship."
Mehari and several other parents told the
Express
 that AIMS Superintendent Maya Woods-Cadiz and the charter organization's board of directors have been ignoring concerns about the school's budget, and many other issues.
They claim that the school exploits teachers by hiring them as at-will employees, instead of offering stable contracts. The air conditioning on several floors in the building has been broken for months, and students are forced to use old text books while teachers buy supplies with their own money.
The parents and teachers protesting this morning also claim that the charter's board of directors routinely makes decisions in private, without sufficient community input, and that the school's top executive, Woods-Cadiz, recently received a big pay increase, from $142,000 a year to $185,000.
"The schools need money, there's so many problems," said Mehari, questioning why the superintendent would receive such a large pay bump instead of fixing broken air conditioners.
The
Express
called AIMS' administrative office this morning but was told that Woods-Cadiz was unavailable for an interview. A receptionist also said there was no one who could respond to the protesters' allegations, then hung up.
[embed-1]
Teachers and parents' foremost concern is the mysterious resignation of Elston Perry, the popular head of schools for AIMS.
According to several teachers and former staff members who were at this morning's protest, Perry resigned recently over a disagreement with Woods-Cadiz and the board. Staff and parents attended a board meeting last week to demand that Perry be reinstated to his position. But the head of school remains out. Many feel that he was pushed out.
This morning, outside of the AIMS 12th Street campus, children held picket signs and chanted "We need Dr. Perry! We need books!"
Mimi Pham worked as the parent coordinator for AIMS until today, when she resigned. Pham said the school's board and superintendent were eliminating key staff members, like Perry, while making financial decisions that were "not transparent."
In one instance, Pham told the board that even though the budget allocated money for field trips, the students hadn't taken any. She questioned where the money was going. "When I raised the budget issues, [Woods-Cadiz] took the budget document offline," Pham claimed. "We are questioning her integrity and their use of public money."
According to a petition circulating among the parents and staff at the protest, AIMS schools suffer from "errors in budgeting, inability to settle employee contracts, lack of long range strategic planning, lack of school supplies, lack of textbooks, lack of field trips for students, historically low employee morale, poor communciations," and more. The petition calls for the removal of Woods-Cadiz.