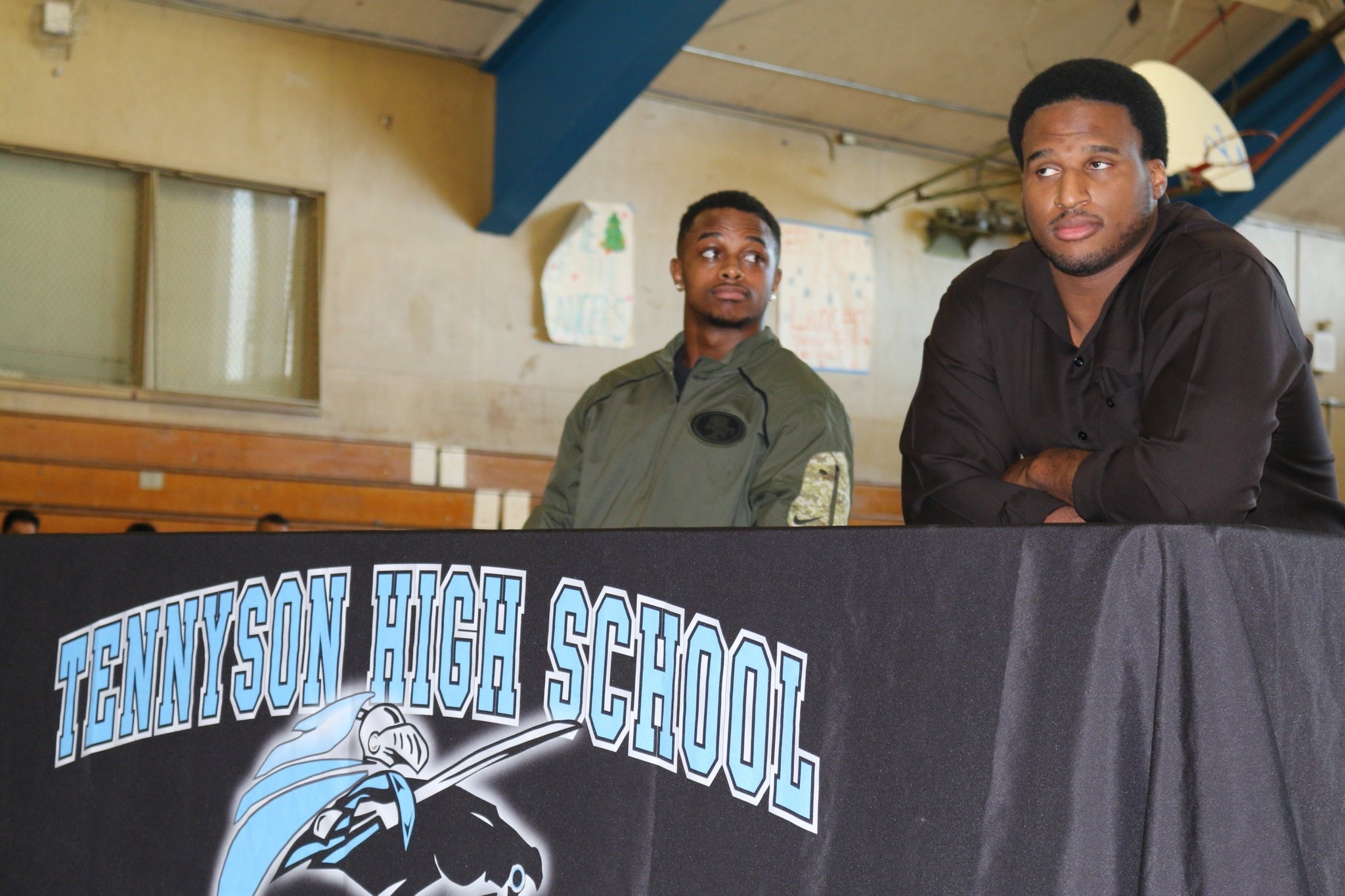 Hayward parents are outraged that Ray McDonald, a former San Francisco 49ers defensive end who is scheduled to go on trial next month for allegedly raping an intoxicated woman, recently spoke to 250 at-risk students at Hayward's Tennyson High School about self-discipline.
McDonald "doesn't even know how to handle his own life," said Hayward parent Eduardo Orozco. "I just don't think it's the right choice." Orozco added that the allegations against McDonald do not send a positive message for teenage girls at Tennyson. "His record shows he doesn't have much respect for women."
[jump] Hayward Unified School District, however, seems proud about McDonald's appearance. The district's Facebook page described McDonald as "the perfect voice to help students recognize the importance of attending school daily and staying on track." McDonald was joined at the February 25 event by a 49ers practice squad player.
"The two athlete[s] inspired students to stay focused and self-disciplined," the Facebook post continued. "They engaged students in reflective questions about self-motivation and life distractions."
The event was part of the school district's Drop Out Prevention program, which is headed by Tennyson High football coach Anthony Jackson and funded by the Hayward Promise Neighborhood project, a $25 million federal program to help struggling students in South Hayward's Jackson Triangle neighborhood. Cal State East Bay is also partner in the program.
But parents are strongly questioning the selection of McDonald as a role model for at-risk teens because of his many run-ins with the law. In August 2014, McDonald was accused by his ex-fiancée of bruising her arms and neck while she was holding their two-month-old baby. A Santa Clara County grand jury declined to indict McDonald of felony false imprisonment and domestic violence charges in that case, but did return an indictment of violating a restraining order filed by the ex-fiancée just two days after the alleged incident.
The 49ers then cut ties with McDonald after he was charged in December 2014 for alleged sexual assault of an intoxicated woman at his home in Santa Clara. In a statement, the team said it made the decision to release McDonald based on his "pattern of poor decision-making." The Chicago Bears signed McDonald shortly thereafter, but then released him in May 2015 after he was arrested on suspicion of a domestic assault and child endangerment. Days later he was arrested again for violating a restraining order.
Some parents at Tennyson High, one of the most underperforming schools in the state, have complained to the high school's administration and the superintendent's office, along with school board in recent days, about McDonald's address to students. Orozco, a parent of a Tennyson High student, said he was shocked when he saw the school district's posting of the McDonald appearance on social media.
Orozco, his wife, and three other parents sent a letter to the school district on Monday looking for answers about why McDonald was invited to speak to students at the high school. "It not about Mr. McDonald. God bless this guy. I hope he gets his life back on track. It's about the policy. Our kids at Tennyson need a lot of help," said Orozco.
Hayward school district Trustee Luis Reynoso said school administrators need to be accountable for allowing McDonald to speak at Tennyson High. "You have to lead by example," said Reynoso, before adding. "How can you be talking to students about showing restraint when you, yourself, are being wanted by the cops for not showing restraint?"
The Hayward school district faced its own issue of accountability and self-discipline over the actions of its Superintendent Stan "Data" Dobbs last year. In September, two Hayward school board members filed police reports alleging he attacked them during a closed session meeting. According to the police reports, Dobbs angrily lashed out against one school board member, saying, "I have to deal with motherfucking punks like you all day." Reynoso also alleged that Dobbs made contact with him during the same aggressive tirade. No charges were filed, but Dobbs and the school board members who witnessed the incident acknowledged a confrontation occurred. The school board, however, voted against publicly sanctioning Dobbs for his actions.
The superintendent's office did not respond to numerous inquiries into McDonald's appearance at Tennyson High and whether Dobbs approved the event. However, Lauren Pitcher, communications director for the Hayward Promise Neighborhood, confirmed that the superintendent's office was aware of McDonald's appearance at Tennyson beforehand.
McDonald's inclusion at the event was viewed as an opportunity for the ex-NFL player to help kids, said Pitcher. "The idea was these students needed to know there are repercussions in life. It definitely wasn't a case of celebrating this individual." When asked whether the timing of the event was appropriate since McDonald's trial for sexual assault is due to convene on April 4, Pitcher said, "He's still not allowed to be a football player and he needs to do some cleanup work in his life."
There is also question about whether McDonald was subjected to the same battery of backgrounds checks as all Hayward parents and visitors who volunteer to help students. Requests for information on the policy and procedures from Tennyson High School and the Hayward Unified School District were not returned.
Orozco believes that McDonald and the other football player at the event did not undergo the requisite criminal background check — the costs of which are typically passed on to the volunteers. "Unfortunately, being involved in my child's education has become somewhat of a privilege. If I cannot pay, I cannot be involved. But if I have money or fame, all the required procedures can be overlooked by Superintendent Mr. Dobbs and [Tennyson High] School Principal, Mrs. [Lori] Villanueva," according to the letter sent to the school board by Orozco and four other parents.