Outside Lands Music and Arts Festival once again ravaged an unsuspecting polo field in San Francisco's Golden Gate Park over the weekend, but not before some perfunctory back-patting for its supposedly eclectic roster. Which is whack, because booking Kanye West last year and Kendrick Lamar in 2015, for instance, reflects not an investment in diversity but simple accommodation of popular taste.
And yet, this year's hip-hop artists were still undersold by festival organizers. Bounce queen and festival highlight Big Freedia was relegated to a bafflingly small stage, for one. Lamar, meanwhile, was sidelined by the concurrent Black Keys set to the second-to-largest stage, which resulted in stifling conditions and multiple reported injuries.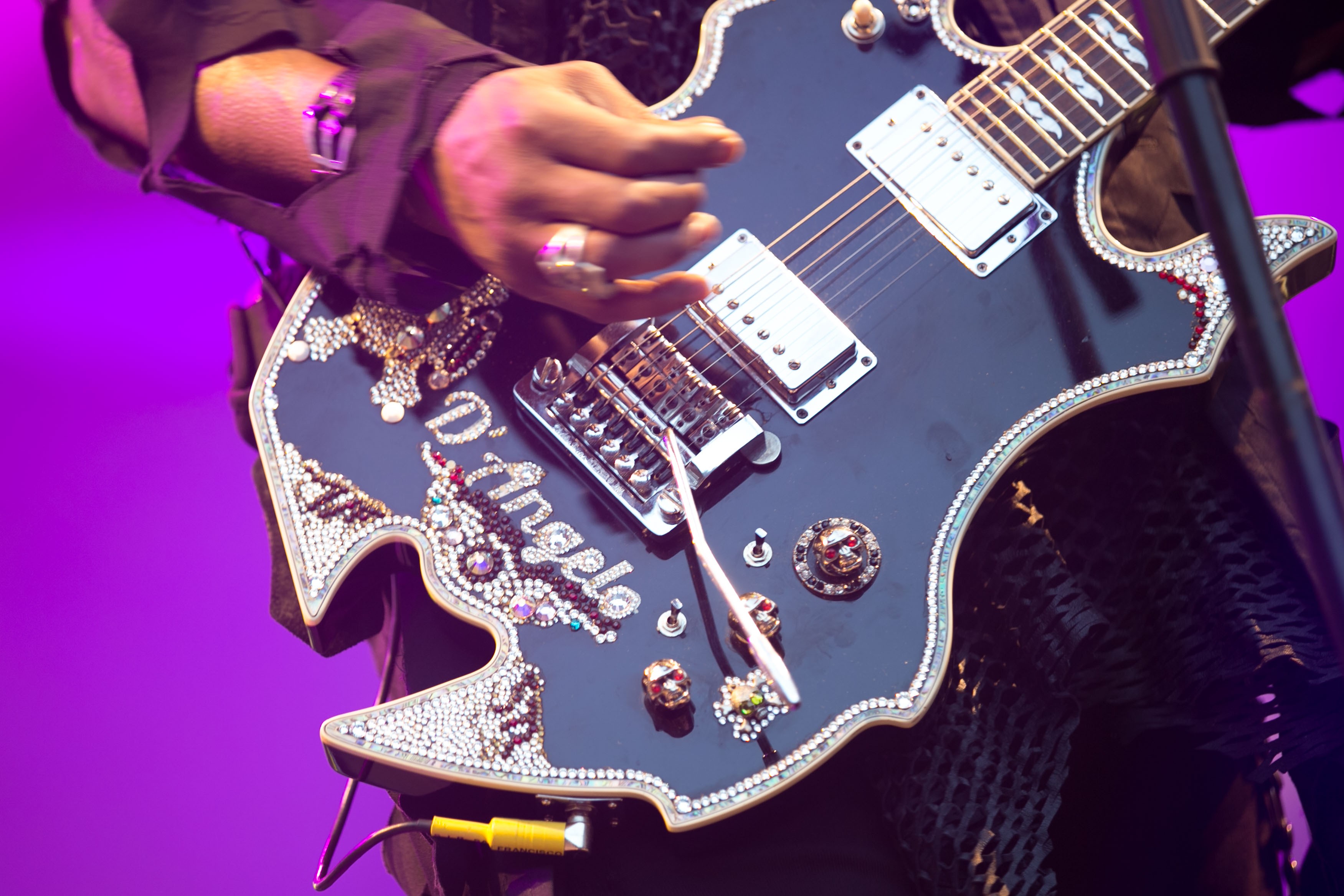 Those are shortcomings. Here's a glaring oversight: Outside Lands' female headliners amounted to a grand total of zero.

As for Outside Lands' other gaffe, Fantastic Negrito was detained along with two members of his entourage by San Francisco police officers for about three hours and kept in handcuffs — despite the advice of a medical professional. That low point followed an apparent collaboration between SFPD and Another Planet Entertainment to go after the Oakland-based roots bandleader after a member of his camp schemed to sell a wristband online. Police cited Fantastic Negrito under a municipal code of dubious applicability, forcing the cancellation of his set. Another Planet representatives declined to be interviewed for this report.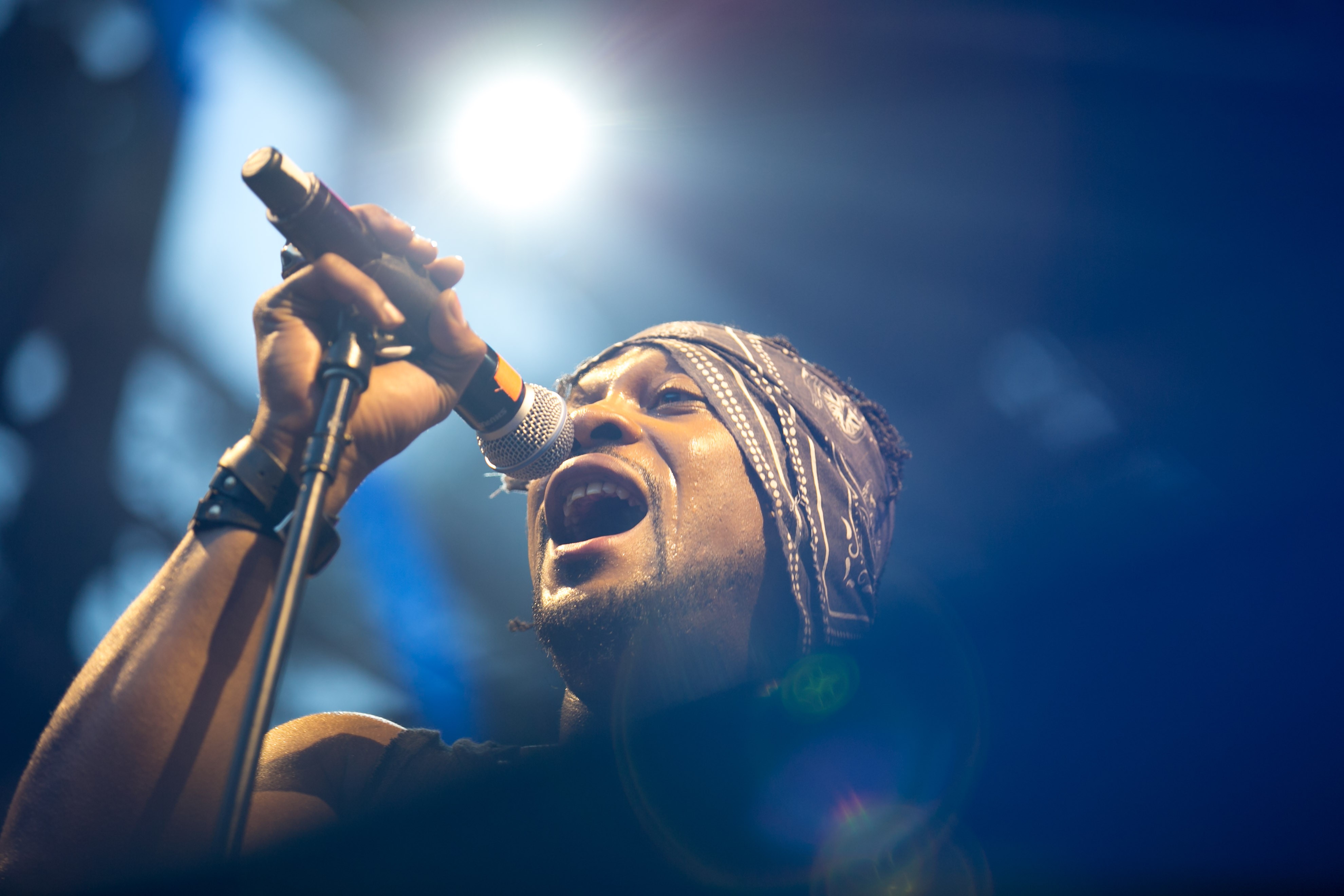 Outside Lands also featured sets that were brilliant enough to distract from these substantial gripes. On Friday, St. Vincent defied the consensus that guitar rock is a necessarily dated and nostalgic form with a stately, modern set. (Revered indie-rock standby Wilco, which followed St. Vincent, sagged in comparison.) Last year, the Los Angeles family band Haim epitomized tried-and-true stadium gestures on the same stage and timeslot. By contrast, Annie Clark's band this year played blocky beats and staccato keys while the guitarist yanked and wrenched intriguingly expressive phrases from her instrument in a distinctive, alien way that evoked few precedents. Purposefully striking one angular stance after another, the trebly ricochet of Clark's cantankerous guitar solos were events in and of themselves.
D'Angelo's set was similarly regal and dignified. Donning cloaks and gloves and a gladiator-looking black guitar with shiny silver trim, the soul man was a consummate force. Fluttering curlicues appended the tail end of each vocal line, while The Vanguard, D'Angelo's star-studded band, lived up to the enduring excellence of The Black Messiah, an album released late last year to rapturous acclaim. The songs didn't unfold according to any linear logic. Rather, they swelled and seethed, breathing deeply from the whole organism of a live band. When they roared, as in the climax of "Charade," the audience gasped. About the song, D'Angelo said, "Fists in the air! We're gonna do this one for all the victims of senseless police brutality."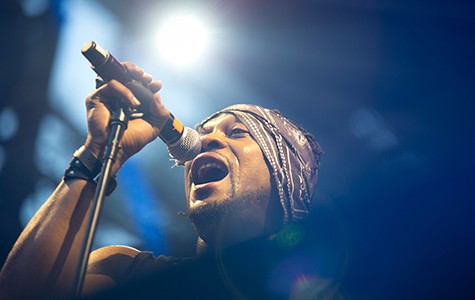 It was one of very few explicitly political statements made from the stage that weekend. Kendrick Lamar, who recently riled law-and-order types by dancing on a cop car on television, pulled mostly from his breakout album Good Kid, M.A.A.D. City. It felt like a capitulation to the more base elements of a festival crowd, typified by the abundant white guys shouting the n-word without second thought. A song such as Lamar's "The Blacker the Berry" would apparently be wasted on such breathing boulders obstructing the path to civilization.
The afternoon roots contingent sorely missed Fantastic Negrito, but the sax-laden shuffle of Leon Bridges' roadhouse soul was a nice consolation prize. Suffice to say, Bridges smoked the milquetoast Englishman George Ezra, who came off like a soppy placeholder for Sam Smith, himself a seat-warmer for Elton John on Sunday.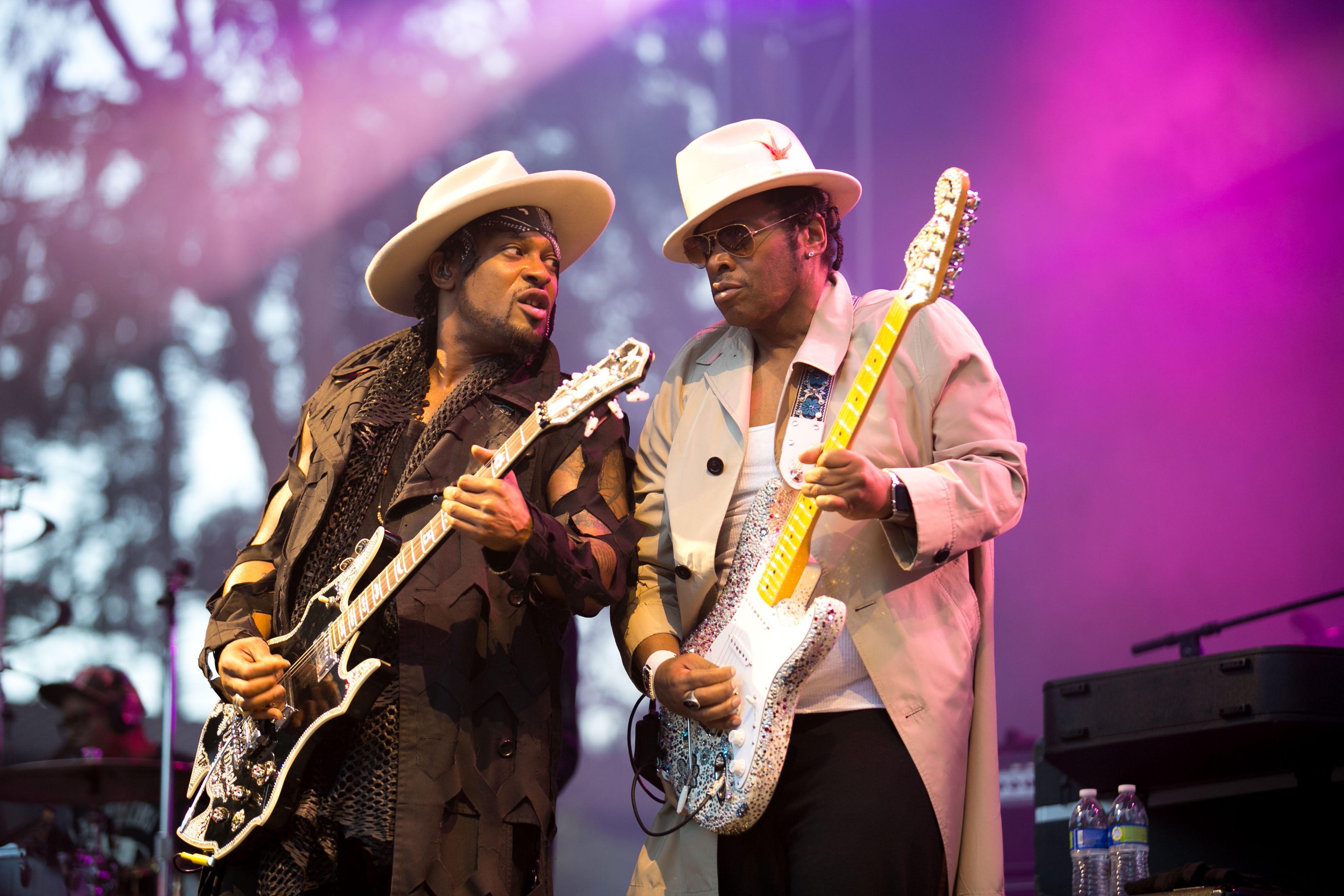 Atop squealing leads and dizzying turnarounds, Speedy Ortiz front-person Sadie Dupuis' subtly incisive delivery provided an afternoon highlight on Saturday. It's the sort of band that can explode a small room with ease, but while some of the technical detail and color risked evaporation in the festival setting, songs such as "Silver Spring" mustered big stage bombast.
Mac Demarco took to the mic with a birdcall. In a way, the eccentric New York songwriter seems to consciously set low expectations, only to go ahead and exceed them with surprising sophistication. It's sort of like his name: "Mac," the fast food suffix, "Demarco," the pan-European playboy. At any rate, Demarco's set was flush with meandering solos and copious jokes that elicited a seemingly disproportionate crowd response for such tame indie fare.
The aforementioned Big Freedia bore a "KEEP IT 100" tee and did just that, presiding over jackhammer samples and an enthralled crowd that was eager to accommodate the queen diva's request for ample ass and more beignets from the on-stage pastry chef. "Can we do another?" asked Freedia. "Fuck it. I said so." Fifteen minutes after her scheduled ending, Big Freedia shouted out her new book and dropped the mic. Kids dispersed and excitedly chattered about their favorite set all weekend.
"FILM THIS SHIT." So commanded the backdrop for Berkeley-raised rapper G-Eazy, a rather honest hype line considering Outside Lands' website lists policies specific to the length of selfie sticks. The rapper, whose These Things Happen full-length did about everything it could short of breaking the national rap radio ceiling, brought out a number of guests, including Del tha Funkee Homosapien — whose entrance on a skateboard was especially righteous — and Luniz, the duo responsible for the forever-relevant 1995 anthem "I Got 5 On It."
Thing is, the guests made G-Eazy look bad. His pyrotechnics couldn't mask it. Plus, that G-Eazy, who's white and whose leather jacket is usually mentioned before his music, was the highest-profile local rapper booked at Outside Lands seemed rather suspicious. But perhaps the bigger affront to local hip-hop was the appearance of reputed Bay beat-jacker DJ Mustard on Sunday, which is another reason why I went to Thizzler Jam instead.