A measure that would legalize cannabis in Oregon has a slight lead in the polls, and the mud has started to fly over what could be the third state to tax and regulate pot.
SurveyUSA has Oregon voters
favoring
a broadly described form of legalization 51 to 41 percent, with 8 percent undecided.
Going after those undecideds is the Yes on 91 campaign, which has a $2.3 million warchest, and is racing to register more voters before the October 14 deadline, said Anthony Johnson in our interview with him for
The Hash
.
Opposing them is the "No on 91" team, which includes the Oregon State Sheriff's Association, Oregon District Attorneys Association, and Oregon Republican Party.
Members of No on 91 plan on conducting a statewide series of events slamming cannabis and have begun running some pretty incendiary ads in print and television.
[jump] No on 91 is targeting parent-teacher associations, churches, health clinics, courts, gyms, social media, and TV and print news with scare ads equating cannabis to tobacco, and implying that degenerate youth will be the fruit of legalization.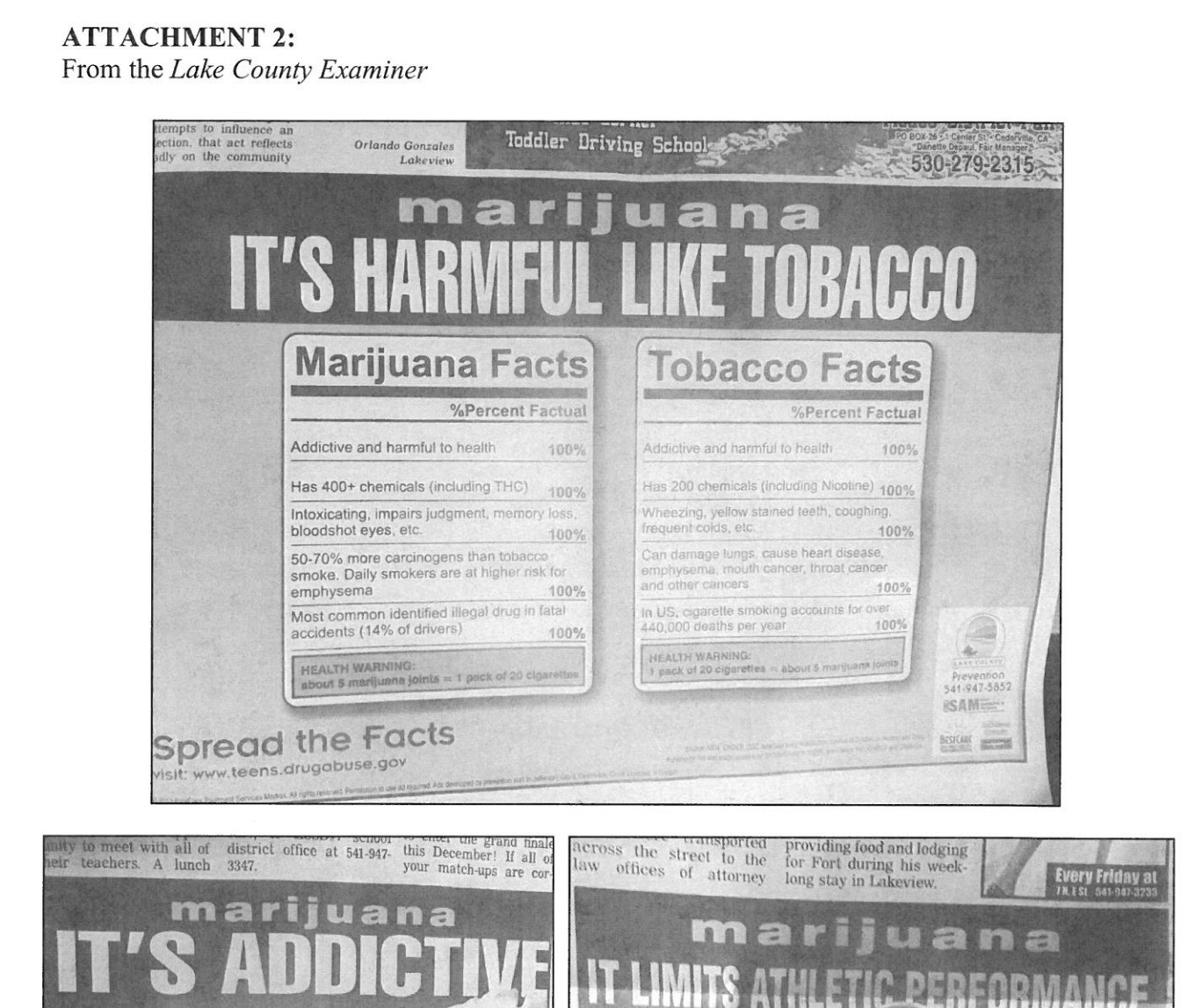 Such moves might just earn "No on 91" members a
federal investigation
for illegal electioneering.
In a September letter to the US Drug Czar and another official, Oregon Representative 
Earl Blumenauer
, made a pretty convincing case that public employees improperly spent public health funds to influence the election.
It's illegal for public employees — or public contractors — to perform political work during business hours, and organizing a statewide "marijuana education" tour featuring the "quarter back of the anti-drug movement," Kevin Sabet, looks a lot like political work.
"The bias of the speakers selected, the overall one-sided focus of the events, and the proximity between these events and the upcoming elections are cause for concern," wrote Blumenauer.
Blumenauer debated self-appointed No on 91 spokesperson Clatsop County District Attorney Josh Marquis on Friday in Salem, (
video
) but
opinions may be hardened on both sides. Taxing and regulating pot is supported by younger folks and Democrats, while seniors and Republicans oppose it, Survey USA found.
Oregon Measure 91 would allow adults 21 and over to be in possession of small amounts of cannabis flowers and infused products, and would allow each household to grow up to four plants.
Commercial growing and sales would be taxed at a low rate, and regulated through the Oregon Liquor Control Commission, producing an estimated $16 million to $40 million in annual tax revenues for the state. Cities are already lining up to
tax it
.
Pot is all but legal in decriminalized Oregon, but poorly controlled. Each year, thousands of Oregonians are stopped, and then cited or arrested for cannabis-related activities. Someone in Oregon gets arrested or cited once every 48 minutes for marijuana, and people of color are more than twice as likely to be arrested or cited, according to Yes on 91.
Opponents say the burden of prohibition is not that big, and worry about more stoned teenagers and drivers if pot if it is legal.
Major travel writer Rick Steves
launche
d a six-day, 10-city tour of Oregon to give his speech "Travel as a Political Act", and the need for cannabis law reform in Oregon.
With his reading glasses and button-down shirt, Steves is most definitely mainstream, and he was a ringer for legalization in Washington in 2012.
Steves has said in the past that, 'I believe 'high' is a place. And it's a place you should be allowed to visit.'
Steves' tour will stop in Portland, Beaverton, Salem, Corvallis, Eugene, Medford, Ashland, Bend, The Dalles and Gresham. Almost all the events are free.