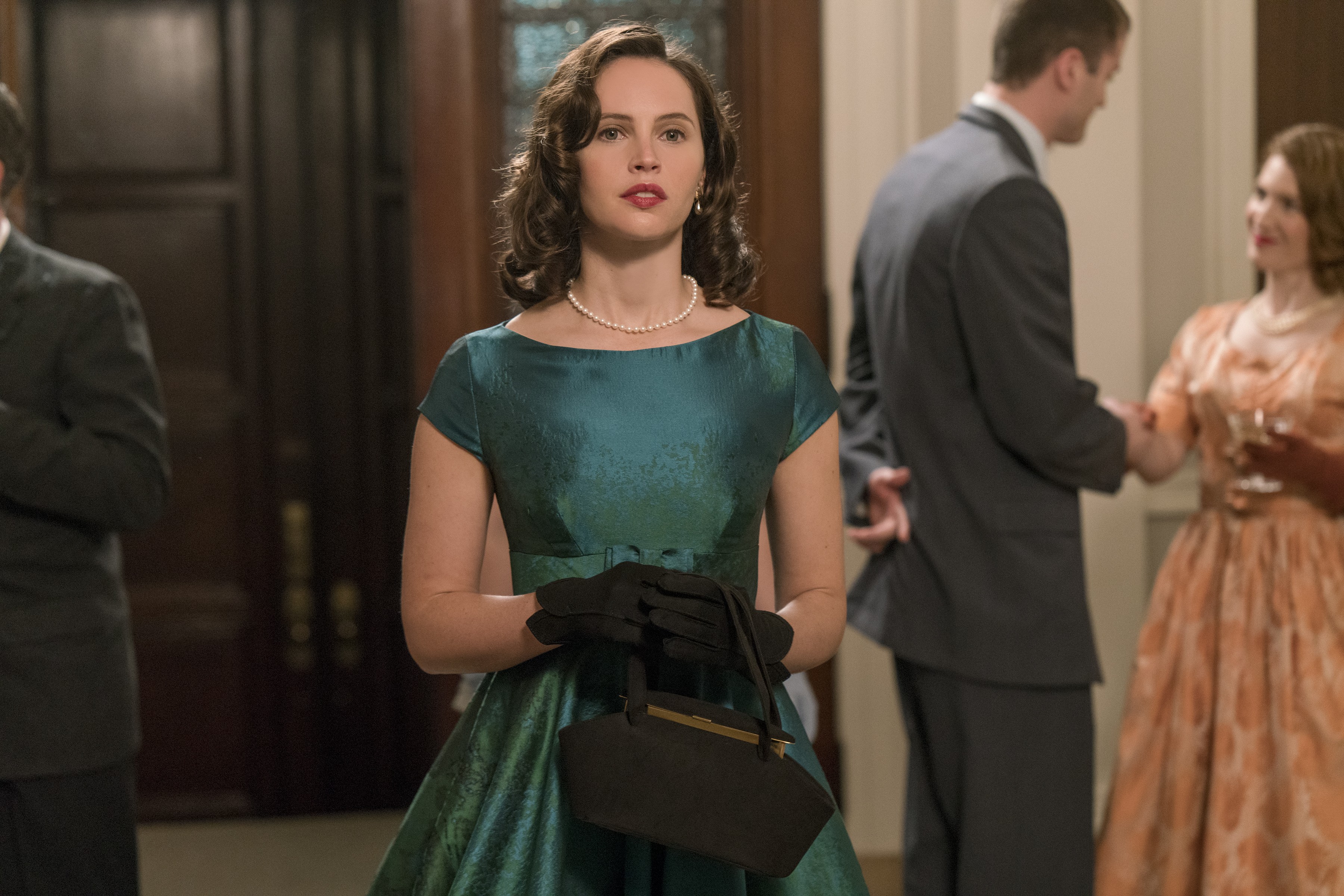 A critic's confession, no. 3,158: Initially, I wasn't thrilled at the prospect of watching Mimi Leder's
On the Basis of Sex
, a biographical dramatization devoted to U.S. Supreme Court Justice Ruth Bader Ginsburg and how she got to where she is today. How could it ever compete with one of 2018's finest documentaries, RBG, starring the woman herself?
And whose idea was it to cast English actor Felicity Jones (The Theory of Everything) as Bader Ginsburg, the 1960s ideal example of liberated Jewish womanhood? And how about Armie Hammer (the perpetual preppie from Call Me by Your Name and The Social Network) as RBG's tax lawyer husband and steadfast comrade, Marty Ginsburg? Really?
And yet.
On the Basis of Sex
, directed by TV veteran Leder from a screenplay by first-timer Daniel Stiepleman, turns out to be the perfect accompaniment to RBG. It goes places the doc did not, fleshing out the private motivations and personal challenges of its subject and revealing her emotions — in addition to her intellect — as building blocks for the interpretation of law. It's one of the most satisfying movies of the holiday season because it humanizes this influential public thinker, a person many people count on. The real-life RBG is one of the most important people in the United States, and Leder-Jones' idea-driven biopic shows her, to our relief, to be less of a symbol and more of an exceptional woman moved by the same issues that rouse many of us. But she's a genuine stickler.
Jones's performance is a revelation. She underlines Bader Ginsburg's idealism as an outgrowth of her experience, as someone at first barred from her calling by reflexive sexism. Equal protection of the law for women and men as a civil right, not a perquisite. What a concept. Hammer's Martin Ginsburg comes across as the ideal collaborator for a revolution of thought. The supporting parts are equally well thought out. The badinage between the ACLU's Mel Wulf (Justin Theroux) and feminist activist Dorothy Kenyon (Kathy Bates) is especially fun to watch. Their motto: Question everything.
On the Basis of Sex
may not exactly be a multiplex door-buster. It's entertainment of an extremely high-flown kind, a drama of ideas as much as of personalities. But for audiences seeking to find a way through this particular moment in American life, it is rich with meaning.
[embed-1]