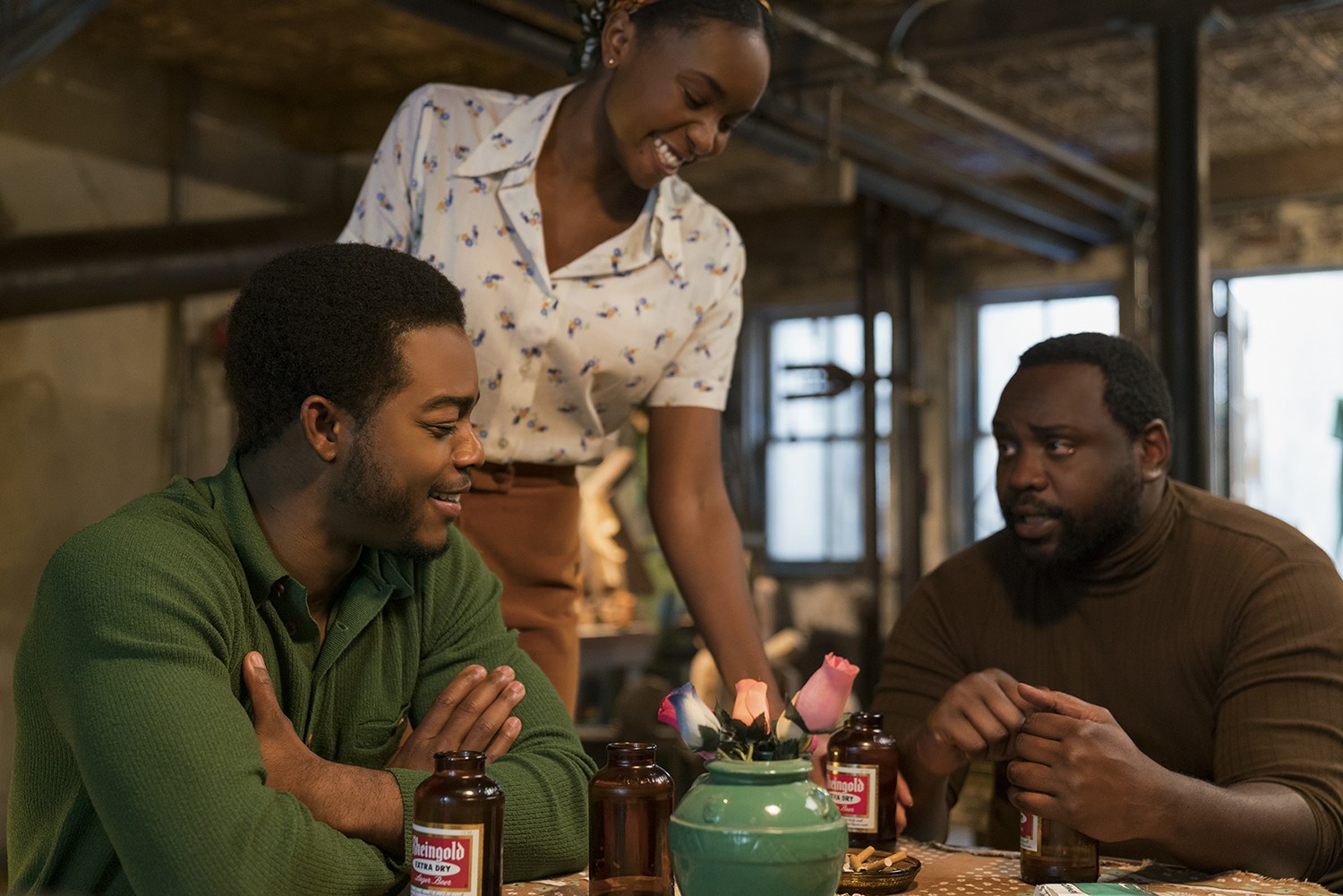 We saw the first inklings of it in Medicine for Melancholy (2008), director Barry Jenkins' feature debut, when it played the San Francisco International Film Festival. Then came the full flowering of Jenkins' power with actors and moving emotional subject matter, 2016's Moonlight. And now comes the James Baldwin adaptation If Beale Street Could Talk, to affirm that Jenkins is this country's pre-eminent romantic filmmaker.
The basic outline of Beale Street is as timeless as the first story ever told. Starving artist Fonny (Stephan James) and 19-year-old perfume sales clerk Tish (KiKi Layne) are madly in love with each other, and have been ever since they grew up together in Harlem. Now, in the early 1970s, Tish is going to have their baby and the couple plans to marry, with the full support of Tish's down-to-earth family, and despite opposition by Fonny's sanctimonious church-lady mother. Everywhere Tish and Fonny go, they're wrapped in a warm, amber-tinted blanket of James Laxton's cinematography and Nicholas Britell's swelling string music, while the camera twirls deliriously around them. If two people could live on love, they'd be happy for the rest of their lives.
However, author Baldwin — on whose 1974 novel the screenplay is based — and writer-director Jenkins are aware that as a Black man and woman, Fonny and Tish are subject to the harsh laws and cruel whims of society. Fonny has been accused, wrongfully, of raping a woman, and suddenly finds himself languishing in jail awaiting trial, his only accuser a white policeman nursing resentment from a previous encounter. That is pretty much all we know, and all we need to know, about this star-crossed pair of lovers, whose front-story situation finds them "talking through glass," unable even to touch fingertips as their dreams are upended.
Gentle, unassuming Tish and Fonny remind us of Jo and Micah, the similarly head-over-heels San Francisco Tenderloin residents in Medicine for Melancholy, frustrated that gentrification and high rents are thwarting their attempt to find their place. Sweet faced Tish and guardedly hopeful Fonny also share traits with Little, the bewildered kid in Moonlight who toughens up yet never loses his need for affection. Filmmaker Jenkins and the late author Baldwin (Another Country, Notes of a Native Son, The Fire Next Time) essentially meet up at the intersection where love and the fight for survival collide, in the lives of African Americans unafraid to admit that their feelings, the most tender expressions of their humanity, have been crushed by the American colossus. Both Baldwin and Jenkins return to this wreckage again and again because (in our fervent imagination) we want to believe that they, like their characters, have the strength to never abandon their compassion for the sake of vengeance. At least it's comforting to think so.
Each detail of If Beale Street Could Talk splashes on us like cool, soothing rain on a desert. Actor Layne, a TV regular, radiates innocent shyness as Tish, with an underlying strength and perseverance that will never fold. James' Fonny is almost too saintly to believe, except that we can see his face every day, if we look. The wonderful Regina King and veteran character player Colman Domingo are the parents everyone in the audience wishes they had, but in this film, they belong to Tish alone. On the other side, Fonny's snooty mother (scene stealer Aunjanue Ellis) and her husband (Michael Beach) give us a slice of combative family life. And for pure evil, English actor Ed Skrein shows us in about three minutes of screen time the telescoped generations of white hostility that Tish and Fonny — and every African American — are forced to put up with. Baldwin was under no illusions, and neither is Jenkins.
A quick note on two of the many touches that lift this extraordinary movie to the heights. Composer Britell's lush musical score, in combination with period tunes by Miles Davis, Nina Simone, Mal Waldron, Aretha Franklin, and Donny Hathaway, lend a flavor of optimistic authenticity. Likewise the flipbook of vintage black-and-white still photos by Gordon Parks, Roy DeCarava, et al. As always, Jenkins aims for the timeless. If Beale Street Could Talk is his latest breathtaking miracle.
[embed-1]