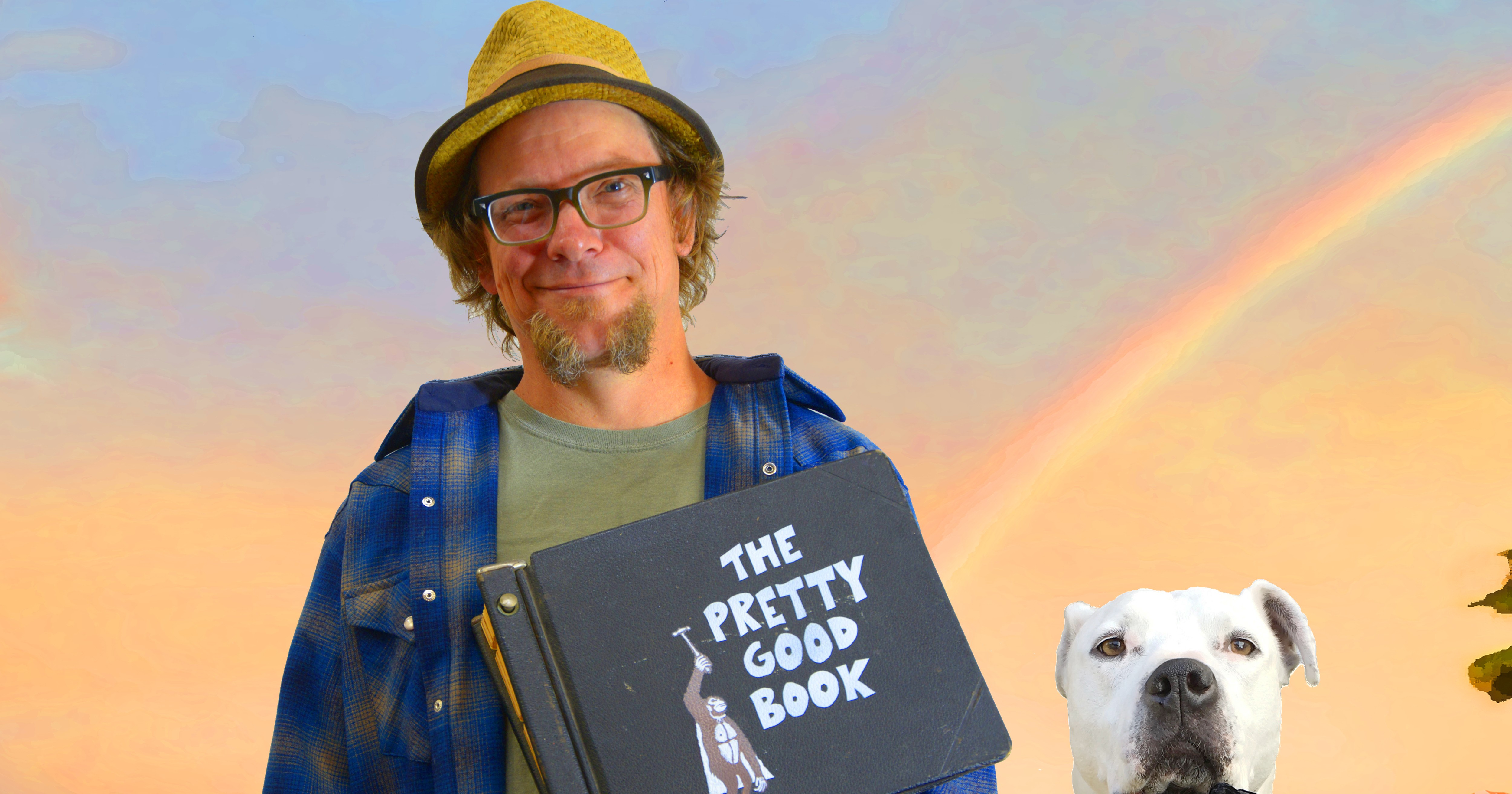 Joe Rut is no stranger to misfortune. Floods, fires, evictions, copyright battles, stolen hard drives of full recorded albums — if he were a cartoon character, it'd be comical. Even with a brand new string of bad luck preceding his latest album, he maintains a remarkably good sense of humor.
"Let's not call it bad luck. Let's call it eventfulness," he offered.
Sitting on a bench outside Coloso Coffee in Old Oakland on a sunny afternoon, the alt-country singer-songwriter cradled an espresso and readily showed off photos of his pit bull, Potato, frolicking on the beach that morning. He had just gotten back from High Sierra, a music festival held in Quincy, Calif., and spoke fondly of spending four days listening to bluegrass, jam bands, and funk musicians; taking psychedelic drugs; and "having [his] heart cracked open like an egg."
Despite the welcome respite, it hasn't exactly been smooth sailing for Rut lately. With what he calls The Pretty Good Book — an antique accounting ledger given to him by friends that contains hundreds of pages of handwritten song lyrics — resting safely beside him, Rut told the story of how he almost lost it, and months of songwriting, for good.
After being evicted from his warehouse living space in 2017, Rut decided to travel down the West Coast in his Ford Econoline van with Potato, playing house shows and writing and recording songs. In town for a San Francisco performance, he was having a blast until his van, along with many musical instruments, his PA, his clothes, The Pretty Good Book, and hard drives containing two nearly completed psychedelic alt-country albums were stolen.
"It makes me feel pretty dumb to admit it, but this is actually the second time this has happened," said Rut. A few years ago, his recording engineer's car was stolen, resulting in the first batch of lost songs with no backup.
As one might expect, Rut was pretty despondent to have it happen again. He started combing local flea markets and printing out piles of reward flyers. Miraculously, six weeks after his van was stolen, he got a call saying it had been recovered. And soon after, The Pretty Good Book followed.
A homeless man called him, telling him he'd found the book and had been holding onto it for a month because he could tell it was incredibly important to somebody. Rut met him behind a Pak'nSave and offered him a reward, but the man didn't want to accept it.
"I mean, this guy's living in a tent. And he didn't want a reward. He just said, 'This one's for karma,'" said Rut, still sounding in awe of the experience.
In the end, Rut managed to force a reward on the man, but his integrity left Rut with a renewed sense of hope.
"With all the shit going on right now, that almost made the entire van theft worth the trouble," he said. "I'm still trying to figure out if they balance each other out, but man, they're pretty close."
The very next day, somebody called with his Dobro guitar. While getting the book back was a faith-in-humanity-restoring experience for Rut, he found the experience of buying his guitar back deeply sad. It did lend him inspiration to write a song, though: "Buying My Guitar Back From A Junkie."
"The fact that these things happened a day apart from each other seems to reflect the times we're living in right now," said Rut. "There's just this great despair and then these beautiful little moments. I have to remind myself to look for the beautiful little moments."
Silver linings are Rut's bread and butter. Finding light in the darkness is how he writes such witty, charismatic songs.
"As a songwriter, maybe bad luck is good luck, because once you get all comfy and everything's beautiful, your songs probably start to suck," he said, laughing.
But what was truly beautiful that came out of the van disaster was the outpouring of support Rut received from the Oakland music community. Aside from all the offers for places to stay, clothes to borrow, and friends who wanted to buy him a drink, people gave him something even more valuable: an idea.
"I had a number of friends tell me, completely unassociated with each other, 'Hey, we really like it when you just sit down with your guitar. You don't need all the accoutrement,'" he said. An idea to get him quickly back on his feet was born: a live acoustic album of all the songs he'd written, no frills attached.
One friend found the recording equipment for the job, others took care of the door and the bar, and before he knew it, 75 of his closest friends had showed up for a live recording of Nekkid, his seventh album that drops Thursday, July 26.
"It was really a community effort to make this happen," said Rut. "It seemed like a very Oakland thing to me."
The result is something hopeful and healing: 15 heartfelt Americana songs that grapple with our current political environment (in "Role Model," he satirizes Jeff Sessions and Jared Kushner), the tension between urban and natural environments, and personal snapshots from his van wanderings, all delivered with a self-deprecating, quirky sense of humor. For the most part, the album finds Rut alone on stage with just a guitar — but one can feel the presence of the community in the room, too, from banter with the crowd to Potato nearly knocking a microphone over in her excitement to see him.
So, despite everything, Rut's not discouraged. In fact, he plans on getting back behind the wheel of the van soon for another songwriting road trip adventure. It's the little things that keep him going.
"I just found out today that apparently the Brontosaurus is a real dinosaur again," said Rut eagerly. (He's referring to the dismissal by scientists years ago and recent reinstitution of the Brontosaurus as a legitimate species of dinosaur, which he cited as his favorite kind). "It gives me hope for Pluto being a planet again."
Thursday, Jul. 26, 8 p.m., $16, $20, Freight & Salvage Coffeehouse, 2020 Addison St., Berkeley, FreightAndSalvage.org