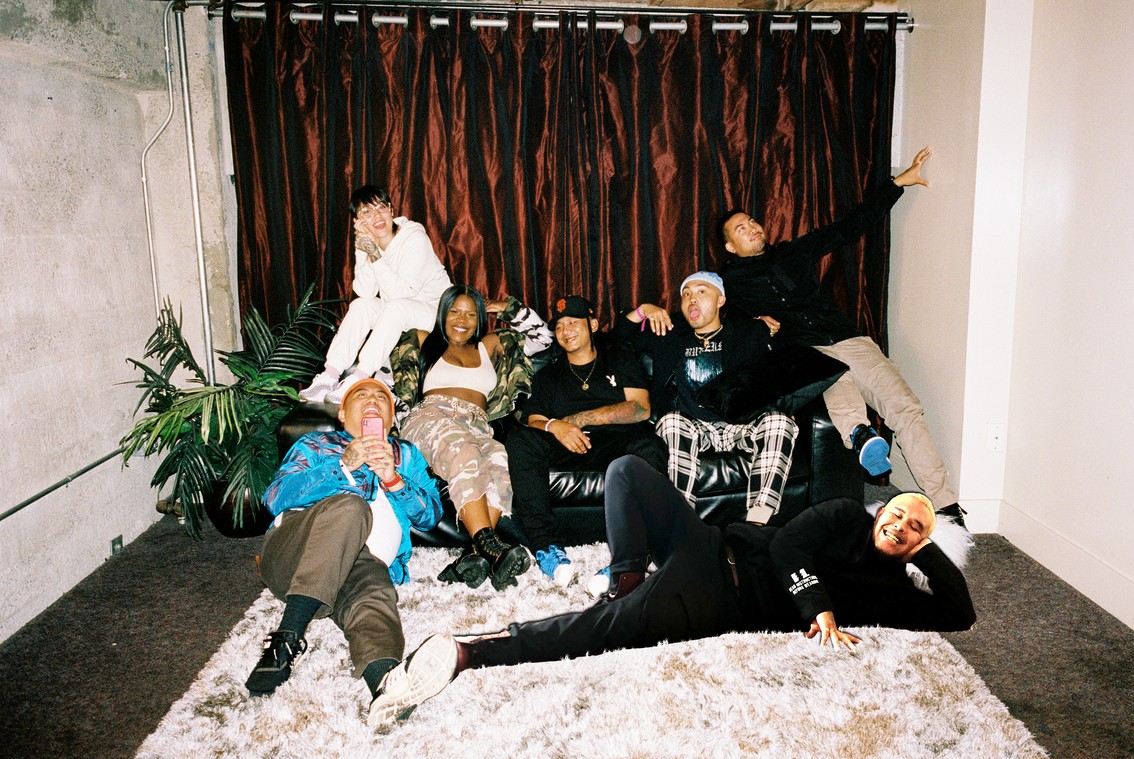 Oakland has taken over the big screen this month with the national release of both Sorry to Bother You and Blindspotting. But how does Oakland define itself on the dance floor? Hyphy and thizz might be the go-to responses for Oakland's sound, but if you've been out on the town, you know the dance floor is where culture is preserved and pushed forward. The six crews comprising the Red Bull Music presents Oakland showcase at Geoffrey's Inner Circle this Saturday — Club Chai, the B-Side Brujas, Another Party Fam, 45 Sessions, Smart Bomb, and NVR OVR — have been doing just that. Part of a year-long series of select Red Bull Music events nationwide, Saturday's Oakland party is intended to celebrate the many underground music scenes that have made the Town the artistic and cultural epicenter of the Bay Area.
"We want to show what we bring, like our intensity, how we hype the crowd up. We just want to show how we've been fine-tuning our craft to be able to share the stage with the other crews," said Kawasaki of Another Party Fam (APF), which hosts not just parties but full-on functions. A quick glance at its Instagram shows APF personifies the type of night you wait in long lines outside clubs to experience.
"You get to experience different aspects about the culture in one event," said DJ Aux Cord of APF. "We want to come into it with the utmost respect for all the big homies on the lineup because that was our most important thing — that we come into this whole nightlife scene and DJ scene without stepping on any toes."
The fact that there's a scene to begin with is a sharp contrast to those initial parties hosted by Oakland Faders and 45 Sessions founder DJ Platurn when he first co-launched the Flashback Fridays series in 2001. "We literally used to see tumbleweeds roll down the streets in Oakland," he explained. "The first few years, it was definitely more about, 'We just want a place where we can play 45s on a decent sound system.'"
The 45 Sessions series began in 2010, an era when "the whole digital aspect of DJing was pretty much cemented" and Oakland itself began to gentrify more rapidly. Yet it was one of the first parties in Oakland to host out-of-town DJs, including Just Blaze and Z-Trip. The crew still hosts an annual Winter Session and publishes 45s on labels worldwide, with the crew featuring the legendary DJ Shortkut on Saturday.
The B-side Brujas will keep the vinyl going with choice Latin, soul, and funk selections powered by an all-women of color collective of music connoisseurs, while the Smart Bomb crew will bring a constellation of futurist sounds and abstract boom-bap that has trademarked their popular series at The Legionnaire. (The B-side Brujas refused to answer questions in protest of recent events brought to light at the Express.)
"I kinda wanna lay down a good foundation of where we come from but also get weird and show people where I want us to go," said NVR OVR founder DJ Willie Maze about Saturday's set. Maze, a professional DJ since age 19, has witnessed downtown Oakland's many changes. "I came up in the era where you didn't play rap in Oakland without things getting shut down. Everybody wanted to blame rap back then."
The venue for Saturday's party, Geoffrey's Inner Circle, has had its share of conflict with Oakland police, including a federal lawsuit against the police department by owner Geoffrey Pete accusing officers of racial profiling, discrimination, and harassment. False reports of violence and drug dealing also contributed to the venue's brief closure for three years before reopening in 2012. Nonetheless, a federal judge dismissed Pete's case in 2011. Pete and several other club owners formed the Oakland Cabaret Association that year to combat what they perceived as inconsistent fines, charges, and targeting of predominantly Black-owned Oakland clubs, bars, and like-minded businesses.
Whether present day or the '90s, these type of actions are huge reasons why artists find alternative spaces in Oakland, with Maze's Local 1200 crew of the late '90s and early 2000s producing their original shows in warehouses before clubs "were even close to accepting rap music."
Club Chai began in 2016 as a monthly warehouse party centering queer voices and people of color to a soundtrack of techno. The performance series quickly led to a digital label, which features local and international artists "focusing on non-Western music and combining that with dance music and club music that is from the West" in order to "create a dialogue between all the people we'd been booking in the Bay and also all the people we'd been working with internationally," said Club Chai co-founder Lara Sarkissian (FOOZOOL).
Fellow co-founder Esra Canogullari (8ULENTINA) noted that among the diverse groups on Saturday's lineup, there's clear overlap. "[We] have definitely been to each other's spaces before," Canogullari said. "I think it's just necessary that we have that kind of support in the Bay. Since we don't really have a big economy for the arts, we kind of depend on supporting each other."
Many members of the Bay Area music scene have continued that support in the wake of the Ghost Ship warehouse fire that claimed 36 lives and the recent deaths of Pam the Funkstress, DJ Steph, and Matthew Africa. "Those were all people that were huge influences to what happened here in this town," Maze said.
Given the rapid development of downtown, questions are emerging for Saturday night: Who will be there? Longtime residents or new transplants? If Oakland embodies all the creativity San Francisco is losing, what long-term support will artists have in Oakland? And are corporate-backed events increasingly part of the answer?
Regardless, navigating Oakland's changing economy and its impact on the artistic community will continue to be a battle for many on the lineup. Still, for one night, this bill proves to be a united force reflecting Oakland's growing and burgeoning downtown DJ scene.
"It's nice to be able to say that we have a legitimate scene," said DJ Platurn. "It might be a little fragmented at times, but overall, there's a little industry that's already here and growing in Oakland. It makes for something like this Red Bull event to even be possible."
Saturday, July 28, 9 p.m., $5-$10, 410 14th St., Oakland, RedBullMusic.com