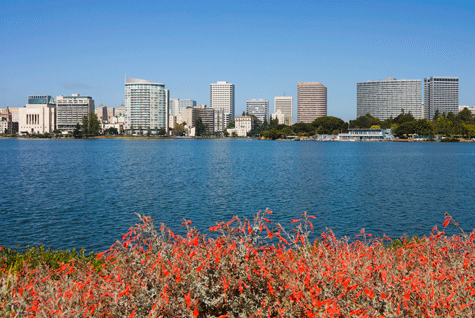 Happy 4/20! I have been smoking weed since before 4/20 was even a thing. We just said, "Hey, it's time to smoke some weed" — and then we smoked some weed.
These days, 4/20 is damn near a national holiday. I would like to thank the Waldos, from San Rafael, and a band called The Spin Doctors for creating and popularizing my second favorite holiday (Team Kwanzaa).
Maybe it's because cannabis is finally legal, or because the Compassionate Use Act (a.k.a. Proposition 215) turns 21 this year (always funny when a weed law is old enough to drink), but I have been tripping a little bit off of how things used to be and how they are now. Most of this new shit is pretty cool. Here are some comparisons:
Smoking at the Coliseum

Old School
: The weed ramp at halftime during Warriors games. Grateful Dead concerts, wherein the security guards would make you extinguish your cigarette, but help you light your joint. Getting to the A's game early to sit in the nosebleeds and burn a joint or two while watching batting practice. Good times, indeed.
New Paradigm
: Weed ramp? Hell, you can't smoke anything in the Coliseum or Arena these days. In fact, Warriors games have a strict "No ins or outs" policy, like they are some sort of cheap nightclub that produces heavy metal shows on the weekends. Fortunately, vaporizers are discreet, and edibles will keep you buzzed for the whole game. Also, if you bring a ticket stub to the Coliseum adjacent cannabis dispensary known as
Phytologie
(8440 Enterprise Way, Oakland, PhytologieOakland.com), they will give you a free top-shelf, pre-roll, so you can pre-funk the parking lot. Aw, yeah.
Bumping Into Ed Rosenthal

Old School
: Ed was ubiquitous in the Nineties. He spoke at rallies. He spoke at concerts. He produced all kinds of events, like the Wonders of Cannabis, and his somewhat infamous Festivus parties. He fought the federal government to a standstill when they tried to send him to prison for cannabis cultivation. Oh, and he wrote a few books. Plus, he usually has some good weed and a long and rambly, yet funny, story to tell you.
New Paradigm
: This guy is everywhere. Still writing books, still attending more events and rallies than anyone else, still smoking weed all across the world. Still hitting corners in them low-lows, girl. And since he started promoting his own brand of pre-rolls, his weed had gotten even better, while his stories have gotten longer.
Smoking in Public

Old School
: You could get arrested, but no one really cared. I remember the 43 Foothill being full of cannabis smoke just about every day when I would come home from school back in the early Eighties. In the Nineties, I personally smoked a fat doob outside Larry Blake's, The Omni, The Berkeley Square, Gilman, and once while waiting in line at Flint's Barbeque.
New Paradigm
: You might get a ticket, but no one really cares. Weed is legal, and the entire Bay area smells like hot skunk with hint of pine and myrcene. Folks don't smoke on the bus anymore, which is good, but that's probably the only place people don't smoke. I especially like to burn one while perusing the sculptures behind the Oakland Museum, or while walking down Broadway as I reminisce about the glory days of Oaksterdam.
Buying Weed

Old School
: Good luck. If you were new to town and didn't already have a hookup? Pssssh. Asking strangers for weed is not the lick. If you lived in town and had a good weedman ("I use "weedman" as a generic. Weedmen occupy all genders. Weedmyn? Weedmon?"), you would still have to wait for hours (the weedman shows up whenever the weedman shows up) and take whatever you could get. If there were two strains to choose from, it was damn near a celebration.
New Paradigm
: Abundance — and plenty of it. For real, for real. You can hit more than 100 dispensaries all over the Bay Area. You can plan a day trip around your favorite spots. Hell, you could plan adventures around eating and smoking:
7 Stars
(3288 Pierce St, No. 108, Richmond, 7StarsHHC.com) is in a mall with some of the best Asian food in the Bay.
Berkeley Patients Group
(2366 San Pablo Ave, Berkeley. MyBPG.com) is right down the street from Smoke BBQ and Gaumenkitzel. And selection? Forget about it. These days, people get all huffy when a club has less than ten different strains in stock.
Magnolia Wellness
(161 Adeline St, Oakland, MagnoliaWellness.org) throws a farmers market! A freaking farmers market. For weed. Days of miracles and wonders, my friends.