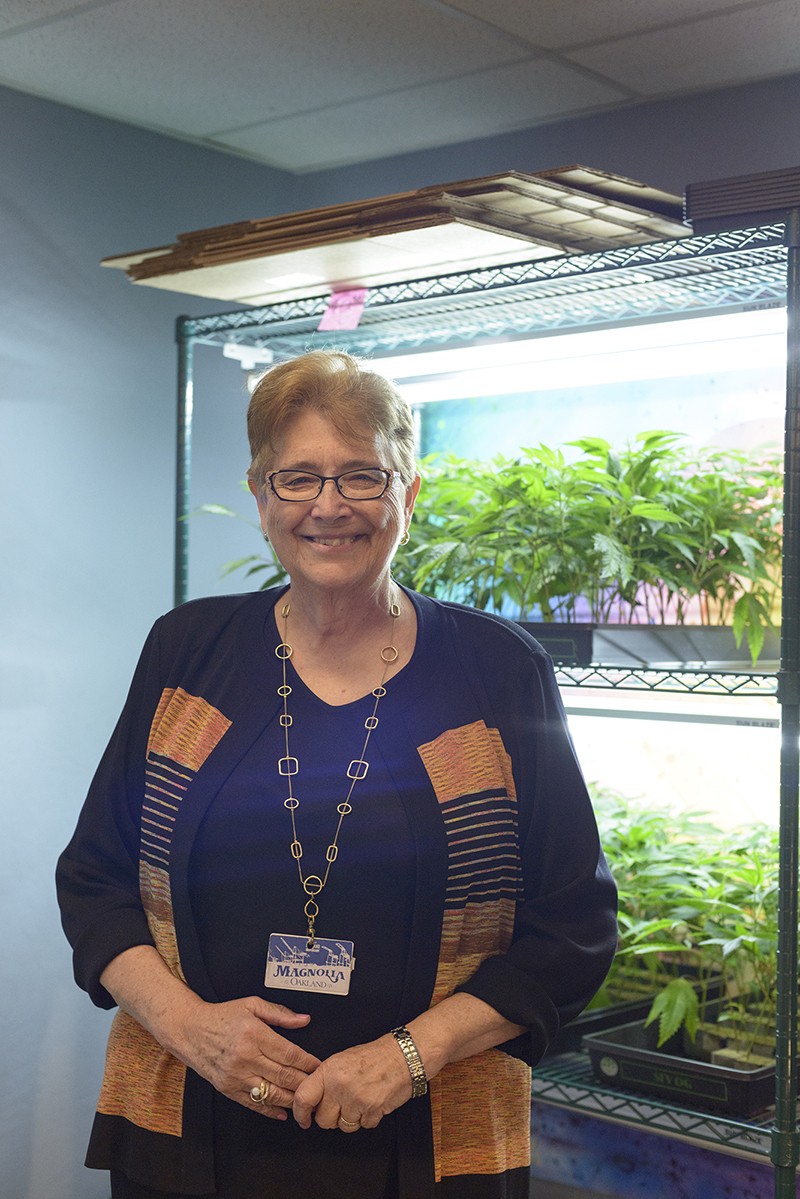 Barbara Blaser didn't ingest cannabis for the first time until she

was 70 years old. (There was that incident 13 years ago, with some marijuana-infused banana bread, to which she had not consented, but that doesn't count.) She'd lived her life — through the Sixties and more —pot free. Until last year.
Now, not only is Blaser herself a marijuana user, but she also serves as the on-site RN for Magnolia Oakland.
A year ago, she set up an appointment with a doctor, who gave her a medical marijuana referral. "I had two pages worth of disease to be treated," Blaser explained. "I went in with a text book," including but not limited to insomnia, anxiety, and chronic pain.
After that, it took her another two months to actually try marijuana. That's because, during her storied career as a nurse in Illinois, Blaser had developed a healthy reluctance to self-medicating. "I felt like I had to wait to take it until I was actively symptomatic," she explained.
But then, one day after driving 25 miles home from work, Blaser decided to cave and try an edible. The traffic was nasty, and she was in pain and was anxious.
"I didn't feel like what I saw in Cheech and Chong movies," she said of that first moment. Turns out, the edible had been primarily CBD, the non-psychoactive part of the plant.
Now, not only is Blaser herself a marijuana user, but she also serves as the on-site RN for Magnolia Oakland.
Blaser works with patients at the dispensary, and has observed a rise in elderly marijuana users. She attributes this to older people wanting to stay in their homes, rather than entering long-term care facilities. Blaser believes that marijuana can help with physical and mental care. And she cited Israel as an example of a place where marijuana is used to treat elderly people with dementia and movement disorders.
"It's made a huge difference in people's lives," she argued.
Yet, for elderly patients in the United States, marijuana use is wrought with mixed signals. "Many of them are children of the Sixties, and many of them have smoked," Blaser said. "But what they're finding is that it's a whole new world, because what you smoked in college is significantly less potent than what you might get now."
Indeed, seniors have seen it all, from the counterculture movement of the Sixties and Seventies to First Lady Nancy Reagan's "Just Say No" campaign in the Eights, and even President Clinton's War on Drugs in the Nineties.
Today, seniors are witnessing a swing of acceptance and reintegration of cannabis. They want in on the action, but have been told for years that marijuana is to be avoided at all costs.
"There is still a lot of stigma. We'll get elderly patients who say that they want something that their grandkids won't be able to tell they've used," Blaser explained.
Barbara had spent her career as a mental illness and substance-abuse nurse in Illinois. In 2002, she and her husband relocated to the East Bay, to be closer to their four children. Once here, she continued her work as a nurse in long-term care facilities, before entering into a short stint of retirement. Now, Blaser's position at Magnolia is the culmination of her years working in both substance abuse and elderly care.
Where younger nurses might worry about social prejudice associated with working in the cannabis industry, Blaser is no longer concerned with career trajectory.
"I'm 71, I don't care!"
Magnolia touts that, to their knowledge, they are the only dispensary in California with an on-site RN. Blaser works hard to subscribe to the same nursing ethics that she followed throughout her career in traditional medical settings.
As a nurse, she does not recommend what her patients take, but she does walk them through their options. "I might talk to you about how all this works," she said.
Before becoming Magnolia's RN, Blaser attended two intensive courses at Oaksterdam University, Oakland's cannabis college. From there, she has become a staple in the Magnolia community, at-tending high tea on Mondays, and taking part in the dispensary's food bank.
"I don't know about heaven and hell, but every day I get to make a choice: I can make it my hell, and if I make it my hell, then all these patients are going to feel that. Or I can make it a better place.
"And my goal is to make it a better place."