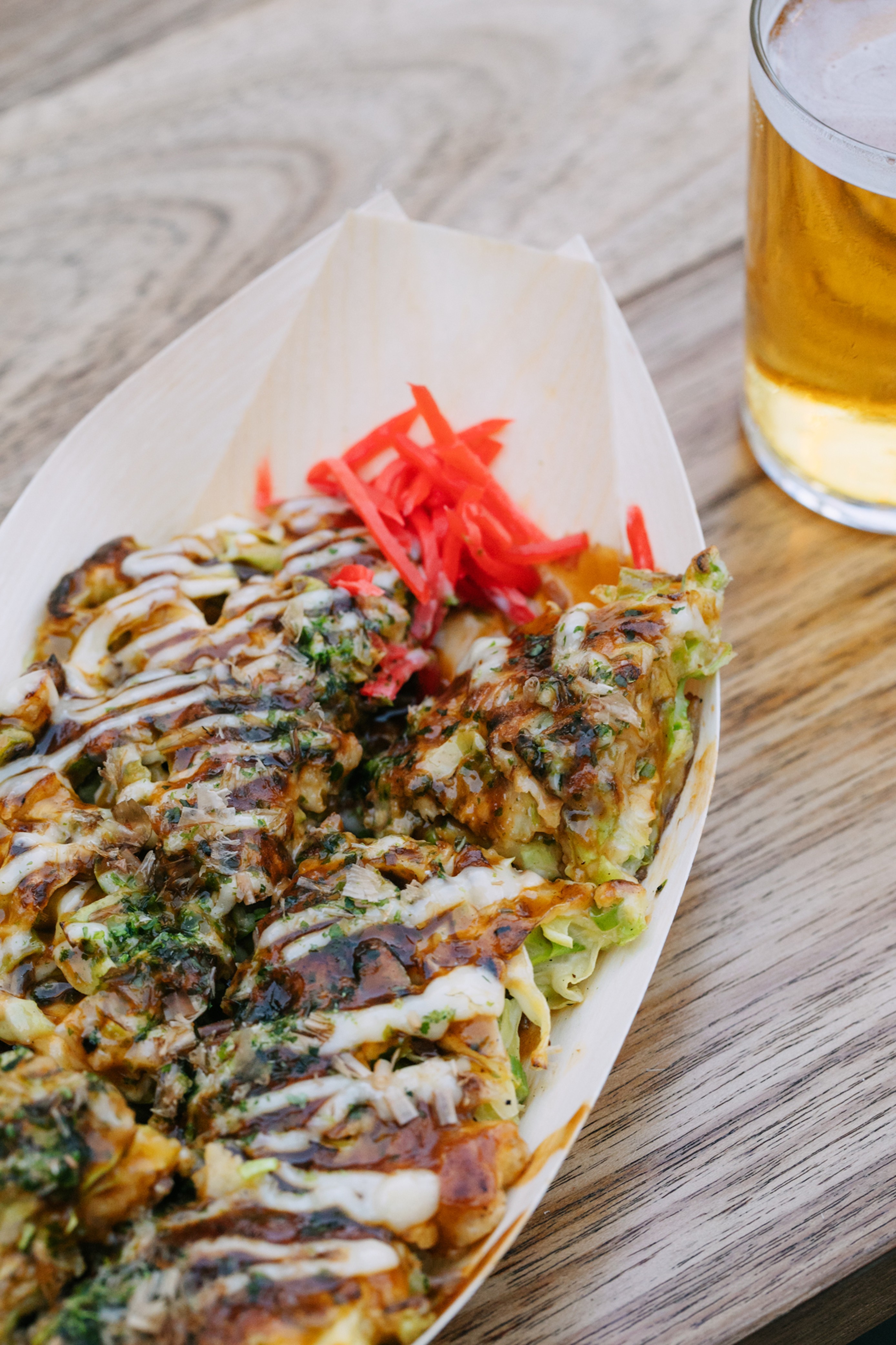 Okonomiyaki
is a dish that is almost universally loved in Japan, and making it from scratch is a labor of love. For the most part, it is hard to find a place that specializes in it in the East Bay — until the arrival of the Okkon Japanese Street Food pop-up at Temescal Brewing.
Every other Wednesday, you can try any combination of okonomiyaki, made to order from the husband-wife team of Satoshi and Sachi Kamimae. Okonomi means "how you like it," and, indeed, you can add different toppings, from bits of chewy mochi or gooey mozzarella, to spicy mentaiko cod roe or mildly sweet wild shrimp.
At its core, okonomiyaki is a savory pancake made with flour, mountain yam — a Japanese root vegetable — egg, cabbage, green onions, and some kind of protein. "It's a traditional food, but we use local and organic ingredients when possible," Sachi told the
Express
.
Satoshi, who was born in Hiroshima and grew up in Osaka, seemed destined to make okonomiyaki. There are two well-known styles: Hiroshima and Osaka. For now, Okkon only serves Osaka style. The popup's namesake, Okkon, is shorthand for okonomiyaki, a phrase that young people in Hiroshima say. (Sachi is from Shizuoka, a tea-growing area near Mt. Fuji that also has its own way of making okonomiyaki.)
"I just want to introduce people to good food from Japan," said Satoshi, who learned to make the traditional Osaka-style okonomiyaki from his mom. The Kamimaes have added their own take by using local and fresh ingredients, grinding the mountain yam, and making homemade sauces.
[pullquote-2]Okonomiyaki is typically made on a hot grill. In Japan, hole-in-the-wall places serve it right in front of you on a
teppan
grill. Hiroshima-style may include layers of cabbage, noodles, egg, and squid. In San Francisco's Japantown, there are several places that serve Osaka-style, but Hiroshima-style is hard to come by in the Bay Area. Satoshi said that they may add it one day, but for now it is more feasible to cook Osaka-style on a small outdoor grill.
On a recent Wednesday evening, kids were hanging out at Temescal Brewing's outside patio, while an elder Japanese man sat near the open grill for front-row viewing . Each pancake is made to order, which means every one takes time to come out, but it arrives piping hot at the table. Groups looking to share can try a variety, sampling different combinations.
The dish pairs well with beer, though in Japan it's a food for all-ages. Kids commonly eat it as a snack or for breakfast (think of all the ways you can hide vegetables and protein in it for a picky eater), young people love grabbing "okkon" with their friends, and, really, it's a popular dish among elders, too.
A note: The only thing on Okkon's menu is okonomiyaki, and each one is portioned more like a snack. Adding a few side dishes in the future could help round it out into a full meal.
The basic pancake, at $10, comes with pork belly, sliced by Satoshi. (It looks a lot like bacon.) A caution to vegetarians and vegans: The flour, a mix of regular wheat and buckwheat, contains a
dashi
broth made with four types of fish and
kombu
seaweed. The flour mixture, shredded cabbage, fried tempura, and green onions are bound together with an egg, as well.
For each okonomiyaki, you can add toppings for an additional $2, including mochi, mentaiko roe, wild shrimp, or mushrooms (the "toppings," with the exception of roe, actually go inside the okonomiyaki).
The batter is mixed with the toppings, then poured onto a sizzling grill and shaped into an oval. Two thin slices of pork belly are gingerly placed onto one side. When set, Satoshi flips the pancake over and covers it with a pot lid to cook it to perfection, and to crisp up the pork. The finished okonomiyaki is cut into eight pieces, and the top is brushed with a sweet and savory sauce and zig-zagged with mayo. A sprinkle of seaweed and bonito flakes, with a side of bright red pickled ginger, completes the dish.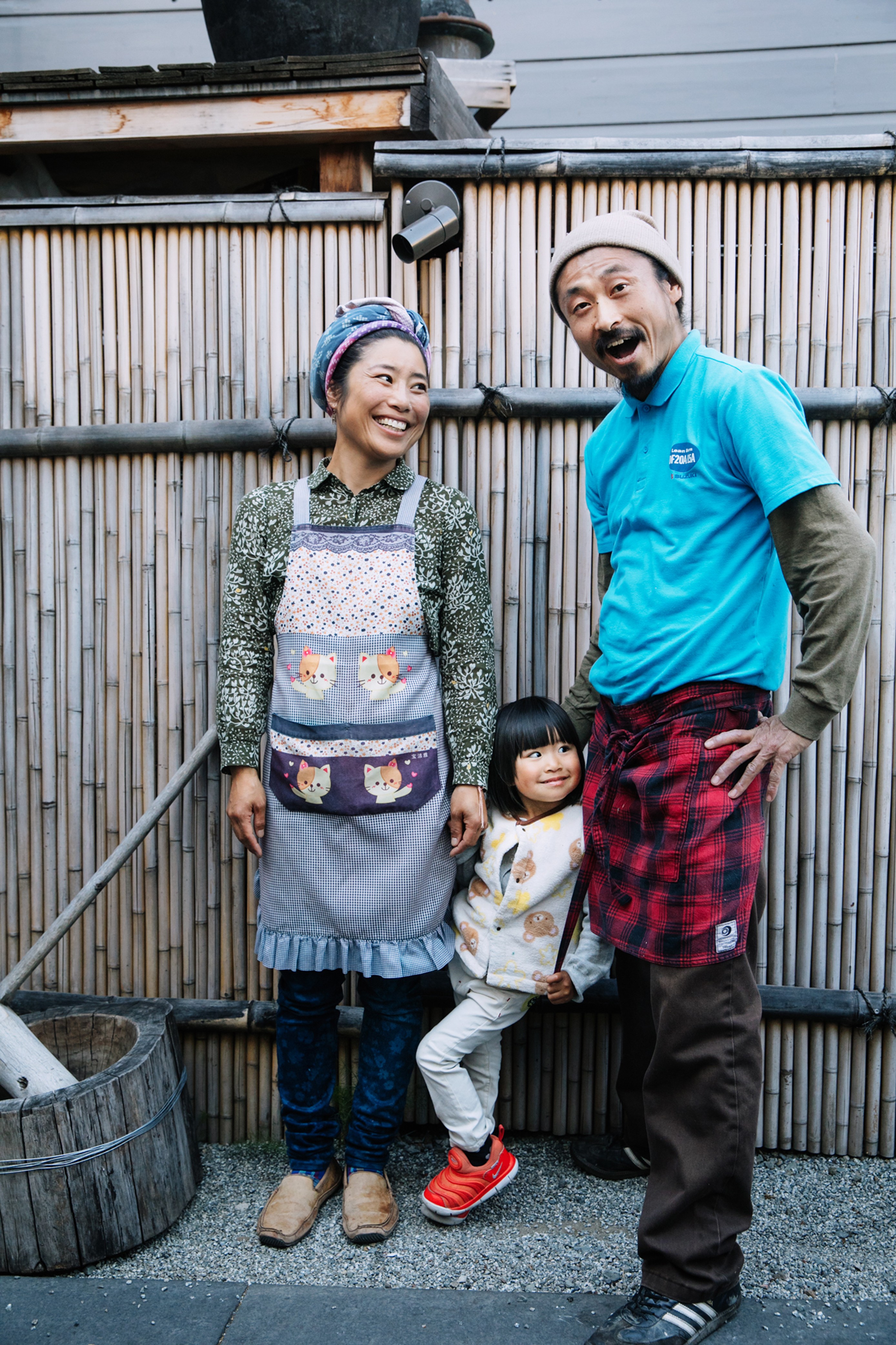 I recommend trying different combinations. The bits of mochi made each bite chewy. The mozzarella cheese didn't add much flavor to the pancake; a sharper cheese might make for more interesting flavors. The mentaiko roe had the most interesting flavor, with tiny and peppery cod eggs dolloped on top of each bite. The bite-sized wild shrimp were delicate and sweet, well worth the additional $2.
Note: The popup is cash-only.
Okkon first pop-up two years ago was in front of Corner Market in Temescal, but the store eventually closed. They then held pop-ups at the recently shuttered Fusebox, and at izakaya restaurant Ippuku in Berkeley, which serves its own version of okonomiyaki.
Okkon makes its own sauces. Typically, restaurants use Kewpie-brand Japanese mayo, but Satoshi makes his own using avocado oil, egg yolk, vinegar, salt, and honey. He also makes the sweet-savory okonomiyaki sauce.
"I think the most important thing is the sauce," Satoshi explained. His actually takes two weeks to prepare: A dozen type of fresh vegetables and fruits — cabbage, tomatoes, radish skin, carrots, celery, onions; in season fruits like oranges, melons, apples, or pineapples and dates; plus 12 spices — are boiled, blended, strained, and then slow-cooked with soy sauce and sea salt for several days. The sauce then ages for two weeks.
While it's great to learn the slow-cooking method of the sauce, I would recommend going lighter on it, for those who prefer less sodium. On our second round of orders, I requested Satoshi to use less, and I thought it was wonderful that way — you could still taste the flavors of all the other ingredients. (If you have any leftovers, it makes for a surprisingly good breakfast the next day.)
The couple currently doesn't have any plans to open a brick-and-mortar and they enjoy their flexible pop-up schedule, which allows them to meet people in different neighborhoods. They also do a pop-up twice a week in San Francisco: outdoor at Rintaro and indoor at Ken Ken Ramen. Their six-year-old daughter accompanies them on all the pop-ups, and has her own fan club of regulars who offer to watch her while the Kamimaes work. They also plan to be at more festivals, and attend to the occasional catering gig.
"I like pop-ups," Satoshi said. "I'm cooking in front of people. I want to see people's face, happy faces."
Okkon
Learn more at
OkkonPopUp.WixSite.com/Okonomiyaki.
Cash Only

Sample Menu
Basic okonomiyaki $10
Each extra topping $2