Actor Mandy Patinkin is the combustible element behind Berkeley Rep's season opener, Compulsion. Playing the part of Sid Silver, a smart, angry, middle-aged writer muscling for rights for the stage version of The Diary of Anne Frank. Easier said than done for a Jewish novelist working in the post-WWII era. Silver is driven by obsession to a valiant and self-punishing degree. He wants credit for his work, and he wants Jewish authors to be published on a much larger scale. Yet he's also compelled by the more elusive desire to resurrect a young girl, years after her untimely death.
Such delusions shape Silver's character, and create the atmosphere of this play. To say he is quick to anger would be an understatement. Tony winner Patinkin has a vocal range of three octaves and change. He's mercurial. He shifts moods precipitously, furrowing his brow and letting his voice rise in volume. He's that rare breed of actor who can start a sentence on a crescendo and get swept up in his own momentum.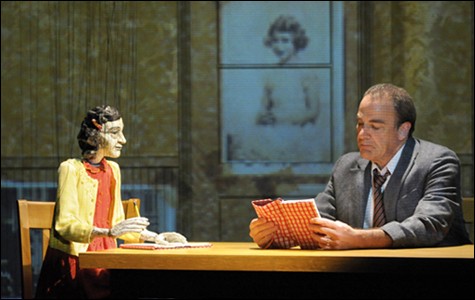 That's probably the most appropriate response to all the encumbrances thrown his way. Playwright Rinne Groff based Silver's character on Meyer Levin, the prodigious 20th-century writer who first brought Anne Frank's diary to the public in the form of a front-page New York Times Sunday book review. (Compulsion was his most famous novel, but it didn't have anything to do with Anne Frank.) Levin corresponded with Anne's father, Otto Frank, and got permission to adapt the diary for stage. In Groff's version he spends a long scene politicking with the publishers at Doubleday, too. It's a severe letdown when Levin's play gets canned and replaced with a sappier version, penned by Frances Goodrich and Albert Hackett. Groff blames the slight on anti-Semitism. Her play is, essentially, an homage to Levin, channeled through the figure of Sid Silver.
Perhaps it's not that difficult to hold a grudge for thirty years, as Silver does. But it's definitely hard to spawn a two-hour theatrical work from a singular obsession. To a large extent, Groff and director Oskar Eustis demand that we get inside the character's head and understand exactly what's eating him. Actors Matte Osian and Hannah Cabell make that task a little easier in their roles as the annoying gatekeepers at Doubleday. But the onus is really on Patinkin to transform himself from a growling hysteric to a sympathetic character.
And, by some alchemy, he achieves that balance. Best known for playing Inigo Montoya, the Spanish jouster in Rob Reiner's 1987 film, The Princess Bride, Patinkin grew up to be an incredibly detailed, naturalistic actor. In the opening scene he gets several minutes of wordless motion. He sits down at a table littered with puppet parts. He picks up a mask and looks at it appraisingly. He picks up a pencil and writes something in a book. In other scenes, he's equally exacting, licking his fingers while he turns the pages of a book, or crumpling his jowls to express anger. He speaks in quick, staccato bursts, saying all his lines as though they just occurred to him. Patinkin doesn't always know what to do with his arms — they sometimes flop distractingly while he paces the floor at Doubleday — but his face is always a study.
Cabell plays Silver's foil, doing double-duty as Mrs. Silver and the young publishing assistant, Miss Mermin. She's inscrutable in the latter role, often patronizing and sometimes anti-Semitic (though she's Jewish herself), but also the object of some underdeveloped sexual tension. When Silver attempts to worm his way into her house party, she treats him like some kind of sexual predator. She's good at acting prim and regarding men with a withering look. She's desirable in a creepy, crypto-fascist sort of way — hence the harried flirtations with Silver. In Compulsion, she seems like a good candidate to play his mistress. But perhaps that's not the point. Maybe their interactions stand in for a larger and more acrimonious relationship between Jewish writers of the 1950s and a wary publishing industry.
Silver is burdened with being a torchbearer for all Jewish writers, just as Anne Frank has to be the voice of six million dead people. It's no accident, then, that in the play she's rendered as a marionette, wearing a red jumper and Mary Janes. The real Levin made puppets and used them in experimental plays; the fictional Silver uses them to project and animate his neuroses. In Compulsion they're a terrific asset, acting out scenes from the diary or frightening Mrs. Silver in her sleep. (She's convinced that her husband's compulsion is actually a form of self-immolation.) At the beginning of Act Two, puppet-versions of Anne and Peter perform one of the more famous scenes from Anne's diary. If you've read the book, it's actually quite eerie. So is the constant repetition of the Anne Frank's most famous line — the one about people being good at heart.