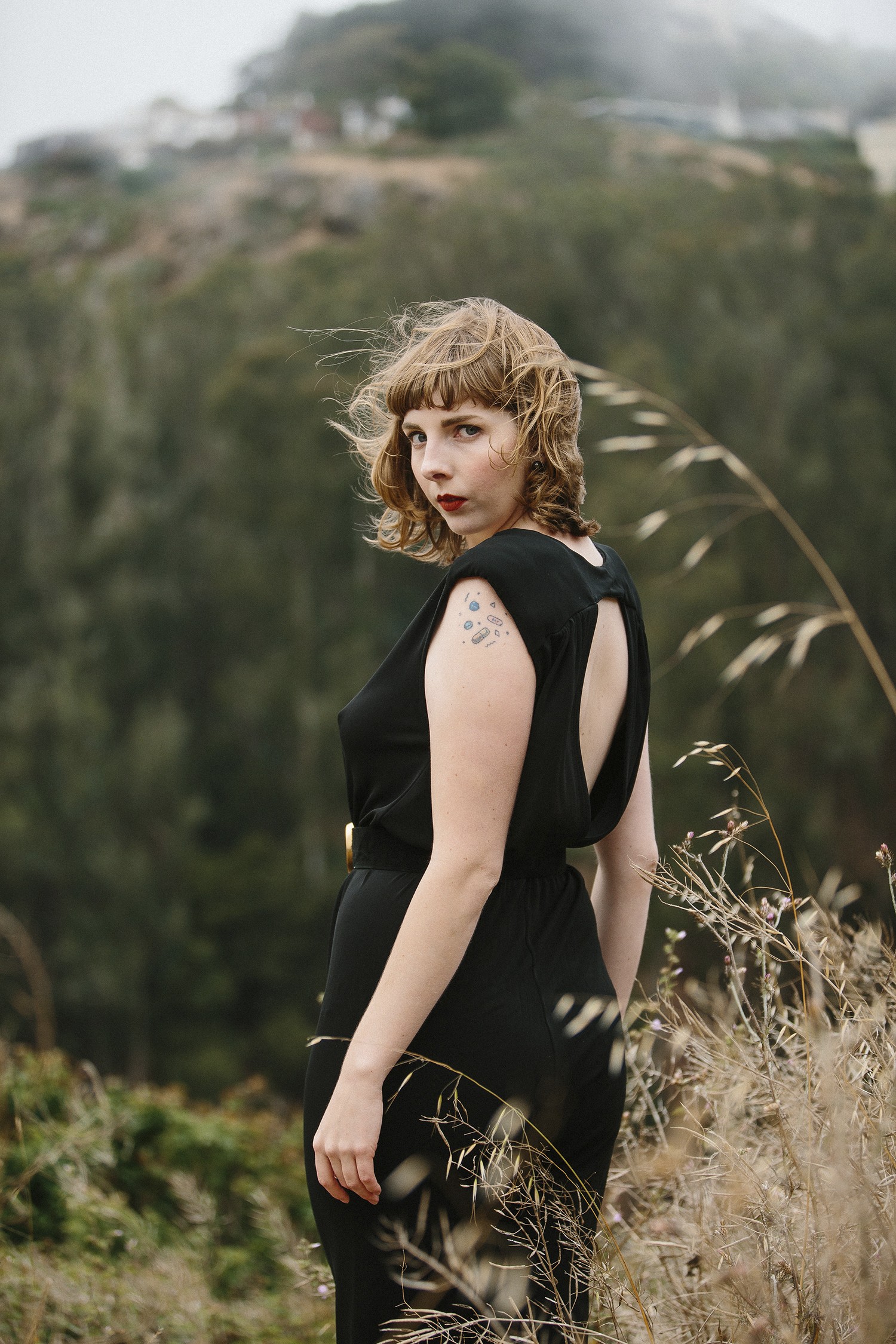 As a kid, Megan Mitchell often explored the crumbling naval facilities in Alameda, unwittingly gravitating toward the sort of spectral, derelict ambience that now colors her music as Cruel Diagonals. On Disambiguation, the 28-year-old artist's debut, Mitchell's layered vocals drift diaphanously atop ebbing electronic tones while her field recordings, mostly collected in the Pacific Northwest, lend subtle atmospheric disturbance. "I don't think I was particularly sonically aware, but it marked me in an aesthetic way," she said of her childhood island expeditions. "Places like that became an ever-present force."
Mitchell recently returned to the East Bay from Seattle, bringing a graduate degree in library sciences and an activist view of archivism. One expression of that is her oversight of Many Many Women, an online index of more than 1,000 non-cisgender male artists working in sound. At a music critic conference earlier this year in Seattle, she presented a paper on information professionals' "ethical imperative … to actively seek marginalized and underrepresented artists for inclusion in curated music collections."
In her emphasis on representation, Mitchell evokes Bay Area figures such as the late composer-philosopher Pauline Oliveros, who decried classical music's endemic sexism in newspaper editorials as early as 1970. And in her critique of genre purism and rarefied gear in electronic music, she brings to mind local contemporaries such as Club Chai, the DJ collective known for centering queer and transgender people of color. "I intentionally don't talk about gear or things that imply gatekeeping," she said, noting the way privileged white men, in particular, protect aesthetic dogma to guard scene clout.
Mitchell grew attuned to the power of archives and information while pursuing her undergrad degree at the University of Puget Sound in Tacoma, Wash. She became music director of the college radio station (helming a show called "Oscillations"), overseeing its transition from an analog to digital catalog music library. "It showed me the curatorial aspect, the decision-making, the trust imbued in you to make the choices about what has value," she said. "The power to name or to shape a narrative is considered a sub-niche of library science, but I realized that it should actually be at the forefront."
Growing up, Mitchell took voice lessons and wrote songs on guitar. But it was years until she felt emboldened to launch Cruel Diagonals. In Seattle, where she did graduate work at the University of Washington, Mitchell described an alienating, bro-ish streak in the music scene; last year, she published an essay about accountability in underground music, urging white men to "[step] into the role of educating and showing loving accountability to your friends and community members when they behave like shitty humans."
Mitchell started DJing in bars and, inspired by midcentury experimentalists such as Luc Ferrari, collecting field recordings in remote areas — activities that, combined, she described as "tricking myself into playing music." She borrowed the moniker Cruel Diagonals from the title of a film she glanced at in an archive. She still hasn't seen it.
In a short video profile published earlier this year, Mitchell buys small aluminum pots and utensils in a thrift store, and then drives to a slab of concrete beneath a rusty awning. Field recording has an ascetic, monkish reputation, but Mitchell has an irreverent approach. "I'm kind of an impatient field recordist," she says in the video. "So I go out and I bang on stuff. I roll stuff. I activate the medium, as it were." She's leery of her process seeming too academic, lest it intimidate similarly inspired emerging artists.
Mitchell created Disambiguation in her apartment in Seattle. On top of field recordings, she sampled instruments from her university's ethnomusicology archives, augmenting all of the source material past the point of recognition. The album title is a library term, but Mitchell also means to invoke the word's meaning of clarification, describing Disambiguation's writing as a "sense-making process" as far as mental health and national politics. "I was trying to situate myself in some semblance of reality," she said.
Disambiguation, out on Drawing Room Records, doesn't exactly impart clarity, giving impressions of songs or beats or melodies. Mitchell isolates unplaceable, creaky timbres. Percussion stops and starts abruptly, feigning liftoff. "Render Arcane," with its subtly pattering pulse, evokes Annea Lockwood's glass recordings remixed by Steve Reich. The album sounds spare, relieved of tropes, but not clinical. Mitchell centers texture and mood, enmeshing her voice and samples as if they're reverberating from a distance. Only the album's last line is legible: I give myself / It isn't enough / Submission / By omission.
Mitchell took over Many Many Women in 2015, connecting with and learning about women and nonbinary artists around the world. The project, which she considers a model for progressive archival practice, reinforces and illustrates what she already suspected: Women have been central to experimental music, only to have their contributions minimized or ignored in historical accounts. "It's frustrating — 90 percent of my fans are men. Only men have interviewed me," she said. "But I know I'm not a rarity."