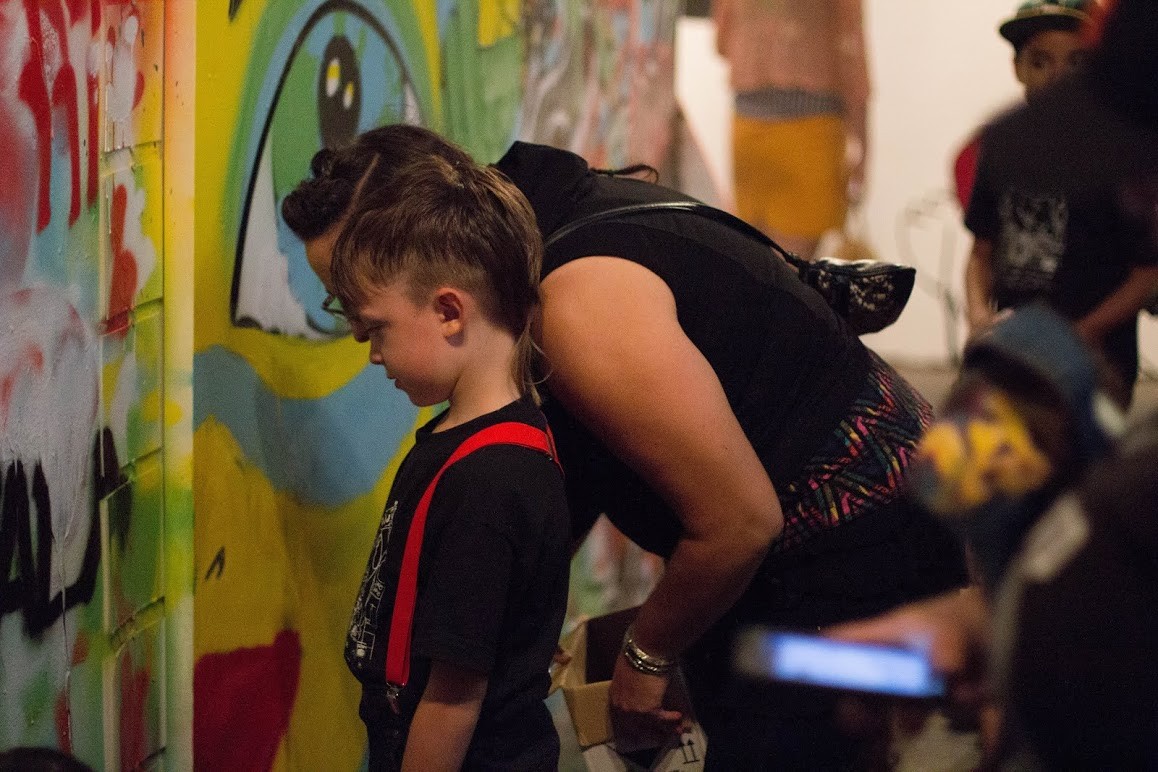 Gallery-goers who are not well acquainted with 
Oakland Terminal
might be surprised to hear that last weekend the West Oakland art gallery was the venue for an expansive youth art exhibition. The gallery, a large warehouse on the corner of Union and 26th streets in an industrial part of West Oakland, is mostly known for its showcases of local graffiti artists — usually involving elaborate murals in veteran handstyles and celebratory receptions that can linger into the night. But for those who frequent the Terminal and recognize that it also aims to welcome and nurture artists that might find difficulty showing their work elsewhere, then last weekend's exhibition was actually apt.
[jump] Back in January, Oakland Terminal was also the venue for the show Revolve, which was thrown by the young, Oakland art collective Youthful Kinfolk, and featured artists in their teens and early twenties. That was Terminal's first show with an official focus on young artists. Gallery director Aleks Zavaleta, who has held leadership positions at a number of nonprofits that reach out to youth through art, said the January show "sparked something."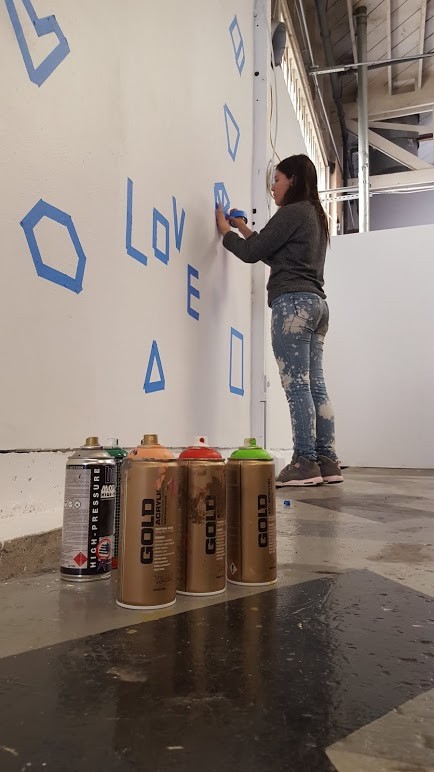 Finally, a few months ago, she sat down with the gallery's sixteen-year-old intern, Yahnaijah Gilliam, and developed the concept for a youth art show:
If I Ruled the World
. It began with a workshop in which the eighteen participating artists — who were all between the ages of four and eighteen — discussed the aspects of society that they would eradicate if they were in charge, and what positive changes they would implement or emphasize. The artists were each asked to make three art pieces based on their vision and return to work with one of eight local artists — three of whom were from Youthful Kinfolk — who volunteered as creative mentors. The young artists also learned how to price their work and write artist bios, then came in during the final week to help install the show.
On opening night, each artist stood earnestly by their artwork, engaging with potential buyers (parents and the broader community) about their pieces. Many of the pieces in the show dealt directly with heavy topics, such as police brutality, sexism, racism, and pollution, but the artwork provided a comfortable avenue for conversation.
For Zavaleta, it was important to keep a high standard of professionalism for the show in order to teach the youth that being an artist can be a "real" job, but only if you put in the work and learn to be business savvy. "I want young people to understand that if they want to be a professional artist, they can totally do it," said Zavaleta in a recent interview. "It's just as professional as being a doctor or a lawyer."
The night also featured young performers, youth-made catering, a panel discussion by the artists, and an auction of works donated by established local artists to support future youth art programming at Oakland Terminal — which Zavaleta plans to do much more of. Aside from curating two youth art shows a year, Zavaleta hopes to incorporate a youth aspect into every show at the Terminal from now on. For example, the gallery's annual Jean Jacket show in November — at which artists display jean jackets with elaborate painted backs, a la the Nineties fashion trend — will involve a youth workshop this year, in which participants can paint jackets their size. Ideally, Terminal would host a free youth workshop every month. To raise funds for the programming, Terminal recently launched a GoFundMe campaign with a goal of $3,000.
Thirty percent of sales from the show will go back to the program fund, with the rest going to the artists. Many of the youth artists sold out, and two — ages seven and eight — even walked away with commissions. But, beyond sales, the one-night show was perhaps most effective at reminding audiences of the often unexpected maturity and insightfulness of youth, and their unhindered ability to congeal into a community as soon as given the chance.
During the Q&A panel at the reception, when the adult audience members were at a loss for questions to ask, other youth stepped up and engaged with their own inquiries: Would you want to become a professional artist? All panelists responded, "Yes."
[embed-1]