The last lingering wisps of afternoon sun disappeared behind the lofty container-style buildings of West Oakland. As night fell, the intersection of Union and 26th Streets appeared eerily empty, except for a couple dusty, parked cars. A lone black cat skittered by.
The art gallery and event space Oakland Terminal stood quietly on the corner, with its rusty, corrugated steel doors and scuffed-up white exterior. On that quiet night, the unacquainted eye would never guess that the warehouse is a hub for the local, youth-driven art scene. And that its hybrid music-and-art events consistently draw hundreds of teens and twenty-somethings, routinely welcoming some of the city's most well known creatives. On nights when the venue is alive, DJs spin as crowds dance, laugh, and rap loudly to hyphy beats without inhibition, sometimes spilling into the street. Politically-aware art — advocating for women's rights or the Black Lives Matter movement — decorates the walls. And, for the night, the warehouse transforms into a haven of expression and resistance for young locals celebrating their own existence.
That's the typical setting of an East Bay "Art Party" — events filled with politically conscious young people also looking to turn up. And Oakland Terminal, with its sprawling gallery and inclusive, community-oriented mission, is uniquely poised to host such events, which more mainstream galleries generally perceive as being too rowdy or simply an excuse to party. Oakland Terminal is one of few spaces that consistently accommodates the artistic vision of local millenials without encroaching on the vibrant energy of their expression; in other words, where young artists of color can both show their art and feel fully comfortable being themselves.
"It's this safe place where you just feel okay," Aleks Zavaleta, a co-owner of Oakland Terminal, said in an interview. "We want our space to be accessible. Accessibility is the key word. For all."
Recently, however, that sense of security has been compromised. In March, an altercation broke out at a large feminist art show at Oakland Terminal, and in August, two Berkeley High alumni were shot and killed when a fight erupted during a show at Prime Development in downtown Oakland. Now, Zavaleta and other leaders in the scene are attempting to answer the difficult question of how best to nurture youth art culture and accommodate free expression, while also ensuring that the events remain totally safe.
Meanwhile, they're also battling the growing perception that their parties trigger violence, when in fact their very missions are to create the kind of community and opportunity that combats the effects of social inequality, such as street violence.
For now, the warehouse's doors remain closed. Since June, the space has halted its regularly scheduled youth classes and events to undergo renovations. Its reopening, set for early next year, will bring many new changes to the established venue, such as more shows centered around Black, Latino, and women's rights, as well as the installment of permanent offices for YK La Familia, a prominent youth-led art and culture platform in Oakland.
"Even though that incident wasn't our fault — or anyone else's besides the people who decided that it was okay to fight — we still are responsible for people's safety," said Zavaleta in regards to the fight in March. "You want art shows to be accessible to everybody. And the way that can happen is that it's safe, and that everybody's on point. [But] things will happen. That's the reality of the world we live in."
---
Kris Contreras, the 23-year-old founder of YK La Familia, and Yaya Plascencia, another long-standing member of the collective, sat on a couch in the rarely-visited second floor of Oakland Terminal late one Thursday night. A lamp's orange glow threw shadows of their stark silhouettes onto the wooden floor of what will soon be their new headquarters.
The group is one of the more prominent examples of a common trend in Oakland: young, innovative creatives forming collectives of artists who complement each other's work, rather than competing with one another solo. These numerous art collectives — progressive, distinctly-styled, and always hustling in search of the next big thing — gather at workshop spaces and small gallery showings, as well as warehouse parties. Often, their events overflow with an ecstatic sense of community and mutual support that you'd be hard pressed to find in traditional art spaces, even in the Bay Area.
Plascencia said that, similar to Oakland Terminal, the YK La Familia mission is to "push for staying true to yourself and whatever culture you may come from….[and] to give [people] a safe space, but also talk about issues. Talk about what's going on. Talk about solutions." The collective's recurring REVOLVE art shows allow for in-depth discussion of relevant political topics, while its more light-hearted Sadie Hawkins dances — which follow the tradition of female identified individuals being the romantic initiators — are meant to provide a safe space for people to simply let go and dance.
But the collective, which has been around for six years, still struggles to find venues to hold their events — or even space for them to meet up and brainstorm quietly. That's largely because mainstream galleries consistently turn them away. And when they are accepted, according to organizers, their work is often treated as fodder to fill a diversity quota.
And YK La Familia is not alone: Other similar Oakland art collectives cite the same problem.
Le Vanguard is one of them. Co-founders Vanessa Nguyen and Albert Watts, self-described as "art and culture pioneers" who challenge what's considered cool, said that they're always looking for new spaces that are accessible and affordable — but they're not always welcomed.
"It's like, would they be willing to rent it to you? Because they already have a stigma in their head that, if you say it's an art show…it's not really an art show. It's a party," said Watts. "Or they look at you and tell you some outlandish-ass price."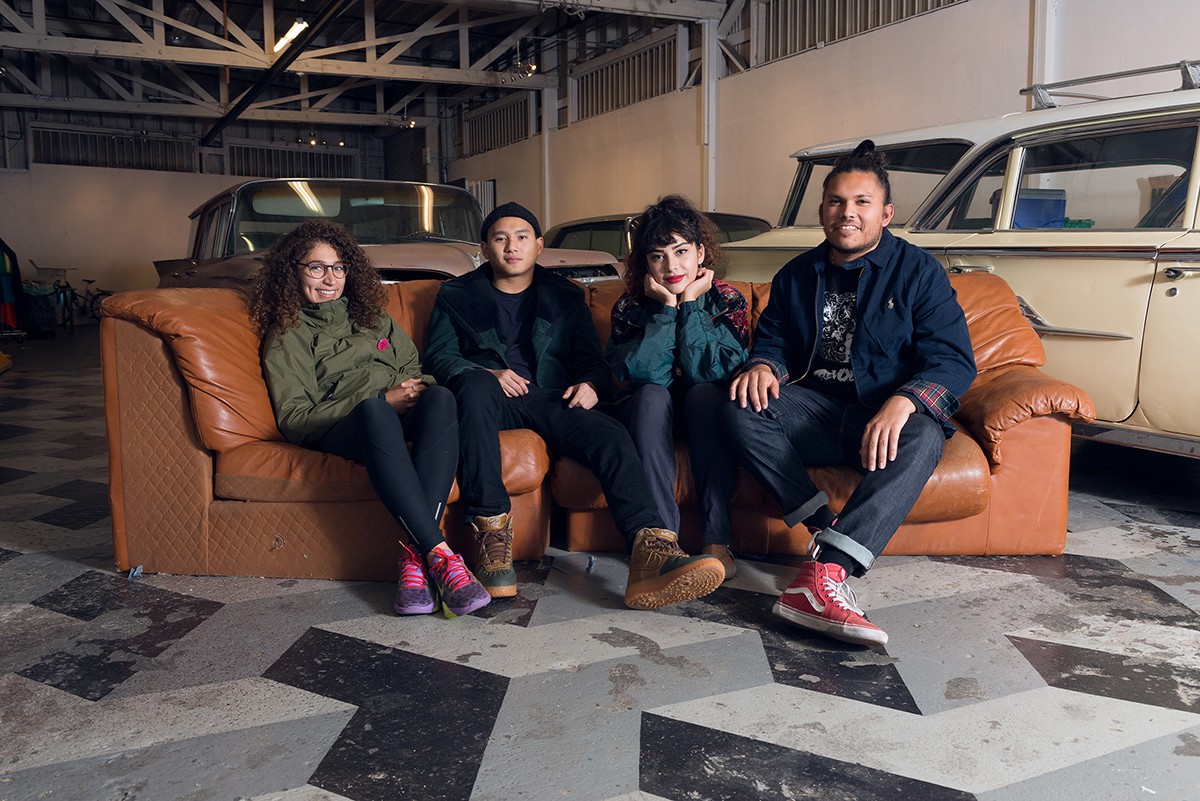 Contreras recounted his experience of YK La Familia's first show in San Francisco: Although it had been planned months in advance, once people began to arrive for the opening, the gallery owner "flipped out" and began "storming around" frantically.
"I just felt like [he] had never seen a group of Black, brown, Asian people that could look at art but also go dumb in the same space. And that [the two] can coexist," he said. "I just think the way we express ourselves isn't fully understood by older people."
"They might be intimidated," Plascencia interjected.
"Which is part of the irony of the Bay Area being seen as a super diverse place of thought," Contreras continued. "Sometimes, it just doesn't feel that way for us." Yet, Oakland Terminal has always been one of few exceptions — a rare haven where these artists aren't feared just for being youth of color, or for hailing from other marginalized communities. At Oakland Terminal, Plascencia said, they've always been welcomed with "open arms." Contreras nodded in agreement, adding that, "It's always been love."
---
It's hard to believe that three years ago, when Zavaleta first encountered the warehouse that's now Oakland Terminal, it was "bare bones," she said. "No walls, no lighting. Nothing." Now, after hosting twenty shows since 2014, Zavaleta and the rest of her team sift through over eighty event requests every October, when programming their next season.
In 2014, Oakland Terminal was the backdrop for Wine and Bowties' massive FEELS II music and art festival and, in 2015, YK La Familia's REVOLVE, an art show that reflected on such topics as police violence and the mass kidnapping of 43 students from Ayotzinapa College in Iguala, Mexico. Earlier this spring, it was the setting for Vanessa Vigil's Not Ur Baby Pt. II, an all-female art show dedicated to ending human trafficking.
As a curator, Zavaleta aims to ensure that Oakland Terminal showcases works of purpose, while also giving young, thriving artists autonomy. Rather than aiming to be a traditional white-walled gallery, she envisions the space as a place where people can turn their entrepreneurial dreams into a reality — a place where everyone can build opportunity.
Eyes shining, Zavaleta leaned closer so that her words didn't get lost as we spoke amidst the lunchtime bustle of Brown Sugar Kitchen on Mandela Parkway. "The vision is to be able to work with both established and up-and-coming artists. Young people. Activists," she said, toying with her large hoop earring thoughtfully. Her hands outlined the air to give her words more weight.
But Zavaleta implied that many people in the local community don't understand the space's mission, and assume that the venue's success comes from its wild art parties rather than its meaningful work and inclusive outlook. Her planned modifications to the space are intended to push its mission to the fore.
Following its reopening, the space will give more weight to the process of creating art, not just its products, by introducing Oakland Terminal as an open venue for collaboration and workshops. Also, the novel programming she's introducing — Zavaleta hinted at an all-women-led program for the entirety of March, for example — reflects Oakland Terminal's mission a bit more clearly than it has in the past. And, rather than hosting show openings that go late into the night, the venue will begin to enforce an earlier curfew.
"Anything that we do has to be community based, has to have substance, has to have a message," Zavaleta said. "We don't want to be a party space. That's not who we are."
---
Zavaleta is not alone in wanting to refocus her mission. Many youth leaders are doing the same, to make clear that their events are not the cause of youth violence — which is a symptom of broader structures of exclusion and inequality. Rather, their events are part of the antidote.
One of the Berkeley High alumni who died this past summer was Terrence McCrary, a co-founder of Le Vanguard. Since the tragedy, Le Vanguard has been shifted things around to better reflect issues affecting Oakland, such as violence and gentrification. Through its work, the collective hopes to provide for its community by creating safe spaces to heal — such as Le Vanguard's last event, which acted as a tribute to McCrary.
"Violence is really real out here, still," Nguyen said. "Our motto is to protect the art. But like, we also have to protect our youth. So, after what happened with Terrence, we've been on a break, trying to re-imagine what to do with ourselves next as a collective. [How to] address safety, address violence."
Contreras of YK La Familia separately echoed that sentiment, underscoring how many attendees turn a blind eye to the painstaking planning — and underlying significance — behind these carefully created events. To them, they're not simply parties, but forms of nurturing creative community, building opportunity, and affirming self worth.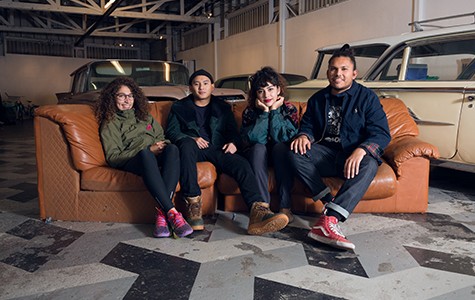 "We've never put anything together where…we're just gonna throw a party," he said. "It's not necessarily about making money, 'cause I feel like anybody could do that." Following renovations, the collective plans to open up their new Oakland Terminal headquarters as a workshop space to provide other youth with what they themselves have struggled to find: a welcoming place to simply work alongside each other, collaborate, and create.
As for Le Vanguard, Nguyen and Watts said that future programming will be more grounded in the historical foundations of Oakland's contemporary art scene — which they feel are often taken for granted. But that's only a portion of what they want to accomplish.
"There are so many dreams we have that we're just spread thin right now," Nguyen said, smiling widely. "We're good kids. And we only care about our community."