Last night, the Oakland Unified School District
posted several plans for a new headquarters
on the school board's web site. At a special meeting tonight, the school board will discuss the proposals.
One plan involves rehabilitating the district's historic 1025 Second Avenue headquarters. The main building at 1025 Second Avenue was flooded in 2013, rendering it uninhabitable. Since then, OUSD has leased privately-owned office space to house its administration.
Under the new plan, OUSD would spend $49 million to update the 1025 building and several adjacent buildings, creating a modern administration complex. The land behind the buildings would be preserved as park space along the channel that connects Lake Merritt and the Oakland Estuary.
According to OUSD, this plan would save the district about $60 million compared to
a plan from last year
that called for building a completely new headquarters building.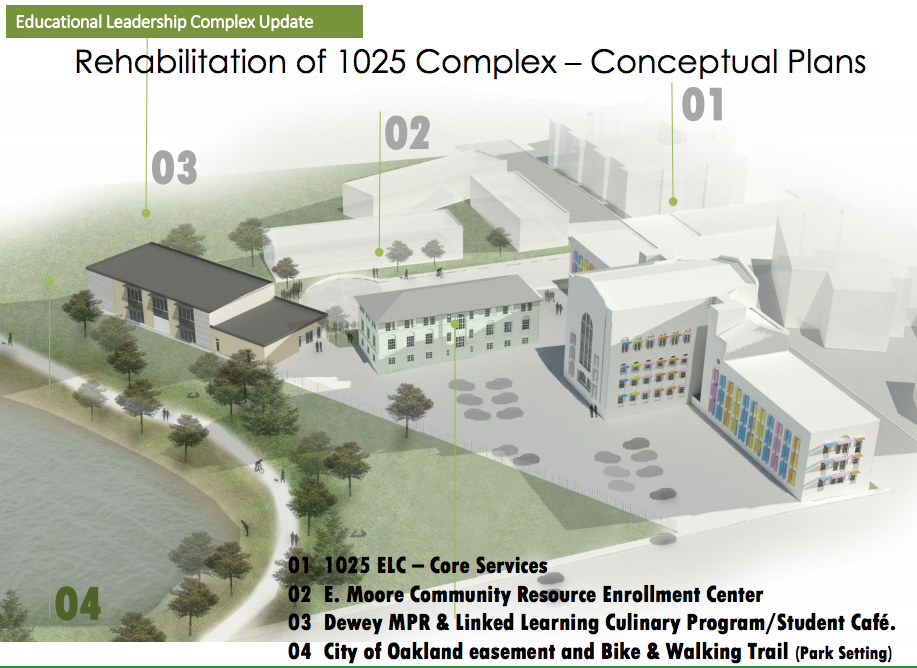 But OUSD is also considering a different plan that would relocate its headquarters into the Kaiser Auditorium.
Records show that the OUSD board members have been holding private talks with Orton Development, the company that was chosen by the city of Oakland to redevelop the city-owned Kaiser Auditorium.
According to the plans unveiled last night, OUSD would lease the Kaiser Center from Orton for a term of 66-99 years. Upgrades and lease payments would end up costing the district about $50 million, and the work could be completed as soon as 2019. The OUSD administration facilities in the Kaiser Auditorium would be arranged around a giant open-floor office plan under the building's skylight.
The Kaiser Center proposal also includes an option for OUSD to enter a "land swap" with Orton, giving the developer the 1025 site across the channel. Orton could build housing there. The district's planning document states that the swap might be conditioned on Orton building "educator housing" on the 1025 site.
The school board's public meeting to discuss the new headquarters and potential land swap deal is tonight at the KDOL TV Studio, B-237, Met West High School Entrance, 314 East 10th Street.