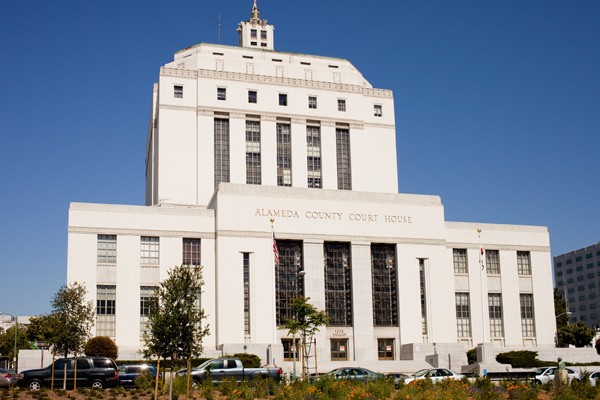 Starting next year, those who have business with the Alameda County Superior Court might want to get there early. Citing cuts in funding, the court announced Wednesday that it will reduce office hours of the clerk. Starting January 3, all clerks will cease operations at 2:30 p.m. Currently the clerk's offices are open until 4:30.
Years of cuts to the court system, which began during the Great Recession, have made it hard for courthouses to keep their doors open.
Executive officer Chad Finke said in an interview that he expects the shortened hours will lengthen lines and further compound wait times, which he lamented were "already fairly long."
The changes are a result of Alameda's designation as a "donor" court, one the state is defunding in order to support other courts in more historically underfunded areas.
But the Alameda court, Finke explained, already began this year with a more than $5 million deficit. To make ends meet, the budget for everything from office supplies to contract workers was cut. The court has also tried to prevent employees from accruing costly overtime hours. But that isn't easy, Finke said, because certain situations — for example, someone coming in to file a last-minute restraining order — represent a legal emergency.
The reduction in court clerk office hours comes on top of a previous announcement that every courthouse in Alameda County, with the exception of the Wiley W. Manual courthouse in Oakland, will be closed from December 23 to January 3.
"We recognize that this is going to have an adverse impact on the public's ability to access the court," he said. "We're hoping people will bear with us, and during the hours we are open, we will provide the best customer service we can."
The court plans to set up a drop box for afternoon filings that will be made available from 2:30 to 4.