The woman at the center of the Oakland police sex scandal may have been involved with law-enforcement officers in other agencies, according to an analysis of her social-media accounts.
Today, the Alameda County Sheriff's Office confirmed that its internal-affairs unit is looking at Facebook interactions that a deputy sheriff had with Celeste Guap, the daughter of an Oakland police dispatcher.
On October 7 last year, Guap posted a status update on her Facebook timeline alluding to sex and relationships:
"Just because he's fucking you don't mean he's fucking WITH you…A man can be deep inside you && not really feeling you at all…," Guap wrote in the post.
Eric Chaloner, a deputy with the Alameda County Sheriff's Office, replied to the post: "Hmmmm."
Guap then replied directly to Chaloner by tagging him in a comment: "Eric Edward Chaloner get it? Lol."
Deputy Chaloner responded: "But of course I do."
The
Express
reached out to Chaloner though Facebook for comment, but received no reply.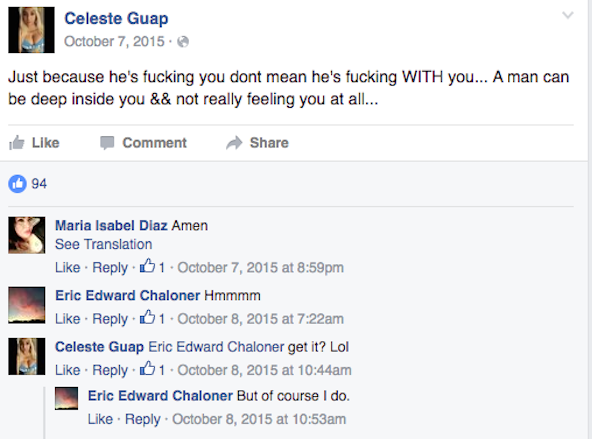 Sergeant J.D. Nelson of the Sheriff's Office said that internal-affairs investigators were made aware of the Facebook interaction after a newspaper contacted him. But Nelson said he couldn't comment as to whether a case has been opened as a result of Chaloner's post. Nelson said only that Chaloner is still on duty.
In another Facebook interaction from last October, Guap posted a picture of herself lying on exercise equipment in a gym. Chaloner replied to the post: "Hold that pose for like 60 minutes at a time and rotate arms……great for your……hmmmm….shoulders maybe."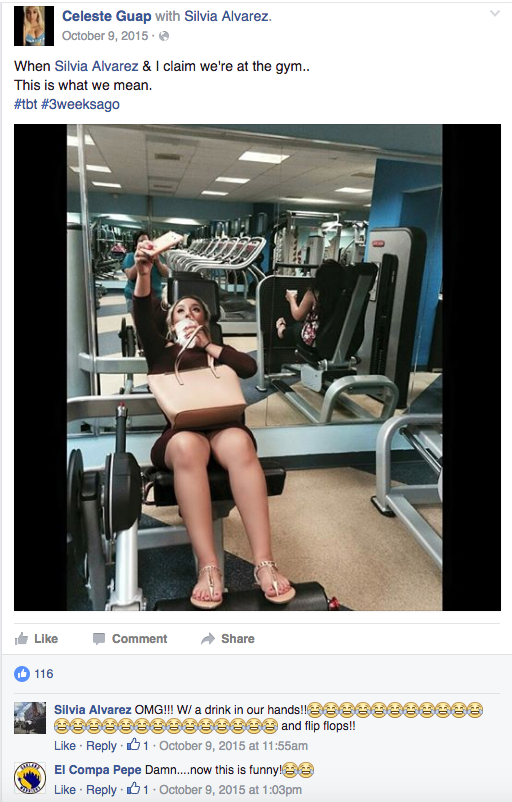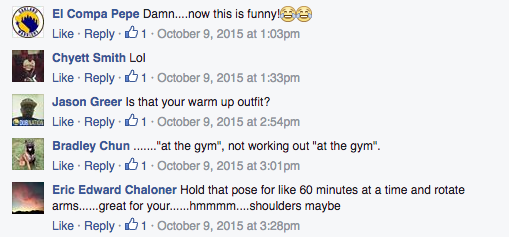 The
Express
reached out to Guap for comment on the posts and interactions, but she did not reply.
The Oakland Police Department has declined to name the two current and two former officers it is currently investigating for alleged sexual misconduct involving Guap, possibly while she was still under age.
As the Express previously reported
, OPD's sex scandal is linked to the suicide of Oakland Police Officer Brendan O'Brien last year. OPD sources say O'Brien left a suicide note that included information about the sexual misconduct. O'Brien's wife died in 2014 from a gunshot wound to the head. OPD ruled her death a suicide, but it was briefly investigated as a possible homicide.
Last week the
East Bay Times
reported that
Oakland police officers Terryl Smith and James Ta'ai have both resigned as a result of the sex misconduct investigation.