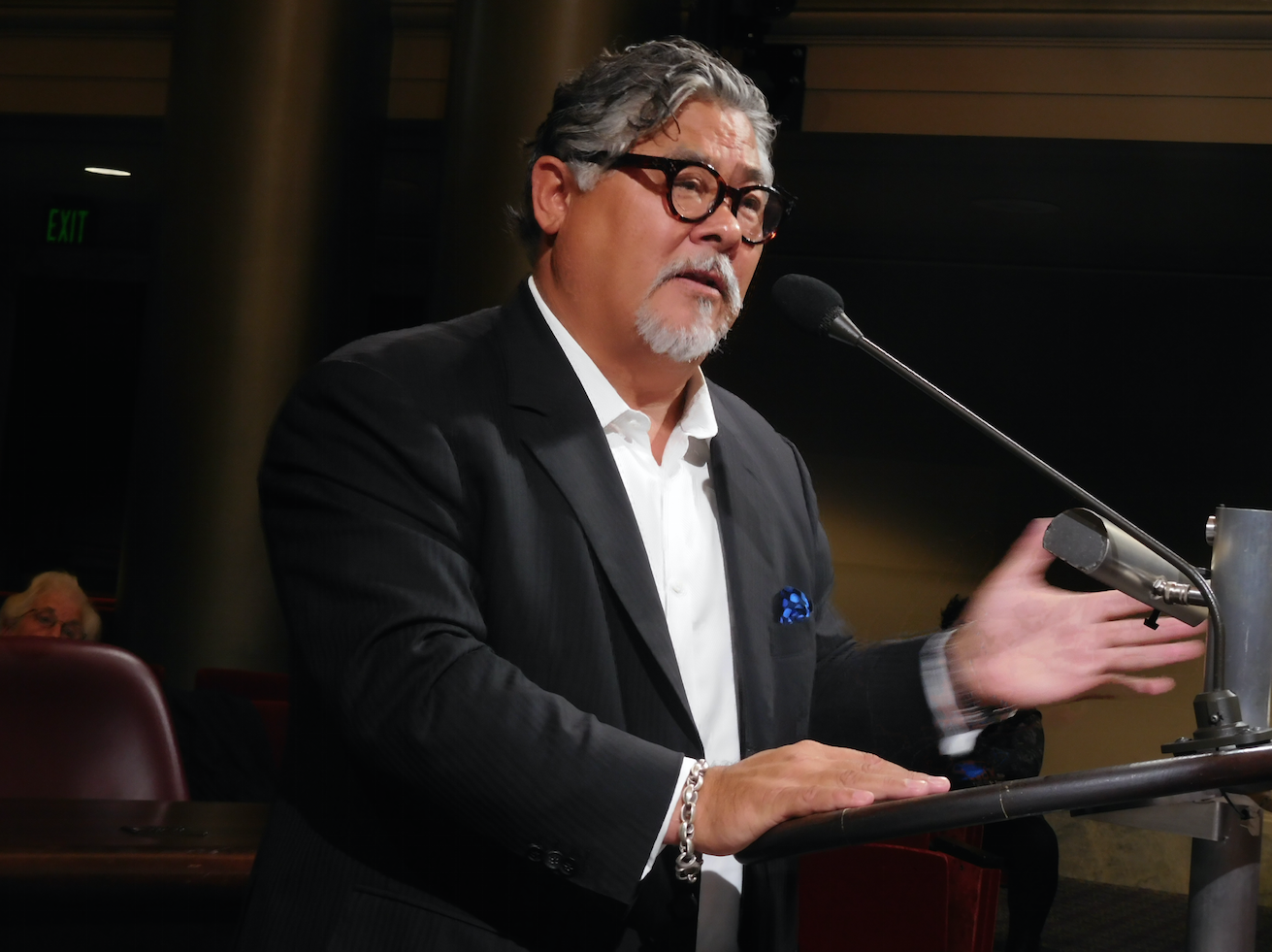 Ten of 28 finalists vying for the first seats on Oakland's newly established police commission were publicly interviewed last night by a selection panel.
The selection panel's members tried to gauge the potential biases of the would-be commissioners and inquired about their work and life experiences, and the candidates' vision for how the new oversight board can improve police-community relations.
Among those interviewed was real estate developer Phil Tagami. He touted his experience as a former member of the state medical board, state lottery commission, and the city's port commission, and said he can bring discipline and order to the job.
When asked about his experiences with the Oakland police, Tagami said they have at times been "less than pleasant."
But some selection panel members said Tagami could be a distraction as a commissioner. "You are the only individual people responded strongly to," said selection panel member John Jones about public comments received in response to Tagami's application. Jones noted a large number of people have opposed Tagami's candidacy.
Selection panel member Mary Vail asked Tagami about why he once stood in the lobby of the Rotunda Building with a shotgun during Occupy Oakland. "Why should we support someone whose most vocal public safety statement was to stand in front of a building with a shotgun?" she asked him.
Tagami said it was an extreme situation in which he feared for his property, and that although protesters had broken windows of buildings up and down the street, the Oakland police refused to disperse them.
"I would much rather have had OPD provide crowd control," answered Tagami. "Had I not done that they would have taken over our building and I would be out of business."
During a public comment period, others said Tagami should be disqualified from serving on the commission because he is trying to build a coal export terminal in West Oakland, and he's gone so far as to sue the city to overturn a health and safety ordinance banning coal.
Tagami, however, had 22 letters of support from various friends and business associates, and said he's proud of his accomplishments in Oakland.
One letter was from Joe Sarapochillo of the construction company SK Builders. Sarapochillo
is also a board member of the developer lobbying group Oakland Builders Alliance
.
Sarah Chavez-Yoell, the chair of the selection panel that will determine whether Tagami and others are picked to serve on the police commission, also happens to be the director of the Oakland Builders Alliance, and
according to recent disclosure filings
with the Oakland Public Ethics Commission, Chavez-Yoell also has worked as a lobbyist for Tagami's companies, including the California Capital Investment Group and the Oakland Bulk Oversized Terminal, the latter of which hopes to build a coal terminal in West Oakland.
Chavez-Yoell — who is also married to ex-Oakland police officer Michael Yoell — was picked for the selection panel by Councilmember Lynette Gibson McElhaney.
These relationships were not disclosed during last night's meeting.
Other candidates for the commission also faced tough questions.
Leigh Davenport and Elliot Hosman both applied to the commission and listed their association with the
Anti Police Terror Project
as a qualification. But some commissioners noted that the APTP did not support the new police commission when it was placed on last year's election ballot, calling it
"ultimately toothless."
Selection panel member Jim Chanin, asked both Davenport and Hosman, whether they could possibly side with police officers in disciplinary hearings if the evidence supported the cops, and then abide by the commission's strict confidentiality rules, and state law, which would prevent commissioners from disclosing the facts they learn when adjudicating a misconduct case.
"You would have to go back to your community and say you sided with the police and you would not be able to tell them why," said Chanin. "Could you find for the police if the evidence pointed that way and go back to your community and take the heat?"
Both Davenport and Hosman answered "yes."
But Vail asked whether they were truly committed to helping the new commission succeed. She pointed to what she said was a posting on Davenport's Facebook criticizing the police commission ballot measure, Measure LL.
Davenport said she never posted anything fitting that description on her Facebook, and that Vail was probably referring to a social media post by the APTP which she did not author. But Davenport did say she is "very concerned" about whether the commission will succeed if police officers can still appeal disciplinary rulings under binding arbitration and have the commission's decisions overturned.
When asked about their experiences with the Oakland police, the ten candidates responded with dramatically different answers.
Tara Anderson, a North Oakland resident who currently works as the director of policy in the San Francisco District Attorney's Office, wrote in her application that she has largely had "positive experiences interacting with OPD," but that this can be attributed to her "privileged status including income and race and ethnicity." Anderson, who is white, noted this is not the case for all Oaklanders.
Mike Nisperos has had a very different history with OPD.
He told the selection panel that his first encounter with the Oakland police was when he was 12 years old. He and some friends sneaked into the pool at Bret Harte Elementary School. A group of older boys came while they were swimming and broke into the school's snack bar and took money from the registers. Neighbors called OPD, and when the cops showed up they arrested the younger boys who were still half-naked and in the water.
"OPD put us in the patrol wagon," said Nisperos. "Then the cops went and grabbed snacks from the snack bar. That's how OPD was back then," he recalled.
Many years later, his son, who was in law school, was pulled over on Piedmont Avenue because a police officer said he flicked an ash off a cigarette out of his car window. "I don't think he would have [stopped him] if he weren't brown," said Nisperos, who is Filipino.
Vildred Tucker-Dawson told the selection panel that her experiences with the Oakland police have been positive and negative.
She spent most of her time talking about the negative.
According to Tucker-Dawson, who is Black, in March the Oakland police "raided" her home while searching for a firearm that they alleged belonged to one of her grandchildren. She claimed that the police refused to produce a warrant until ten minutes before they left, and that they found no gun, and the grandson in question didn't live at her home.
"I felt my life was in jeopardy," she said, due to the fact that she is a longtime and well-known member of the organization PUEBLO, which has pushed for reform measures, including the creation of the police commission.
Selection panelist Tal Klement asked Tucker-Dawson if she thinks it would be a conflict of interest to be both a leader of PUEBLO, which occasionally helps people file complaints against the police, and also a police commissioner who would have to impartially resolve complaints brought against officers. Tucker-Dawson said she didn't see it as a conflict of interest.
Selection panel member Candice Jesse noted that "some might say PUEBLO is anti-police. Does that affect your personal outlook? Can you be fair?"
"I understand not all police officers are bad," said Tucker-Dawson. "There's a lot of good officers. Unfortunately the bad ones take away from the good ones, but you have to be unbiased."
The selection panel will continue to interview candidates for the commission tonight and Thursday night at City Hall.
Also last night, Mayor Libby Schaaf announced her three picks for the police commission. They include San Francisco Attorney Edwin Prather; Regina Jackson of the East Oakland Youth Development Center; and Thomas Smith, the political action chair of the Oakland NAACP.
Correction: the original version of this story identified Mike Nisperos as a Latino. He is Filipino.