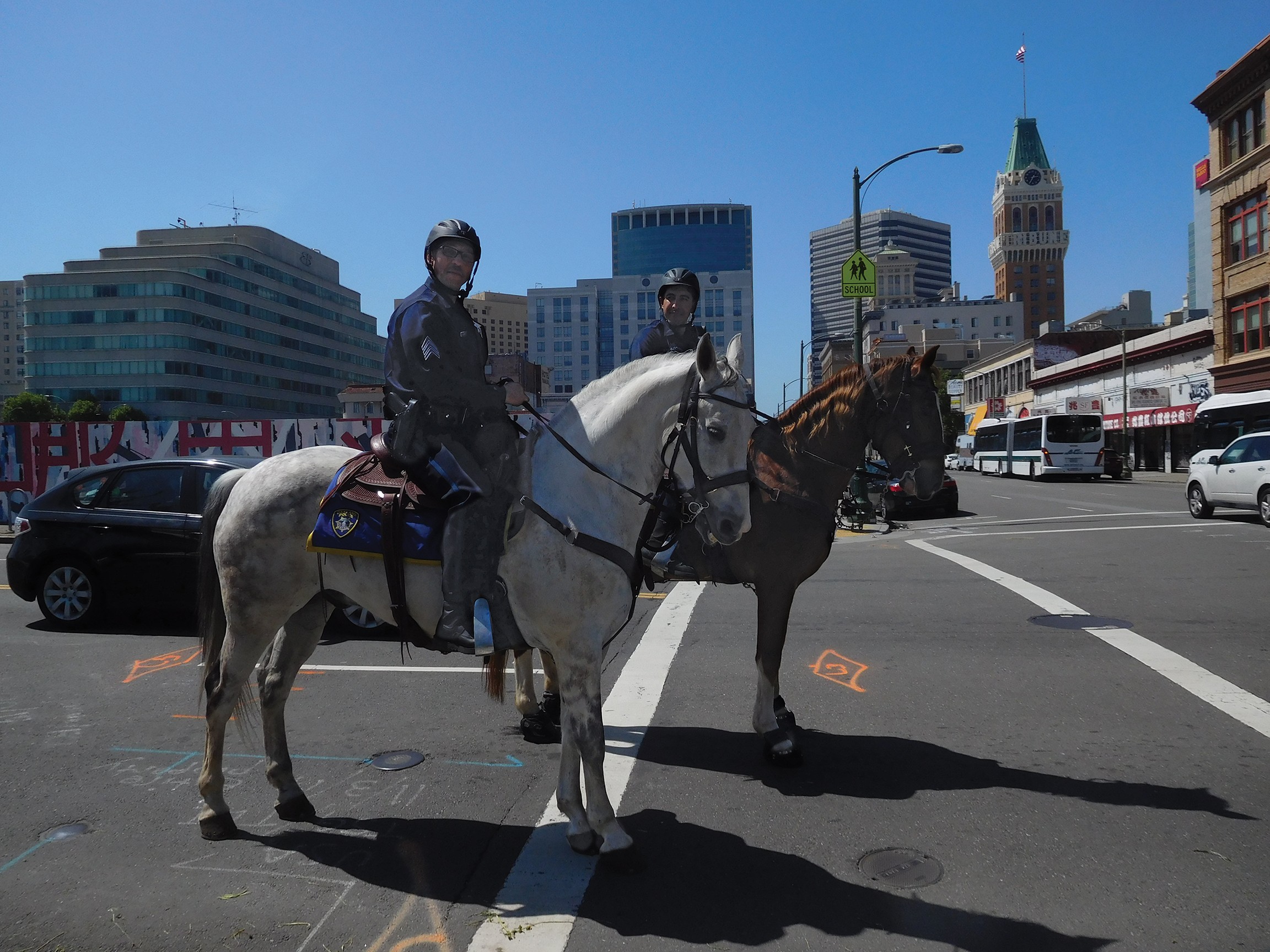 Oakland residents might have recently noticed a new kind of police presence: cops riding horseback downtown, around Lake Merritt, and the Fruitvale neighborhood.
Last year, after a 12-year hiatus, the Oakland Police Department reconstituted its mounted patrol unit, starting with two horses. Their names are Cinnamon and Spirit. And the department also acquired two miniature horses thanks to a contribution from the Oakland Police Foundation. These tiny animals — their names are Little Chief and Little Sarge — have been trotted out at department events for amusement.
The resurrection of OPD's mounted horse unit is a priority of Chief Anne Kirkpatrick, who took over the department last year. Kirkpatrick personally introduced Little Chief and Little Sarge in August when she turned the lobby of the Police Administration Building into an impromptu petting zoo one afternoon.
OPD Sgt. Eric Milina told the Express while he was riding up Harrison Street in Chinatown three weeks ago that the purpose of it all is "public relations," at this point. But officers have already taken the horses — the big ones — out on patrols in Oakland's Joaquin Miller Park, where they're exceptionally well-suited to the miles of winding hillside trails and forests.
So far, OPD doesn't appear to have any plans to use horses to routinely police Oakland's urban flatlands. But most members of the public appear to be enjoying horse sightings around the Town. On one recent afternoon, two Oakland officers rode the horses up and down Broadway and through Chinatown toward Lake Merritt. The horses left a wake of amused pedestrians and motorists, as well as a trail of dung.
But whether police horses can significantly boost the department's image — or become a useful tool for the police force — isn't clear.
What is certain is that police horses are expensive. Reconstituting the mounted horse unit wasn't approved in the last city budget. Small as it is right now, the program could end up costing a lot if OPD acquires more animals and begins to frequently use them on patrols.
For this reason, many departments have actually disbanded their mounted horse units in favor of bicycles and motorcycles, which are more practical and less costly to maintain.
According to city records, OPD has already spent tens of thousands on the horses, including $18,270 for a horse trailer in February and thousands more on feed, saddles, helmets, and special boots that fit over the horses' hooves so they can walk more easily on hard surfaces. The department also spent $465 per month on hoof trimming services, according to invoices. Also in February, OPD signed a $5,000 contract with Concord Feed & Fuel for hay and alfalfa to feed the horses over the next two years. According to city records, OPD used part of a federal Department of Justice grant to pay for the horse trailer, but the department also wants a truck and other gear that will cost tens of thousands more.
Oakland used to have a sizable mounted horse unit run by ten officers. It cost about $370,000 a year to operate, and in addition to providing patrol services around Lake Merritt and downtown, city officials viewed the horses as a calming influence that created opportunities for citizens to have random and positive interactions with the police. Kids and adults would stop to pet the animals, and officers would answer questions. OPD viewed this as an especially valuable public relations tool following the Riders scandal and other incidents that drove a wedge between police and the community.
But the horses didn't address the underlying causes of strife between the department and city residents, mostly involving incidents of police misconduct, brutality, and racial profiling. Near the end of the program, critics said the horses were a distraction from the department's true purpose, and that the money would be better spent on regular patrol or investigations.
OPD's mounted unit was disbanded in the early 2000s due to budget cuts and rising crime. At the time, there was also a spike in armed robberies and shootings around Lake Merritt. Under pressure to do something, members of the city council said they felt that the mounted unit wasn't the most effective kind of police presence to deter robberies and shootings. The department is still sensitive to the perception that horses could detract from adequately staffing police beats.
"As an organization we understand the importunate of ensuring the beats throughout our city are properly staffed," OPD public information officer Johnna Watson wrote in an email. "Therefore the mounted officers who ride the horses are from the Foot Patrol Unit. These officers already walk, ride a bicycle, operate a dual-purpose motorcycle and now have the option of riding a horse to perform their duties."
Several officers have already completed equestrian training programs geared toward law enforcement. Watson added that the veterinary care for the horses is mostly donated.
Even so, other police departments have been disbanding their mounted patrol units. Most recently, the Portland Police Department ended its horse unit despite some public opposition, including a campaign to save the police horses from budget cuts. But Portland's mayor and city council criticized the $1 million program as an inefficient use of city resources.
OPD actually contacted Portland's police department last year and acquired some of the city's surplus equipment.
Oakland's new horses have already appeared at several department events. Kirkpatrick walked Little Chief and Little Sarge around the lawn at Oakland City Hall last August. The animals have also appeared in OPD's social media posts, including as part of recruitment campaigns.
And according to city emails, there is one place where the horses are being used by OPD for more than just public relations. The police have started patrolling the city-owned Joaquin Miller Park on horseback, after decades of virtually no police presence on the trails. The patrols are in response to calls that the department do more to enforce rules in the 550-acre urban woodland.
"You have to realize, there haven't been rangers up there in 20 years," said Stan Dodson, the executive director of Oakland Trails. Dodson's group organizes volunteers who try to make the park safer and more accessible, but they can only do so much without city support.
The city's rangers not only patrolled the parks, they also helped run recreation and education programs, but they were eliminated due to budget cuts. OPD currently has several bicycle officers who patrol Joaquin Miller, mainly focusing on auto burglaries near the parking lots and trailheads, said Dodson, but the horses are a welcome addition.
"They're not really out there writing citations. It's more just being visible," he said. "It's great to have them up there again."
As for whether OPD plans to expand the mounted unit, the department said it's only considering it a "pilot program" for now. That helps to keep costs minimal.
Watson wrote that the horses will continue to be mainly used for public relations and for people to "have a positive interaction with a police officer."
But actually, to have a positive interaction with a horse.
Express intern Shauna McQueen contributed to this report.