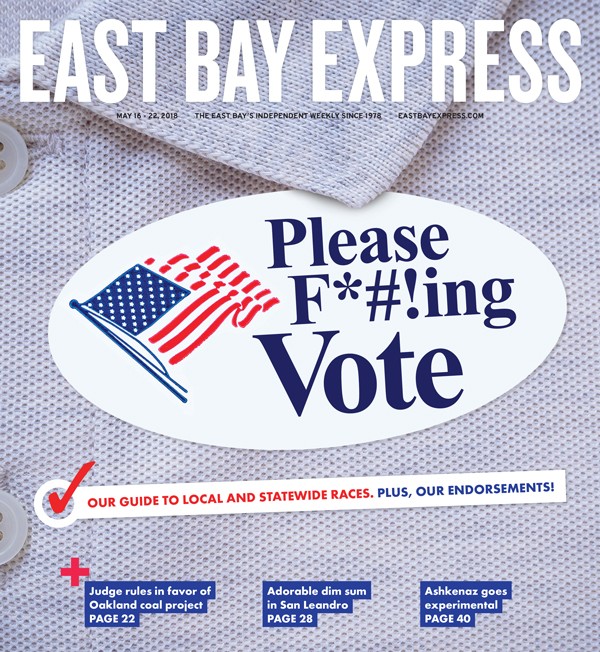 "PAC Money Invades 15th District Assembly Race," News, Online Only, May 18
Taken Aback
As a regular reader and admirer of the Express, I am taken aback by the endorsement of Buffy Wicks. As a member of the Wellstone Democratic Club and the Educators for Democratic Schools, we interviewed almost every candidate and concluded she was the last person (claiming to be a progressive) that we could support.
Why? She is the candidate of the charter school industry. You tout her fundraising but that is not hard when the charter industries' billionaires bent on undermining our democratic school systems are pouring money into her campaign. The report just published by In the Public Interest establishes what we have been saying for years: Charters are killing urban school districts and exacerbate the ongoing racist discrimination that already exists in our education system. But at least with democratic control we have a possibility of fixing it. Charters are accountable to their private owners.
She clearly supports the rest of the centrist corporate Democrat agenda, which was so uninspiring to many working people that we now have the idiot-in-chief in charge. Let's elect true progressives.
David Weintraub
Why All the Attention?
So glad you finally tracked down the major sources of funding for Buffy Wicks campaign whom you nevertheless have endorsed. Her plausible deniability of why she is receiving so much money from major charter school proponents, who are also funding the charter school candidate running against Tony Thurmond for state superintendent of schools, is really not believable. All the more reason that voters in AD15 should vote for the corporate-free candidate, Jovanka Beckles. Let us not forget that under Obama's education secretary, we saw rapid proliferation of charter schools across the country. And, no surprise, President Obama is supporting Buffy Wicks.
What I am curious about is why you have given so much attention to only one of her opponents in this article, someone with scant experience in political office. The strong record of Jovanka Beckles in Richmond who successfully took on Chevron, and fought for so many other progressive changes in that city, including police reform, is in sharp contrast to both of these opponents.
Donald Goldmacher
"A Heated Battle," Feature, May 16
Broken Criminal Justice System
Women, particularly those outside of Oakland and Berkeley, ought to think about the record of the current DA, O'Malley, who has claimed to be opposed to sex trafficking and child sexual abuse but who failed to hold police officers accountable for committing these exact same actions. Compared to an activist who has spent her career in the courts holding sex abusers accountable in the private sector, Price. The entire criminal justice system is broken and has been broken for some time. O'Malley, though she is a 'nice' person who means well, is too entwined in the current mess to adequate see it or change it.
Wilson Riles
A Solid Track Record
The best way to look at this race is to recognize that the DA runs a very large legal practice that represents us in prosecuting criminals. O'Malley has been doing this successfully for years and thus has a solid track record. Price is a wannabe with no comparable record.
Ed Gerber
"From Twelve to Two," Feature, May 16
Invaluable Experience
Beckles has an admirable record of achievement in Richmond. But I believe Dan Kalb, an individual of impeccable moral character, will hit the ground with his feet running in the state Legislature. Dan has worked on the greenhouse gas emissions regulations and labeling in California. And he was the lead environmental advocate on the 33% renewable energy law. This is invaluable experience both in turns of personal relationships with state legislators and proven results. There is a terrible homelessness and housing crisis statewide as well as a global warming emergency situation, which will only get worse. We live in times like no other that humans have ever faced, with human civilization now in peril. These special times call for special traits and a special person. I believe that person is Dan Kalb. He has a proven track record of standing up under tremendous fire and advancing forward.
Valerie Eisman