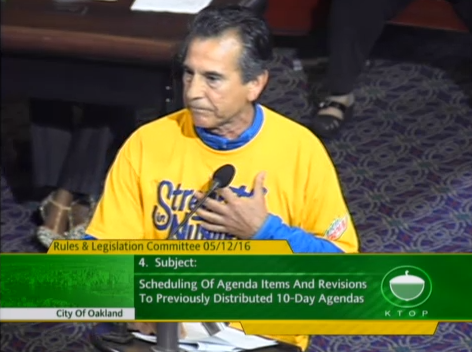 A proposed ballot measure that would establish a powerful police oversight commission in Oakland was dealt a potentially terminal setback yesterday by several Oakland city councilmembers.
The move to delay a key hearing for the ballot measure comes amid 
a sexual misconduct scandal that has rocked the Oakland police department
and called into question the integrity of OPD's internal affairs investigations and system for police officer discipline.
At Thursday's rules committee meeting, Councilmembers Dan Kalb and Noel Gallo introduced a ballot measure that would establish establish a police commission and do away with binding arbitration, a process that a federal court-appointed investigator
recently criticized
because it has allowed police officers to overturn discipline.
Kalb and Gallo hoped that their item would be scheduled for the May 24 meeting of the Oakland public safety committee. Both said the May 24 hearing is crucial because the city administration will need to meet and confer with Oakland's employee unions about their police commission measure, a process that could take weeks or longer. And then the measure will have to be vetted by several city offices and finally go to the full council for a vote.
The last date the council can vote to place an item on the November ballot is July 25, according to the City Clerk's office.
But rather than scheduling Kalb and Gallo's item for May 24, the other members of the rules committee delayed its hearing until June 14.
Kalb said during the meeting that the delay could kill any hopes that the police-commission measure would make it onto the November ballot.
"This is ready to be heard in [the public safety] committee this month," Kalb said to his colleagues during yesterday's meeting. "Making it go to the middle of June is nothing more than saying forget the ballot this year."
Kalb and Gallo's police-commission proposal was delayed because Councilmember Abel Guillen, with co-sponsors Anne Campbell Washington and Larry Reid, introduced a similar item during the rules committee meeting. Guillen's proposal would also establish a police commission, as well as a creating an independent office of police oversight. But unlike Kalb and Gallo's proposed ballot measure, the trio's proposal has not actually been reviewed by the Oakland City Attorney.
In fact, their proposal has not even been drafted.
Richard Raya, a spokesperson for Guillen, said his proposal currently only consists of a single sentence: the title of the measure:
"Adopt an ordinance establishing the office of independent police oversight and monitoring, creating the position of independent police monitor and replacing the citizens police review board with a police commission."
Guillen, Reid, and Councilmember Lynette Gibson McElhaney all voted in favor of delaying the Kalb-Gallo measure. Kalb voted no.
Immediately following the vote Kalb, visibly upset, stated: "I'm opposed because this sets a bad precedent on the council by allowing someone to delay something they're opposed to."
But Gibson McElhaney denied there is an effort to delay the Kalb-Gallo measure and reprimanded Kalb. "This allegation that your colleagues are attempting to delay is out of order," Council president and chair of the rules committee Gibson McElhaney said.
But numerous Oakland activists, who have been working for years to establish a police commission, said that the maneuver by Guillen appears to be an effort to prevent police reforms from ending up on the ballot.
"Scheduling is everything, and this was a slick parliamentary move," said Len Raphael, an Oakland resident and proponent of establishing a police commission. "If you can keep something off the agenda, you've beaten it down, because you know there's deadline at the other end."
Guillen denied allegations. "There are no procedural tactics aimed at keeping this matter off the ballot," he wrote in an email to the
Express
. "We shouldn't be rushed into adopting weaker approaches when we can take a little more time to get it right. This is a nuanced issue, and we can't let the calendar drive our decision-making."
He also said that he is deeply concerned about the proposal to eliminate arbitration. Other unions expressed worries during the rules committee meeting yesterday.
"Our feeling is there would be a cascade effect," said Zac Unger, an Oakland Firefighter and vice president of the firefighter's union. "Once you eliminate arbitration for one union, it would spread to eliminate binding arbitration for all contracts for all unions, so we can't even let this get started."
Campbell Washington wrote in an email that the goal of her joint effort with Guillen and Reid is to be proactive and sustain police oversight reforms that have been implement over the past decade. She says she has been meeting with "key stakeholders" over the past year. "Our Ordinance language incorporates the feedback we've received from community advocates, leaders of the faith community, police oversight experts, and leadership from local educational institutions," she wrote .
But Rashidah Grinage, a member of the Coalition for Police Accountability, said the Guillen-Washington-Reid proposal is a mystery to her. "Nobody knew this was coming, and nobody know's what's in it," said Grinage.