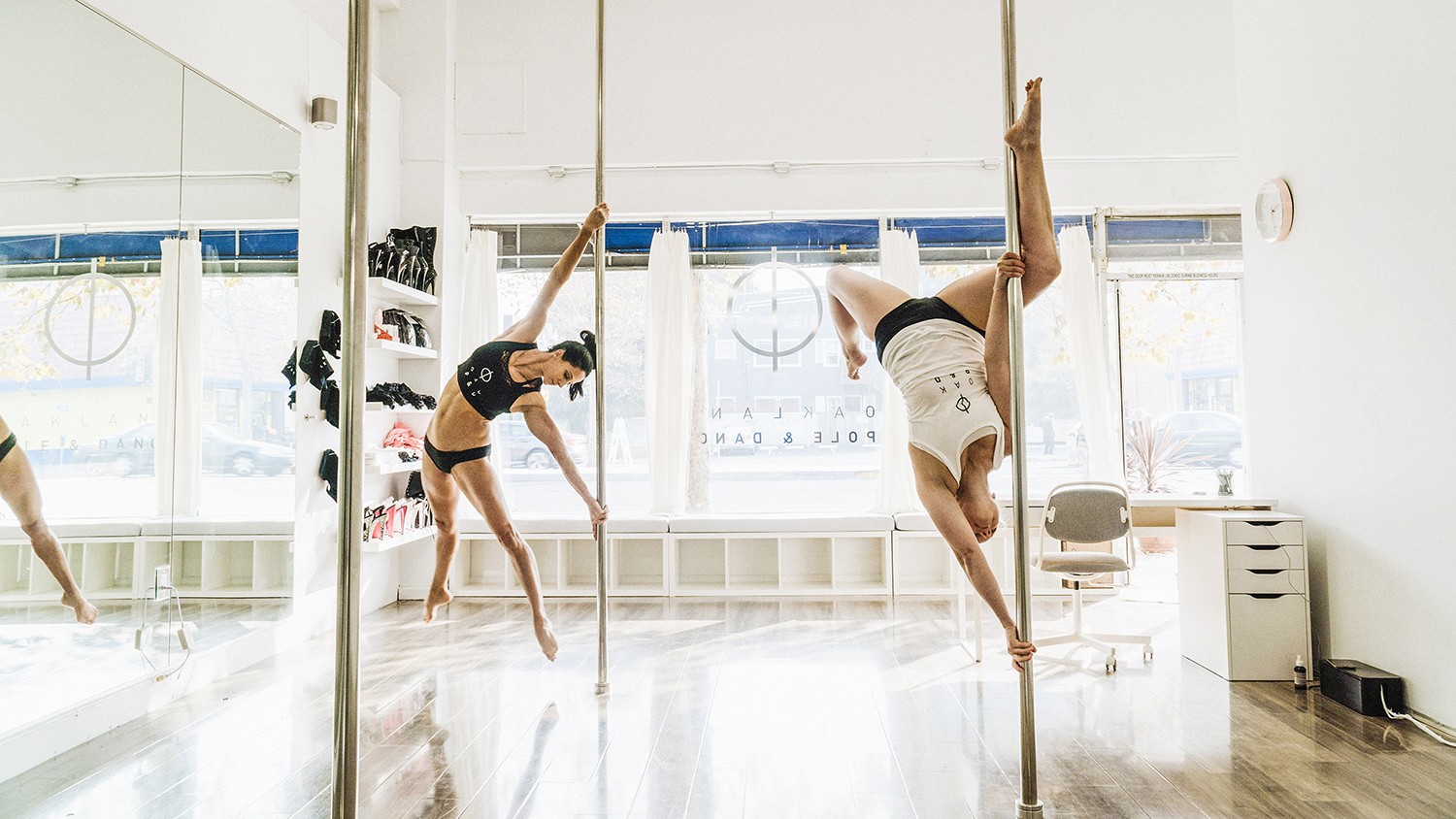 Once you really get into the choreography of pole dancing, you quickly see that there are two sides of pole: the fitness side and the sexy side.
Over the last couple of years, pole dancing has gone through a major rebrand, professionalizing its previously risqué undertones and bringing its combination of athleticism and artistry into the mainstream. Studios are increasingly popping up around the Bay Area, meeting the high demand of folks looking to burn calories while letting their freak flags fly.
The newest one, Oakland Pole & Dance, will host its grand opening on Friday, Nov. 30 in West Oakland. It's an extension of the original San Francisco Pole and Dance, where more than 1,000 people attend classes every month. Owner Amy Bond hopes to create a similar safe space where students can combine aerobics and flexibility with individual sexual exploration. The studio comprises nine poles, a training floor, and an aerial and hoop space. With its pink accents, the studio was originally designed to be female-centric, but Bond emphasized that all are welcome to experience the allure of the pole.
"Compared to a traditional spin class or yoga class, you're doing movement that society is telling you is wrong," she said. "There's something about the subversiveness of it that bonds people. They love pole because it tells you it's okay to feel sexual, and in fact that it's an essential element of who we are. You literally need to bare your skin to grip the pole, so there's this extra element of stripping down that allows the whole class to come together."
Bond, a graduate from UC Berkeley and Boston University Law School, attended her first pole dancing class the same day she attended her first law class. She has spent time consulting for major tech companies in the Bay Area and also works in immigration law, where she helps children reunite with displaced family members. The duality of dance and law has helped her stay balanced — she said she'd either go crazy or grow bored with only one.
"I really appreciate that I have two personas I can put on," she said. "I am an attorney and a pole dancer and what people think of me is dramatically different depending on how I introduce myself. If I start with 'I am an attorney,' people assume I am very responsible, but if I start with 'I am a pole dancer,' it's a very different reaction. Some have a hard time wrapping their heads around it. To coexist in both worlds speaks to the idea that women — or even people for that matter — don't have to be just one thing."
Bond came to Oakland for her second studio because it's an underserved market — there is only one other pole studio in Oakland, downtown's Atomic Allure.
"Right now, 25 percent of my students at SF Pole and Dance come from the East Bay to take classes at my studio," she said. "We want to provide those students with the instruction that they deserve in their own neighborhood. "
Oakland Pole & Dance offers a variety of class options at different skill levels — plus private classes for company, birthday, and bachelorette parties. Drop-ins and single sessions start at $30, with different packages available at varying price points. The minimally designed, 2,500-square-foot industrial space is brightly filled with light. A couple of rows of glittering 9-inch platform heels act as the lone décor. Unlike most other fitness studios, Oakland Pole & Dance provides a small community workspace in the back where attendees can use the studio's free Wi-Fi to get work done before or after a class.
"People really enjoy doing work in our space because it inspires creativity," said General Manager Karri Mae Becker. "We wanted to give them a small space that was designed for them to come and feel comfortable doing whatever works for them."
One of Oakland Pole & Dance's teachers is Elizabeth Blanchard, a "pole-lebrity" in the dance community with over 70,000 followers on Instagram. Blanchard has traveled the globe teaching workshops on pole, aerial, hoop, and contortion, and she's relocating from Southern California for the job. "I have taught in studios all over the world and wanted to be a part of Oakland Pole & Dance because it's not just where you get a workout," she said. "Amy is not only an amazing business person, organized and well structured, but beyond that she creates a community.
"Everyone needs a safe space," Blanchard continued. "Women, men, transgender — all these people want to be able to express themselves and not feel judged. Here, you don't have to conform to the gender norms or the societal norms."
Friday, Nov. 30, 7-9 p.m., $5, 366A Grand Ave., Oakland, OaklandPoleAndDance.com

[embed-1]