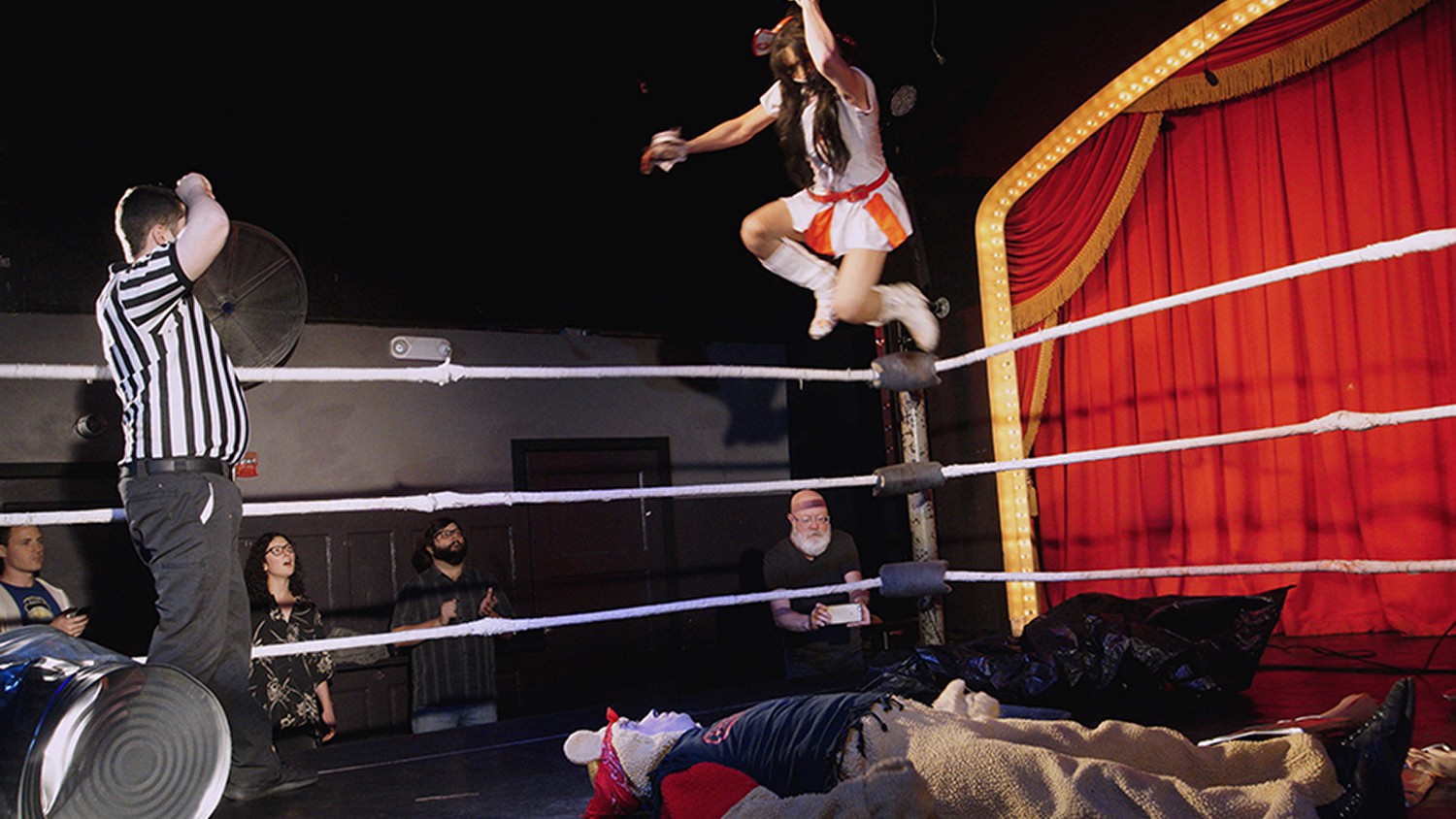 On a recent Sunday afternoon at a San Francisco queer club, a small but enthusiastic crowd gathered to day drink, snap photos, cheer loudly, and experience Oakland-born alt-wrestling "accidental phenomenon" Hoodslam. A masked and muscular Nurse Ratchet stalked the floor outside the ring, pursuing a giant, aggro Pooh bear (better known as Pooh Jack) who had already attacked her with his signature metal garbage can, a trapper keeper, and a broomstick. The song "Natural Born Killaz" boomed through the bar as they rolled across the floor and back into the ring. Sure, there's a script of sorts and some fake blood, but the smack of flesh on flesh (not to mention garbage can on flesh) is not one that can be entirely faked.
It's impossible to be a passive wallflower at a Hoodslam event. Even if you're the kind of person who prefers to hang out on the periphery rather than right up against the ring, inevitably the action will roll, leap, or be tossed into your lap, as a diverse array of costumed characters hurl each other and an array of colorful epithets around the room. For the last eight years, Hoodslam's agile acrobatics and brash theatrics have attracted a strong following across the Bay Area, but especially in their hometown of Oakland, where they've been holding it down at the Oakland Metro Operahouse since 2011. And starting in January, they'll be bringing their Sexy Good Time Wrestle Show back across the bay along with a new event, the all-female GLAM (Guilty Lethal Action Mayhem), expanding their fan-favorite franchise to every Friday at the Oakland Metro Operahouse.
The San Francisco edition is called the Sexy Good Time Wrestle Show, which has been running at Oasis since March — and the DNA Lounge beforehand — and began as an attempt to not just reach San Francisco audiences in general, but an audience that might otherwise be nervous about attending Hoodslam.
"I think people who don't live in Oakland and they hear about something called Hoodslam are perhaps not sure it's for them — maybe they think it's a little more aggressive and violent than they expected," Hoodslam founder Sam Khandaghabadi explained. "So Sexy Good Time Wrestle Show is kind of the description and title all at once that doesn't have that same bite to it that may scare some people off."
Khandaghabadi, aka Dark Sheik, will be enlisting the talents of long-time Hoodslammers A.J. Kirsch and Anton Voorhees to organize and write the Sexy Good Time Wrestle Show and GLAM, respectively.
Best known in the Hoodslam universe as "Broseph" Joe Brody, Kirsch has been involved since 2012, after appearing as a contestant on WWE reality show, Tough Enough, in 2011. Getting the opportunity to be one of the writers is just another notch on his already formidable Hoodslam belt as commentator, spokesbro, and calculatedly obnoxious Axe body-spray addict. He's excited to take on the booking and writing for the Sexy Good Time Wrestle Show, which will bring a new theme every month embracing pop-culture touchstones such as comic books, video games, and movies. It'll give wrestlers the opportunity to take on different characters or portray different aspects of those characters outside of the usual Hoodslam narrative.
Voorhees, who's taking on similar duties for GLAM, has helped Khandaghabadi arrange matches before, and in October, spearheaded a special homage to horror movies, dubbed Bloodslam. The three-act continuous storyline included pitting the inmates of an asylum against their captors, a drug-induced rampage, and the deployment of many, many bags of stage blood. A veteran of stage and screen, Voorhees was eager to flip the usual wrestling "script" of storyline built around matches to that of matches built to fit a single, cohesive narrative. With GLAM, he wants to start things off a little less bloodily with a solid showcase of some familiar faces such as Lady K., Shakira Spears, and "Killer Baes" Heather Monroe and Laura James.
"No theme, no big drama," he explained. "Just letting the fans jump in the deep end of what is going to happen moving forward, and build from there."
Current patrons of San Francisco's Sunday afternoon shows will be relieved to hear that Hoodslam isn't abandoning them altogether, though Khandaghabadi anticipates they'll be quarterly rather than monthly events. But for folks who've been on the fence about attending an Oakland Hoodslam (or are just always busy on first Fridays), Hoodslam (first and third Fridays), GLAM (second Fridays), and Sexy Good Time Wrestle Show (fourth Fridays) will all be up and running in January. And what about for months with five Fridays?
"Those shows will be run by the Stoner Brothers and Stoner U," said Khandaghabadi. "Showcasing the talents of the future of Hoodslam — and beyond."
Sexy Good Time Wrestle Show: Sunday, Nov. 25, 3 p.m., $20, Oasis, 289 11th St., San Francisco, SFOasis.com
[embed-1]