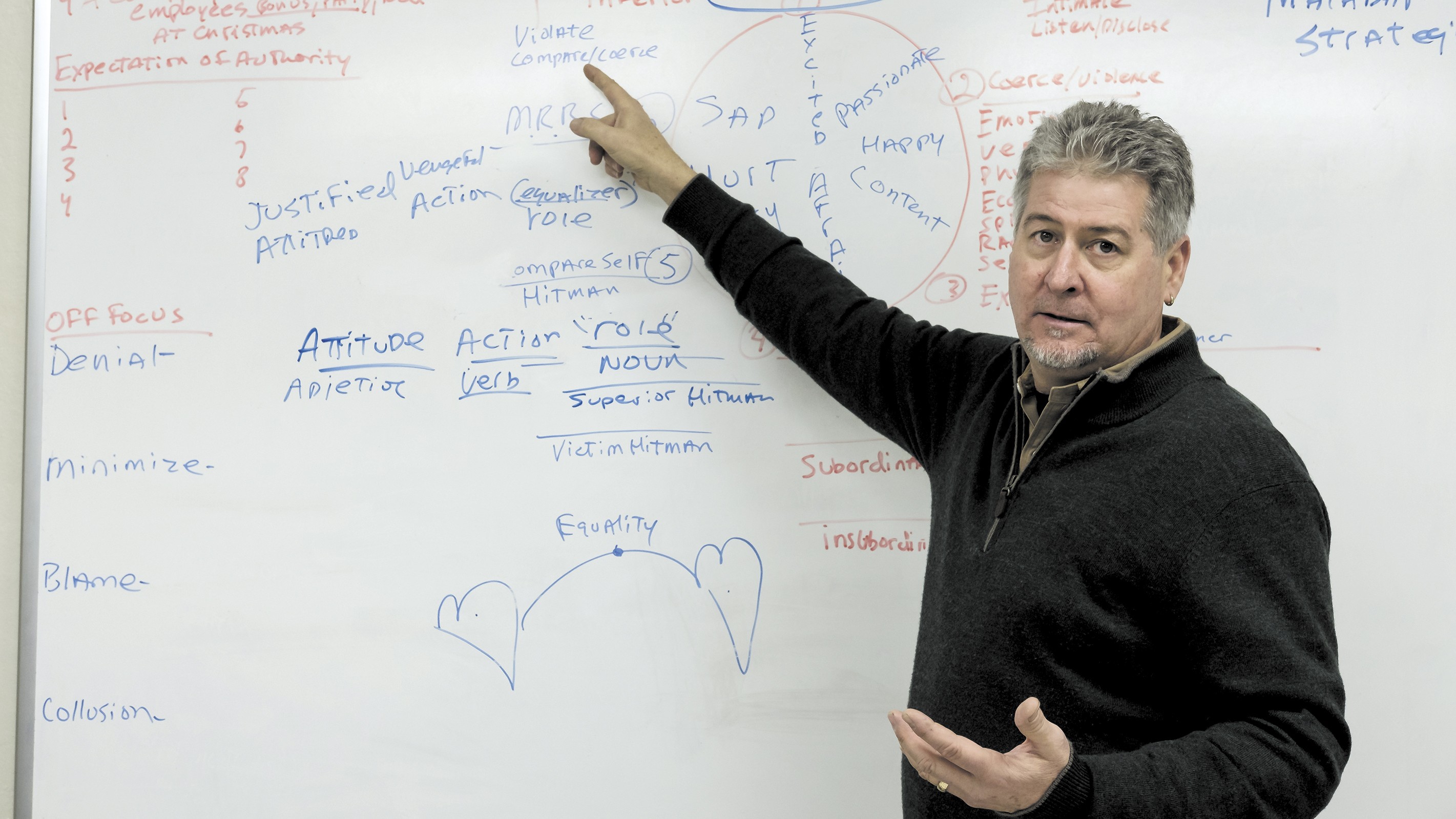 On a rainy November evening, a dozen men sat in a semi-circle in a Laney College classroom. They were working toward graduating, but not from any academic program. The whiteboard was peppered with terms such as "Hit Man," "accountability," "male belief system," "fatal peril," and a clever acronym for denial: "Don't Even Notice I Am Lying."
Scott Schell, the facilitator, was animated and upbeat as he asked the men a basic question: "Why do we get angry?"
The room was tense but quiet.
"We get angry when we don't feel safe," Schell proffered. "We're scared. As men, we can't show hurt or pain or cry. As men, we show anger. We get aggressive, violent. We're taught this is OK male behavior."
Just how to stop this behavior is the goal of the nonprofit program, called Men Creating Peace, which works with domestic violence offenders, as well as men struggling with anger issues. They're referred by the courts, the Alameda County District Attorney, Child Protective Services, therapists, and by word of mouth.
"We work with men to educate them about the root causes of men's violence and male entitlement," said Executive Director Devon Gaster, who founded the program in 2007. "We also work to help men understand that anger is an emotion everyone experiences, but not everyone expresses anger in abusive or harmful ways."
With allegations of sexual harassment and assault making daily headlines, the subject of how to stop men from being violent has perhaps never demanded more urgent attention. According to a survey by the Centers for Disease Control and Prevention, nearly one in five women in the United States are raped at some point during their lifetime. Furthermore, more than one in three women and more than one in four men experience sexual violence, physical violence, and/or stalking by an intimate partner in their lifetime.
Gaster said he has his own history of abuse, both as a victim and a perpetrator. He was referred by authorities to the Manalive program at San Francisco County Jail. "I made a big mistake in my life and want to pass on what I learned to those other men," Gaster said.
He decided to start Men Creating Peace because he realized that men who become violent in relationships need tools to change their thinking and to avoid the "fatal peril" — when they feel compelled to lash out in rage. Gaster modeled his program on the principles he learned at Manalive. His 52-week program includes three phases: the first is focused on recognizing different forms of violence, the second works on reconnecting men with themselves and deepening their intimacy and communication skills, and the third stage addresses co-dependency, unhealthy relationships, and developing strategies for the future.
In addition to holding weekly classes at Laney College, Men Creating Peace also holds sessions at Options Recovery Services in Berkeley. The first session is free, but after that, fees are on a sliding scale based on income, with a range of $20 to $100 per session. There are also twice-monthly classes at San Quentin State Prison for men nearing their release date.
All the men must also agree with two statements: "I have been abusive to myself and others" and "I am willing to stop my abuse to myself and others."
Yet recognizing abusive ways can be difficult. In the Laney classroom, one man described a painful revelation during a family movie night: The film's authority figure barked out orders, treating others with belligerence. "My kid says, 'That's dad.' That night I looked in the mirror. He was right."
"Power over your behavior" is a recurrent theme in sessions. When one man says he left his home rather than let his anger escalate into a violent situation with his two daughters, Gaster said the man did the right thing but added, "Removing yourself from the scene is not always the best solution."
Some of the most powerful sessions are those that feature survivors of various forms of abuse and violence, Gaster said. "These men and women tell their stories and the men listen and ask questions. It's a chance for them to build empathy." After the survivor — never "victim" — leaves, the men process what they've heard. "Men talk about the impact of violence," Gaster said. "Men who've committed these very acts talk about them in light of what they've just heard." Gaster also invites relatives of survivors of violence, which recently included a mother whose son was killed by a gang.
A lot of men in the program grew up in abusive households. (The Express agreed to change the men's names at their request.) One recent graduate of the program, whom we'll call "Steve," said his parents fought constantly and his father was abusive toward him. As an adult, Steve was verbally abusive of his partner and his behavior escalated "to a point where I slapped her." He called a domestic abuse hotline, which referred him to Men Creating Peace.
Steve said the program taught him "the tools for de-escalating a situation when violence seems the only choice," he said. "I learned how to be intimate, how to be a genuine person."
Stephen Murphy, associate director of the Alameda County Family Justice Center, said Gaster is "doing a phenomenal job."
"We need to be very open about what constitutes healing for survivors and victims," he said. "Those who do research must inform us on how to heal these families. Devon was one of the innovators and is part of the conversation on healing abusers. I have a ton of respect for him."
Jeffrey Edleson, dean of the School of Social Welfare at UC Berkeley and a leading expert on domestic violence, said he wasn't familiar with Gaster's work, but research shows that approximately two-thirds of men who complete batterer-intervention programs end their violence against their intimate partners. However, many men drop out of such programs before completing them.
"In my own study, we found that about half the men contacting the agency did not enter treatment and another quarter did not complete the program they started," said Edleson, whose research includes decades of running groups for men who perpetrate violence. "Studies show that delays in entering treatment groups lead to higher program dropouts. Criminal justice systems that mandate and monitor men's participation and then bring consequences if men do drop out show better completion rates than those that don't."
According to Gaster, over the last 10 years, more than 250 men have gone through the Men Creating Peace program, but only about 3 in 10 graduate. Only two men have returned to the program for another offense.
Based on decades of research, Edleson traces men's violence to childhood. "It's the socialization of boys," he said. "We're raised to be in control. When men in my groups are asked to talk about feelings, they experience fear and insecurity as anger. Boys are trained not to express fear."
He recalled a quote: "Boys are warriors; girls are worriers."
Edleson also offered a soberer reason for men's violence: "Men are violent because it pays," he said. "There's a reward for being violent. Violence is part of a larger coercive endeavor. It's coercion for control and it pays off because the perpetrator gets their way."
Edleson said there are recurring themes in men's excuses for violence, such as alcohol, drugs, or the contention that "if she had only done things differently, I wouldn't have had to beat her." His main message to perpetrators of domestic violence is unambiguous: "You may have been provoked but you have a choice as to how you respond to provocation."
A recent experience in Edleson's group challenged the notion of "the irrational" man being abusive. "This happened on a Monday afternoon," Edleson explained. "The man destroyed every piece of furniture in the living room, except for the TV." It turned out the man had plans to watch Monday Night Football.
Still, Edleson remains optimistic. "The murder rates have gone down over the centuries," he said. "We're doing better at managing to control our desire to use violence." Edleson also cites the #MeToo movement and the national exposure of men who abuse women as positive steps in lessening the incidence of domestic violence.
Gaster is also hopeful, but he's intent on expanding Men Creating Peace. "I'd like to do more classes on college campuses," he said. "Classes to increase awareness of domestic violence, sexual assault, harassment, and abusive relationships."
Gaster finds it invigorating to educate men who want to change — and he's encouraged by the results of his work. "Hearing from men whose lives have changed in a year is why I continue to do this work," he said.
For details, go to MenCreatingPeace.org.