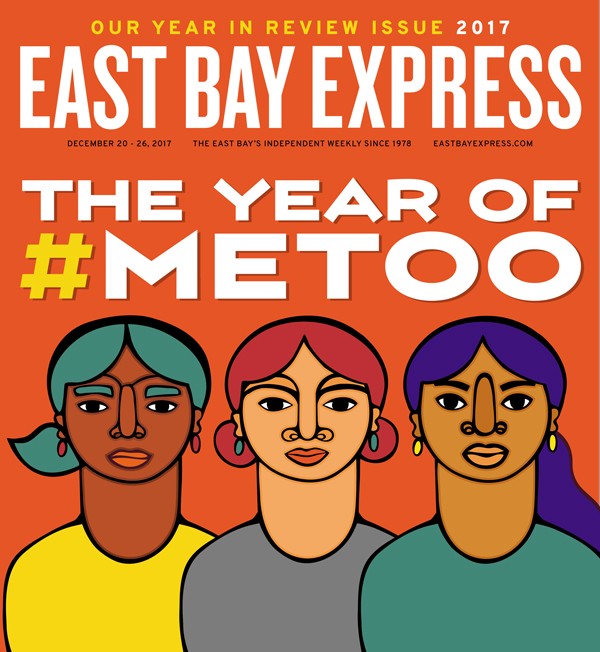 Cover, 12/20
Great Cover
Thank you for the beautiful, powerful art by Oakland artist Favianna Rodriguez on the cover this week. It is a pleasure to see her work, especially in the context of your theme of the year.
Chris Orr
"The Year of Fast-Casual Restaurants," Restaurants, 12/20
Can't Blame the Minimum Wage
It sounds like it wasn't necessarily the minimum wage increase that caused Ozumo, Pican, et al to close (at least not in a vacuum). The article references both how the current workers comp insurance system and payroll tax structures impact costs. With the Bay Area housing crisis and affordability challenges, staffing issues could be even harder had the minimum wage not increased.
Tim Huey
"Unsheltered, Unsolved," Feature, 12/20
The Village Returns
The Village is getting ready to build again. The city administration is releasing a 1-acre plot of land to us in East Oakland, and private land owners will also release their lands to us. The Village is 100 percent volunteer- and donation-based. Please follow us on Facebook @The Village in Oakland #feedthepeople if you want to help build or volunteer on site. 
We will build perimeters around the Village to provide protections and privacy to the residents. Get at our Facebook inbox if you have a door to donate. We will take new or used doors.
Thanks so much for continued coverage of this human rights crisis. #HousingIsAHumanRight #HomesForAll #HomelessnessIsNotACrime
By the way, the United Nations will be in Oakland in less than a month to document the human rights abuses that local government, law enforcement agencies, and xenophobes inflict upon our unsheltered neighbors. The Village, HAWG [Homeless Advocacy Working Group], and other homeless advocates have repeatedly told the city that its practices and policies were in violation of both civil and human rights. But it wouldn't listen.
Maowunyo de Asis
"Enviros Battle Developers Over Richmond Hills Open Space," Eco Watch, 12/20
Save Open Space
The Richmond City Council deserves credit for trying to encourage wise new housing construction. The council's long-term development plan prohibits new housing in open spaces like the hills, while making it easy for high-density housing to go up in the center of the city, which is well-served by BART and buses.
Deborah Schmidt
More Suburban Sprawl
This kind of development does not solve the housing crisis in any way. This is old-school low-density car-centered suburban sprawl. The homes will probably run at least $750,000, many of which will be snapped up by cash buyers and investors.
If we really want to relieve the housing shortage, high density multiunit developments along public transit corridors are the way to go. There are hundreds of acres of infill development sites available throughout the East Bay. hy build on open wildlands if the real objective is to provide affordable housing for the middle class and not compound the already impossible traffic congestion along the I-80 corridor? I've heard it said that that American suburban development is the greatest misallocation of resources in history, both in terms of land use and transportation planning.
Mark Tilley
Corrections
Our Dec. 20 movie review of Call Me by Your Name erroneously stated that the professor's villa was a timeshare; in fact, his wife inherited the property. And our Dec. 20 feature, "Oakland Finally Builds Housing," misstated the year in which city voters approved Measure JJ. It was 2016 — not 2017.