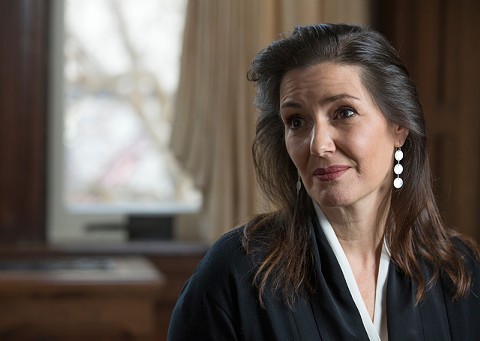 Last night was the deadline for candidates running for Oakland mayor, city council, and other offices to file disclosure statements showing how much money they've raised in the past six months. Here are the candidates by the numbers.
Mayor
Oakland Mayor Libby Schaaf
was able to raise $116,739 so far this year and she has about $315,000 in cash in her committee account to pay for her re-election campaign. No other candidate has close to that amount of funds, and the mayor is also benefitting from
her high-profile feud with the Trump administration
.
Cat Brooks
 is considered a top contender in the mayor's race. Brooks was able to raise $49,932 over the same span of time.
But it was actually
Saied Karamooz
who raised the most money. His $181,000 came in the form of a self-loan, however. Karamooz reported no contributions from any other source.
Marchon Tatmon
was the only other candidate in the field of 16 who are running for mayor who reported raising money. He received $7,409 in contributions.
District 4

In the city's hotly contested District 4 race, one of the frontrunners dropped out.
Chris Young
was fast outpacing his rivals in terms of fundraising, with $113,207 contributed to his campaign this year. But he cited personal reasons when he declared the end to his campaign last week.
The Express previously reported
that Young claimed to be the in-house attorney for GoFundMe even though his status with the state bar was "ineligible" to practice law due to a failure to pay his bar fees and complete mandatory legal education. Schaaf and outgoing D4 Councilmember Annie Campbell Washington both endorsed Young before he quit the race.
Among the candidates still in the race (there are 11), only five others reported raising money.
Charlie Michelson
led the group with $47,330, followed by
Nayeli Maxson
,
Joseph Tanios
,
Sheng Thao
, and
Joseph Simmons
.
District 6

In District 6, several candidates are trying to unseat Councilmember
Desley Brooks
.
Brooks raised $33,497 so far this year and has $57,353 in cash in her account.
Loren Taylor
, who has Schaaf's endorsement, outpaced Brooks in fundraising. He reported receiving $119,476, or three and a half times more than Brooks. Some of his contributors include Schaaf's longtime supporters.
Natasha Middleton
and
Marlo Rodriguez
reported raising $28,900 and $20,630, respectively.
District 2
Abel Guillen
is facing two opponents this November. The incumbent councilmember reported $97,342 in contributions since January 1, including support from Schaaf and several real estate developers who are building large housing and hotel projects in his district.
Nikki Bas
raised $36,934. Many of her contributions are from nonprofit staffers, activists, and others who have been critical of Oakland's development politics and gentrification.
Carlos "Kenzie" Smith
, who was the target of the woman known as BBQ Becky, did not report raising money in the past six months. He launched his campaign after being approached by many in the community who are concerned about rising anti-Black racism and gentrification.
While money isn't everything, it's also virtually impossible for a candidate without considerable funds to successfully run in Oakland.
But at the same time, the candidate with the most money doesn't always win. Incumbency counts for a lot. In 2016, At-Large Councilmember Rebecca Kaplan beat challenger Peggy Moore (who had Schaaf's support), even though Moore raised $316,000 to Kaplan's $169,000.