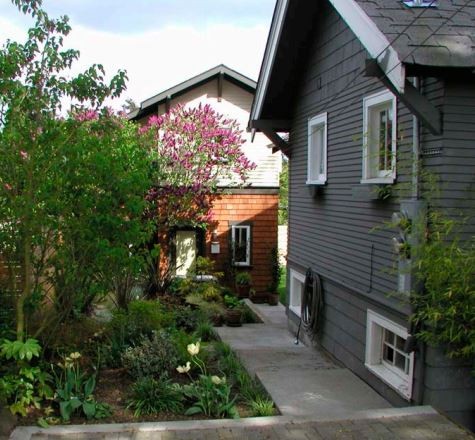 At its
upcoming meeting
on Wednesday, October 21, the Oakland Planning Commission will consider rule changes that could encourage homeowners to build secondary housing units, mainly in the form of small backyard cottages. The new rules could spur the construction of hundreds, or even thousands of new homes across the city, many of them near BART stations and within walking distance of AC Transit rapid bus stops, creating both affordable and green housing options.
The proposal is similar to rules that
Berkeley adopted in March
. The Oakland City Council must ultimately approve any changes the planning commission recommends.
But if passed, the new rules would allow Oakland homeowners to build structures of up to 750 square feet, or up to 75 percent the size of the lot's primary structure, whichever is less. Backyard cottages could have roofs as high as 14 feet at the peak, and ten feet at the eaves. The could be fully equipped with kitchens, bathrooms, and appliances.
[jump] Accessory units would have to be set back at least four feet from the property line, but if the new structure will replace an existing structure that is already up against a property line, no setback would be required.
And finally the proposed new rules would ease parking requirements by allowing homeowners within one-quarter mile of BART stations or bus rapid transit lines to build secondary units without having to also provide parking spaces.
Homeowners have complained to Oakland's planning and building department for years that the rules are so restrictive as to stifle the addition of secondary units. Dorothy Wall, a North Oakland homeowner of 24 years, wrote the planning and building department in April of this year urging reform.
"While Oakland currently allows secondary unit possibilities, the code requirements are so restrictive that a legal accessory dwelling unit (ADU) is often not doable," wrote Wall. "I encourage Oakland to follow Berkeley's lead in code changes, recognizing the tremendous benefits ADU's provide, in terms of infill, densification, aging in place, and family flexibility, all while preserving neighborhood character."