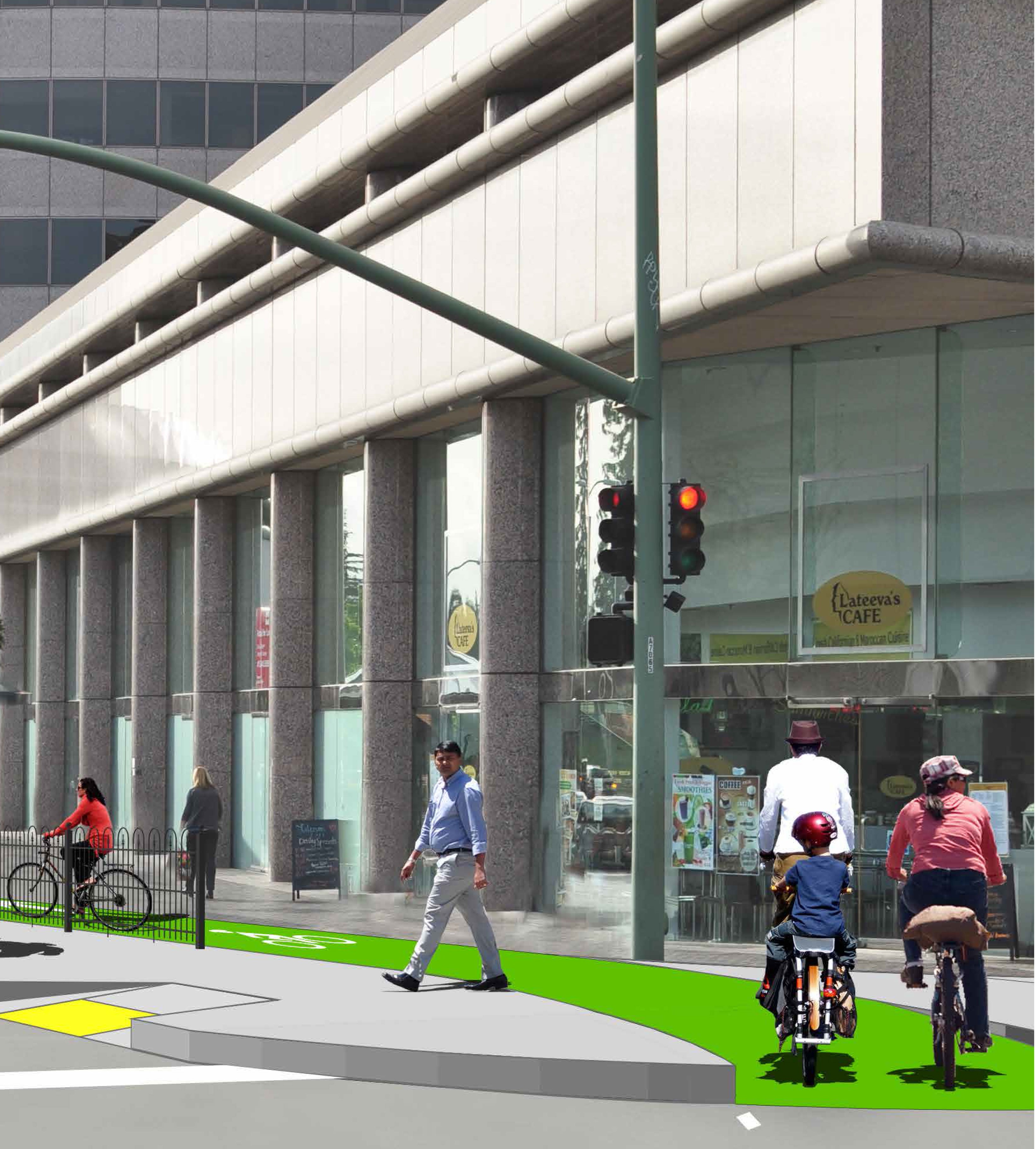 Oakland and Richmond are on track to receive more than $15 million in funds dedicated to making the streets safer for cyclists and pedestrians. The funding comes from the 
Active Transportation Program
(ATP), which doles out state and federal money for transportation projects across California. As part of a competitive
grant process
, staff from the California Transportation Commission and the Metropolitan Transportation Commission (the Bay Area transit agency) recently announced that they have selected proposals to build a revamped pedestrian-friendly street in Richmond and to redesign two busy roads in Oakland. 
The state transportation commission
selected
 a roughly $6.2 million project in Richmond to boost bike and pedestrian paths in the city's Iron Triangle neighborhood with a "yellow brick road" design. The commission also chose in its recent recommendations a $4.5 million project to redesign a section of 20th Street in Oakland near Lake Merritt. And the Metropolitan Transportation Commission recommended (
PDF
) providing $4.9 million for the long-awaited
redesign of Telegraph Avenue
between 20th and 41st streets.
[jump]
The ATP funding goes out in three rounds: approximately $180 million for projects across the state, $35 million for small urban and rural areas, and region-specific money that includes a $30 million pot for the MTC Bay Area region. After the initial recommendations, the Richmond and Oakland 20th Street project must get final approval at the California Transportation Commission meeting this week (October 21-22). And the MTC recommendation for Oakland's Telegraph project requires final approval on October 28. In their recommendations for the 2015 grant cycle, the commissions selected a total of 124 proposals out of
617 total applications
, requesting a total of more than $1 billion.
See Also: 
Top Ten Bike Projects Coming to Oakland
Oakland Considers Adding Bikeways on Grand Avenue
The City of Richmond initially received a Caltrans planning grant in 2012 for its "yellow brick road" project and tested it last year. The Iron Triangle neighborhood has high rates of low-income residents and has suffered from a prevalence of violent crime and health problems, according to a
report prepared on the brick road project
. The idea originally came from a group of Richmond youth in 2008, and has since been incorporated into the city's official pedestrian plan. In addition to a yellow-brick design on sidewalks, the project features measures aimed at slowing car traffic, such as raised crosswalks, as well as public art, trees, benches, and other streetscape improvements.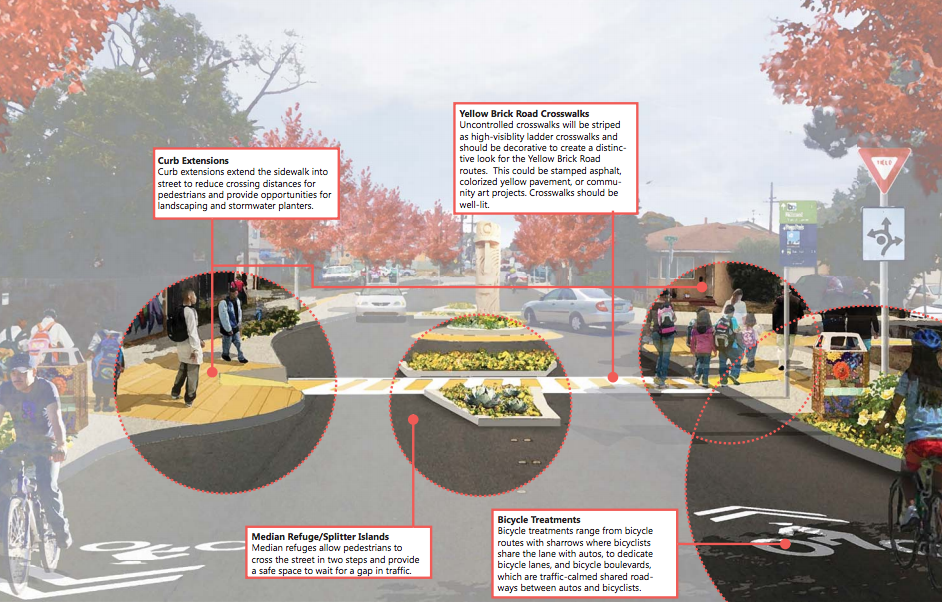 Two out of four Oakland proposals were successful in this round of ATP grants. On Telegraph, the city is installing the city's
first-ever "cycle track," meaning a protected bike path
that is separated from vehicle traffic by a lane of parking. This project has been in the works since 2013 and is aimed to
spur business
and increase bike and pedestrian safety. 
In the other Oakland project that received commission support, the $4.5 million will support a proposal to install cycle tracks, wider sidewalks, and "boarding islands" for public transit on 20th Street, between the 19th Street BART station and Lake Merritt. "If you know that area very well, it's kind of 1950s era design that really makes movements for cars easy but makes movement for pedestrians more difficult," said Bruce Williams, Oakland's transportation funding manager. Both Oakland projects are located on streets listed as priorities on the city's Bicycle Master Plan.
The state transportation commission also selected an $850,000 Berkeley proposal to extend its 9th Street bicycle boulevard.