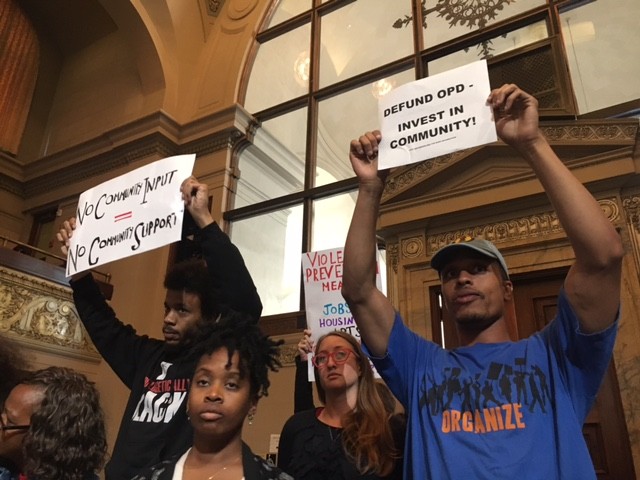 The City of Oakland was supposed to end up with a new two-year budget after its Monday night council meeting. Instead, a large assembly of activists shut the meeting down and prevented a vote.
Chanting "defund OPD," in reference to Oakland's police department, and urging more spending on housing, homeless services, and similar programs, the group took over the chambers and prevented the meeting from continuing before the actual discussion about the budget began.
Members of the council appeared caught off-guard by the disruption, but then declared a recess and slowly exited the room.
Councilmembers Desley Brooks, Rebecca Kaplan, and Noel Gallo left City Hall shortly after the disruption. The remaining councilmembers then quickly reassembled inside the locked council chambers, but only to vote to adjourn. Although a typical budget resolution only requires five councilmembers' votes to pass, certain parts of the proposed budgets this year require six votes. As a result, there was no quorum last night after the disruption.
The city council and mayor
are still millions of dollars away from agreeing on a final budget plan
. There are four different council proposals that modify the mayor's basic plan.
The council must approve a new budget by June 30, the end of the fiscal year.
A new budget meeting has been scheduled for Thursday at 4 p.m.
[embed-1]