Workers who handle Oakland's recycled materials will have "good, family-supporting wages and benefits," and all Oakland residents — including those in multifamily complexes — will have a full range of recycling services, according to a resolution passed by the city council this week. These were the key goals of a coalition of recycling workers, community and environmental organizations, workplace safety advocates, and clergy, which had been pushing for these measures for two years.
[jump]
Express
reported last year
, apartment dwellers do not have access to curbside bulk-waste pickup in Oakland, and many residents, as a result, dump their large unwanted items on city streets.
Finally, the city's waste contractor must consider sending some of Oakland's food scraps to a biowaste-to-energy facility where the waste would be used to generate electricity.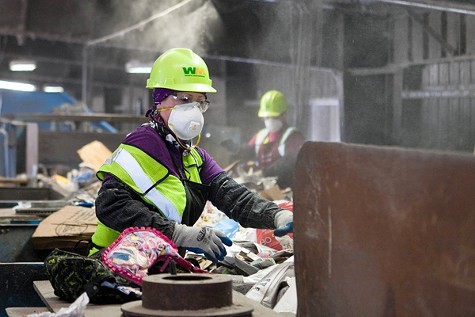 Recycling workers at the Davis Street transfer station have difficult and dangerous jobs.
The resolution specified that recycling workers should receive wages "comparable" to the pay that recycling workers in San Francisco, San Jose, and Fremont are receiving or are scheduled to receive. San Francisco and San Jose recycling workers currently make $21 an hour — a big jump from the $12.50 or less that Oakland's recycling workers now earn. Last December the Fremont City Council voted to raise recycling workers' pay from $13 to $21 an hour over the next three years. In addition, in the next Oakland recycling contract, workers are to receive "affordable, family health-care coverage."
The issue of compost bins for residents of multi-family buildings has been a key point of conflict. City staff argued that it wouldn't work; environmentalists argued that it was necessary to meet the goal of creating a new culture of recycling that would be consistent in homes, schools, and workplaces. International Longshore and Warehouse Union Local 6, which represents Oakland's recycling workers, said the city's initial plan — to have apartment-dwellers put compostables and trash in the same bins, to be separated later — would pose hazards to the recycling workers who had to do the separating.
Amy Willis of Local 6 said in an email to supporters that the city council's adoption of the coalition's policies was the result of "the consistent participation of many recycling workers . . . [who] have attended numerous Public Works and Council meetings, met in small groups with individual council members and also taken numerous actions on the job," as well as environmentalists, clergy, community, and workplace safety organizations who "wrote letters to the mayor, council and city staff and . . . spoke at Public Works Committee meetings and at the City Council meeting" where the policies were passed. Local 6 member Mirella Jauregui, who works for the current recycling contractor, Waste Management, also spoke at the council meeting this week.
Ruth Abbe of the Sierra Club, a key member of the recycling coalition, said the coalition is now working to get similar policies passed in Alameda and San Leandro. In addition to expanding and improving recycling and public education about recycling, the coalition's goal is to raise the pay of all recycling workers in the county to at least $20 an hour by 2016.
Abbe explained that the fourth part of the resolution, about sending some food scrap waste to a waste-to-energy facility, referred to a biowaste "digester" being developed by the East Bay Municipal Utility District (EBMUD), which uses food scrap waste to generate gas that's burned to produce electricity — some for EBMUD operations and some to be sold back to the electric grid.