California has approved a statewide ban on direct-to-consumer sales of certain animal poisons that are killing mountain lions, hawks, foxes, owls, and pacific fishers. These so-called "anticoagulant rodenticides" are popular in residential neighborhoods, on farms, and on trespass pot grows — where criminals use them to poison wildlife that nibbles the plant.
[jump]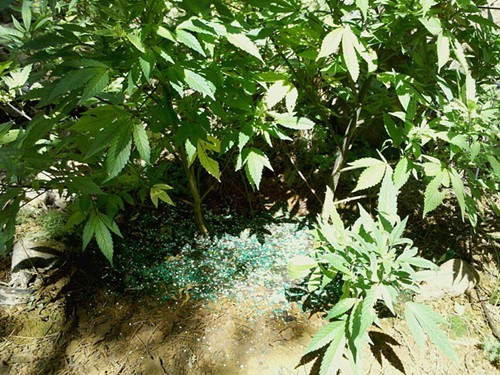 Brad Henderson – CA DFW
Yum: d-Con spread around the base of a pot plant
On Tuesday, the state prohibited certain products made by d-Con, advocacy group Earth Justice reports. The ban takes effects July 1. But there are still plenty of loopholes for people to get their hands on these super-toxic "second-generation" poisons, which turn animals' insides to jelly. They will still be available for widespread use by licensed commercial and agricultural pest-control operators.
"California has taken an important step to reduce the senseless poisoning of wildlife," stated Jonathan Evans, toxics and endangered species campaign director at the Center for Biological Diversity. "But there's no need to leave the 'worst of the worst' poisons on the market, because safe, cost-effective options are readily available that don't indiscriminately kill wildlife."
The ban means one less source for d-Con for pot farmers who are subject to zero regulations over the use of pesticides, fungicides, rodenticides, and other toxic chemicals. The federal government considers all marijuana activity illegal, and has blocked local efforts to regulate it. The ongoing disaster of wildlands fouled by illicit drug farmers has created a groundswell of support for legalizing, taxing, and regulating pot for the first time.