Early this morning, the Oakland City Council voted to drastically reduce the scope of the Domain Awareness Center by restricting the controversial project to the Port of Oakland and Oakland International Airport, instead of having it cover the entire city. The original blueprint of the federally funded surveillance center would have merged CCTV footage, gunshot detectors, license plate readers, news feeds, and first responder communication systems into a centralized, live-monitored facility.
Privacy advocates first 
raised the alarm
 over the Oakland surveillance center last summer when plans were announced to integrate controversial technologies such as automated license plate readers and video feeds from city traffic cameras, the Oakland Unified School District, the Oakland Housing Authority, the Oakland Coliseum, and regional transit agencies. The lack of a privacy policy or data retention guidelines — which, as of yesterday, still had not been created — also raised concerns about storing information on the whereabouts of Oakland residents and sharing it with local, state, and federal law enforcement agencies.
As the
Express
previously reported, there were other questions about the privacy, legal, and budgetary risks presented by the Domain Awareness Center — for example, the initial contractor had a 
history of fraud
, the city's intention was to use the DAC to 
monitor protests
 rather than the stated purpose of fighting violent crime, and the project's 
costs to city taxpayers was undisclosed
.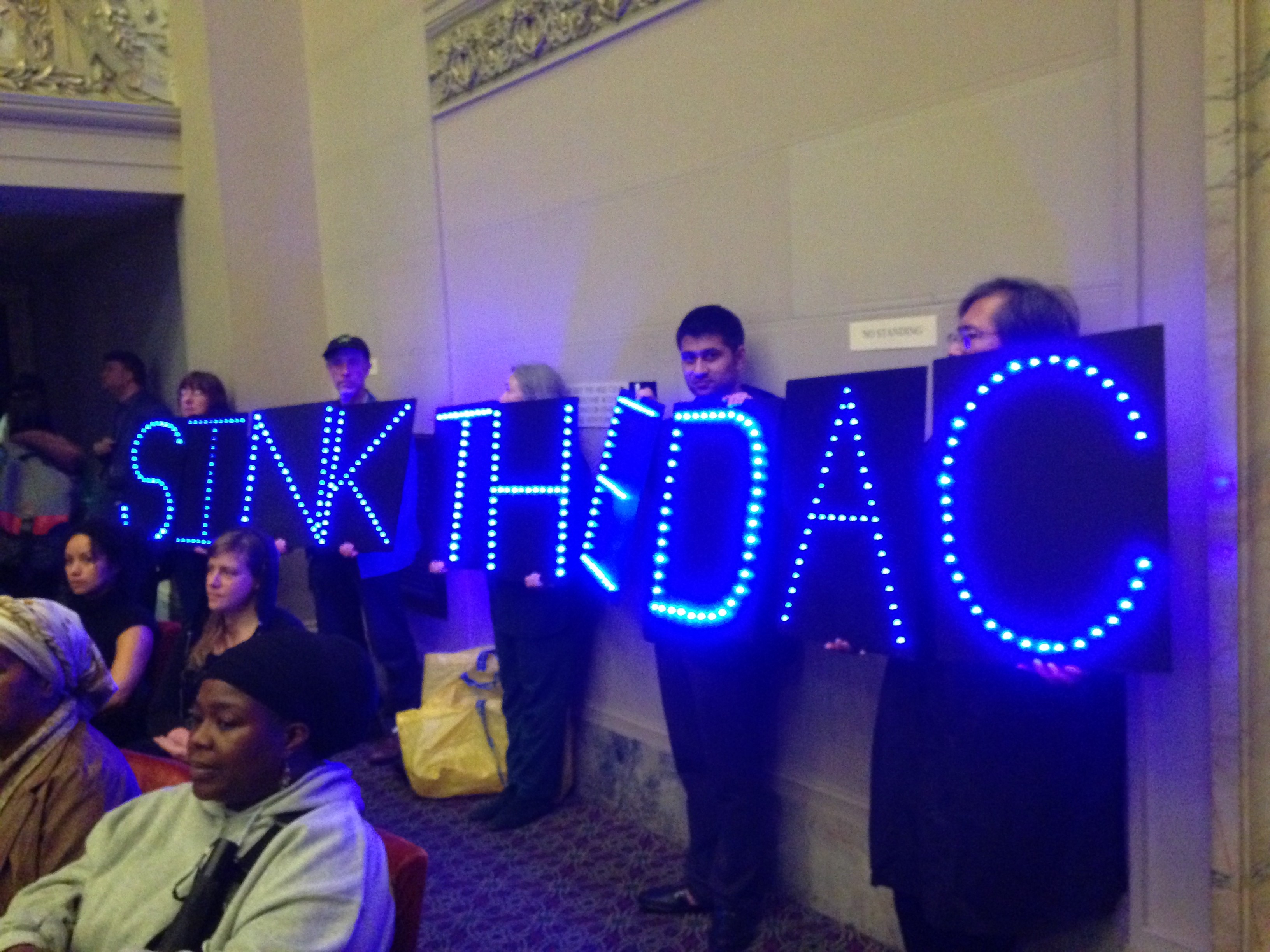 [jump]
Mayor Jean Quan reluctantly broke a 4-4 deadlock shortly after 1 a.m. and voted in favor of councilmember Desley Brooks' proposal to disconnect city traffic cameras and gunshot detectors to the Domain Awareness Center. Twice previously, the council had voted to support the program's citywide focus, although it did draw a line about including cameras from schools, public housing, and other outside agencies without prior approval. The council action now bars the sharing of information collected by the DAC with any state, local, or federal agency without council approval. Oakland's elected officials will also have the power to approve or deny the addition of new cameras and technologies to the project. The council will appoint the project's advisory board for privacy and data retention policies.
Well over one hundred speakers spoke on the item last night, with the overwhelming majority in opposition to the project. A significant portion of the crowd had come from North Oakland's Lighthouse Mosque, and told the council about the detrimental impact post-9/11 intelligence gathering and surveillance has had on the Muslim community. "We don't want other communities to go through what the Muslim community has gone through," Imam Zaid Shakir told reporters before the meeting.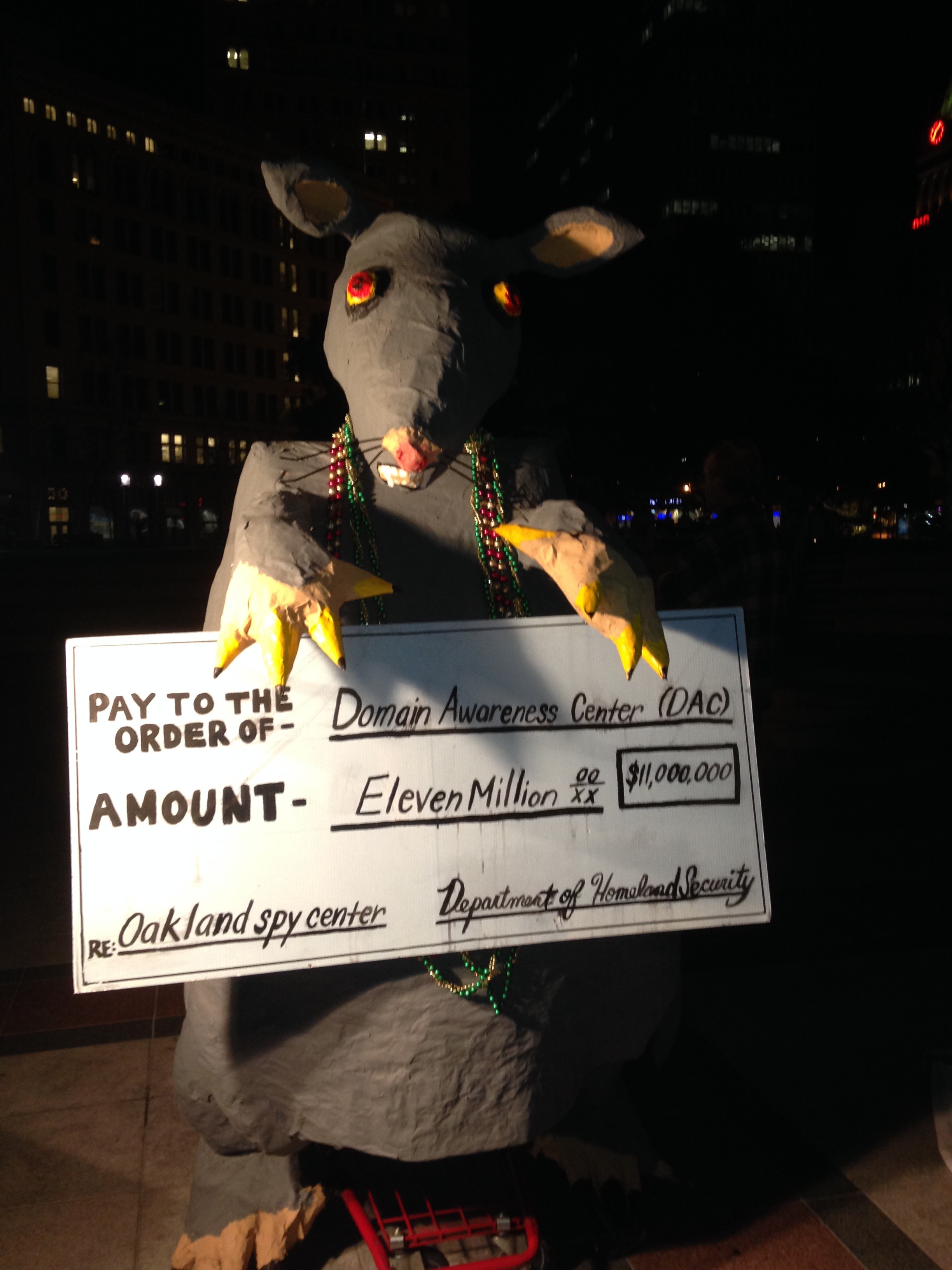 Members of the council, particularly Libby Schaaf and Rebecca Kaplan, voiced frustration about the difficulty of obtaining clear information about the project's scope, cost, and guidelines from city staff. Kaplan was visibly upset by an admission by Port of Oakland Security Officer Mike O'Brien that city information technology staff were working on the DAC without reimbursement by the port, instead of dealing with the Oakland Police Department's extensive technical problems such as faulty radios and non-functioning vehicle location devices.
Linda Lye, a staff attorney with the ACLU of Northern California who has heavily criticized the lack of policy safeguards and the citywide focus of the Oakland surveillance center, questioned whether the council was getting honest information from staff about the DAC. "If the council can't get a privacy policy or basic answers to basic questions, how do you expect to get the information you need when the Domain Awareness Center is up and running?" Lye said.
Until Mayor Quan released a statement yesterday afternoon supporting a temporary restriction of the DAC to Port of Oakland facilities, she had remained silent on the issue. Mayoral candidates Dan Siegel and Bryan Parker recently came out against the DAC, and have said they will raise the matter during upcoming debates.
Quan said the city did not properly inform the public about the Domain Awareness Center's purpose, and expressed her intent to expand the project's reach beyond the port in the near future. She also said she was taken by surprise at the intensity of opposition to the DAC. "I wish I had paid attention to it a little earlier," Quan said. "I really thought it was a no-brainer."