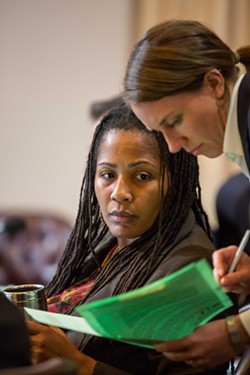 Oakland City Council President Lynette Gibson McElhaney was fined $1,600 by the Oakland Public Ethics Commission this week for failing to disclose her campaign contributions last year. Gibson McElhaney, a first-term councilmember representing West Oakland and downtown, failed to file state-mandated disclosure forms with the Oakland city clerk's office before a July 31, 2014 deadline. The
Express
first reported Gibson McElhaney's violation in December. The forms weren't filed until January 2015.
(See the end of this post for a copy of the public ethics commission's letter of decision.)
See also:
West Oakland Councilmember Fails to File Campaign Reports
See also:
Gibson McElhaney Paid Substantial Fine for Failing to File Campaign Finance Disclosure Statement
[jump] The $1,600 fine from Oakland's official political watchdog comes on top of a $1,730 fine Gibson McElhaney paid in January to the city to settle a mandatory charge imposed by the city clerk's office. The clerk was required to impose a $10 per day late charge until the statement was filed. The state's Fair Political Practices Commission declined to fine Gibson McElhaney in March because the fine paid to the city was considered a "substantial" penalty.
Over the period that Gibson McElhaney did not disclose her fundraising activities she raised $16,844 from 50 contributors.
So far this year, Gibson McElhaney has raised $6,675 through her officeholder committee. In April she established another campaign committee to run for re-election in 2016, and so far has raised $30,636,
much of it from real estate developers
.
Stipulation Oakland Public Ethics Commission 9-15 by darwinbondgraham