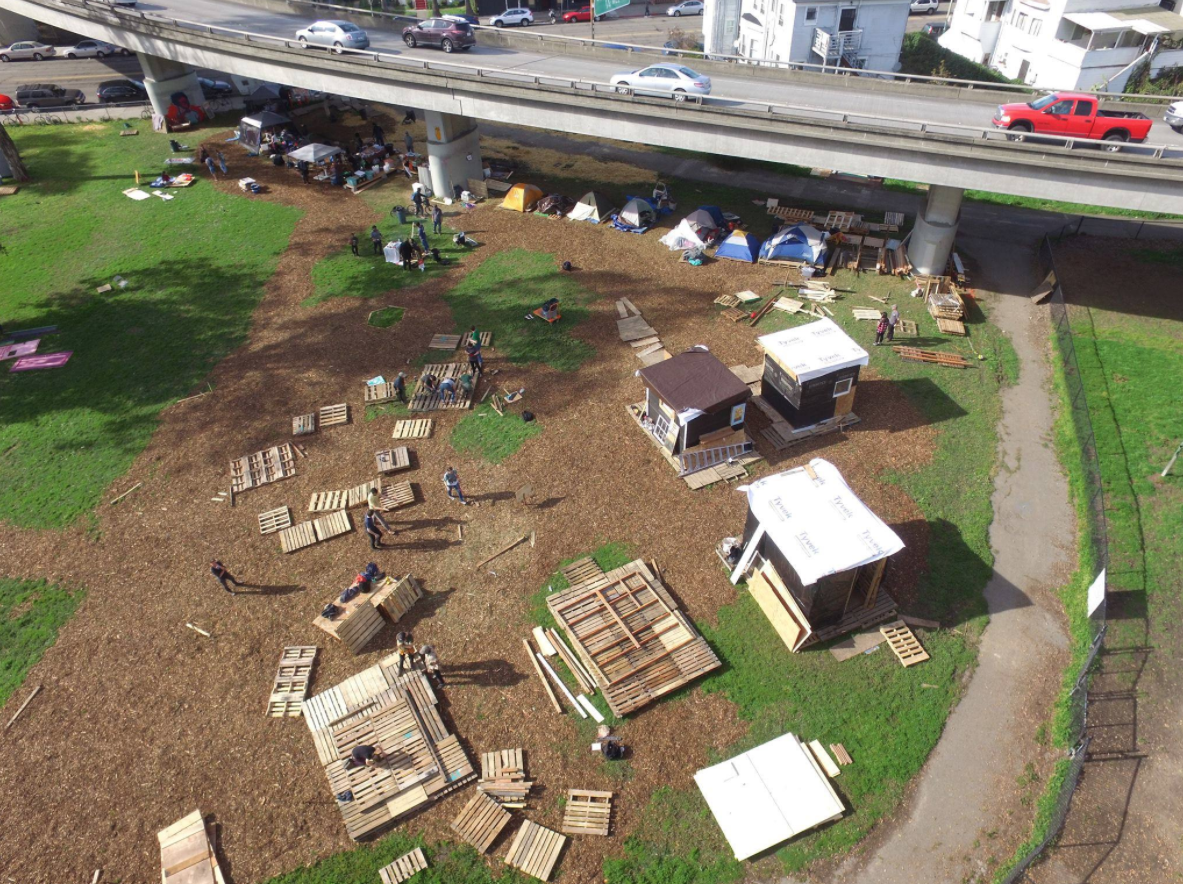 The Oakland City Council voted unanimously last night to move ahead with development of "safe haven" sites around the city where homeless residents can camp securely and access resources to seek housing, drug treatment, employment, and other services.
Similar to the Compassionate Communities pilot that was spearheaded by Councilmember Lynette Gibson McElhaney, the safe havens will include portable toilets, wash stations, and regular garbage pickup.
They could also include temporary structures such as Tuff sheds to allow Oakland's homeless residents to shelter themselves from the wind and rain.
Although many details still need to be worked out, the council directed city staffers to move ahead with developing a set of criteria that can be used to locate suitable sites. The city envisions contracting with nonprofits and other community groups to manage the havens, which could be located on public or private property.
The city was pressured to take action after the success of
The Village
, an un-permitted settlement that was built on the grounds of the Grove Shafter Park in early 2017. The Village was a drug-free space where residents lived in tents and small shed-like structures built from donated new and recycled materials. Residents set up a kitchen, shared health and wellness information, and maintained a garden, among other activities.
The city and police department
evicted The Village
in February, but afterward, its organizers pressured the city to allow them to reestablish similar autonomous camps and permit other sanctioned camps with services to be set up elsewhere.
Needa Bee, one of the organizers of The Village, said after last night's vote that her group will seek public land somewhere around the city to build tiny homes and revive their service model. She envisions multiple camps that serve different populations with different needs, including villages for elders, women, LGBTQ, and people struggling with addiction.
"We also have a model to house families with children and elders who have been recently displaced through gentrification," said Bee.
Others echoed Bee.
"It is time we start the gears and allow community-led organizations such as The Village to take care of our homeless population," said Candice Elder, director of the East Oakland Collective.
City staffers have already identified four possible sites to set up safe havens. They include:
34th Street and Mandela Parkway on an unused CalTrans parcel;
3831 Martin Luther King Jr. Way on a city-owned lot;
East 12th Street at 23rd Avenue on a large city-owned parcel where there is already a homeless encampment;
6th Street from Castro to Brush streets on private property that is surrounded by one of the city's largest homeless camps.

City staffers estimate that the cost of staffing and providing garbage, toilets, sanitation stations, and other services to these sanctioned camps will amount to about $551,330 per year.
Groups like The Village say they'll do it at no cost, using volunteer labor and materials. But other groups, like churches and nonprofits, will likely require funding.
Oakland's recently declared shelter crisis eases regulations and should allow for safe havens to be quickly set up by the city and community groups.
Some people expressed concern at last night's meeting that two of the four sites already identified by the city are in West Oakland, and that the four locations aren't geographically dispersed throughout the seven council districts.
"You should encourage homeless encampments in all you districts," said the Oakland Warehouse Coalition's Jonah Strauss.
The council directed city staffers last night to prepare a supplemental report for an upcoming Life Enrichment Committee meeting that will include possible locations for safe havens in each of the council districts.
Staffers say they will work on writing guidelines to identify suitable sites and to help community groups, nonprofits, and churches understand what they need to do to establish a sanctioned camp.
Oakland Mayor Libby Schaaf supports the council's action, saying in a statement issued yesterday that it "allows us to move people off sidewalks and into safety and services." She envisions sanctioned camps housing up to 40 people in Tuff shed structures, with showers, toilets, and services available to them.
"This is the 'right now' part of the plan," said Schaaf. "It's an innovative approach to the immediate crisis. The long-term plan is to get more affordable housing onto the market ASAP."
[embed-1]