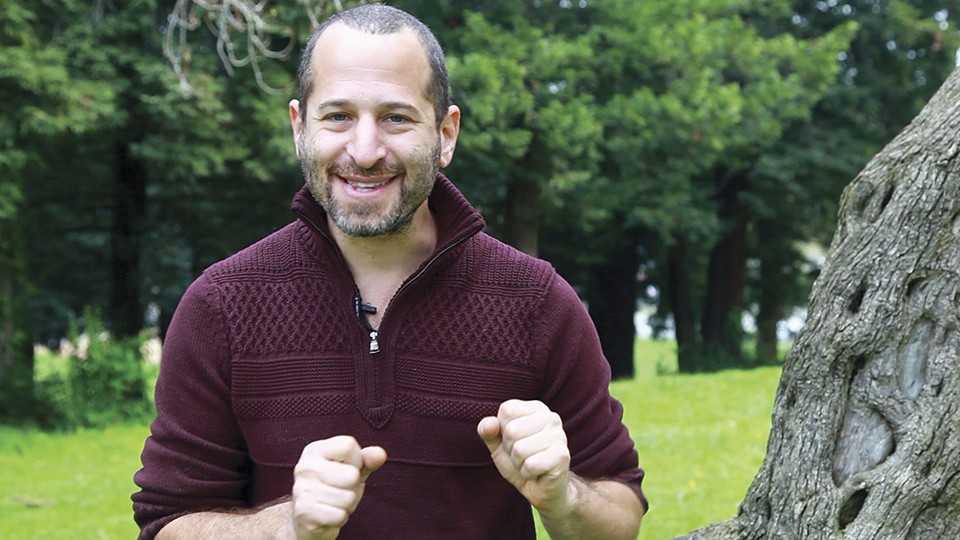 Nearly two years before Interchange Counseling Institute founder Steve Bearman was sued by 18 former students and employees, including six women accusing him of sexual assault, a concerned mother of a former student filed a complaint with the California Board of Psychology. The mother said Bearman's controversial treatment, which she said included seducing her daughter and forcing her into "a naked group encounter," had caused her daughter to have a psychological breakdown. She later told the board that Bearman was having sex with students.
But the board took little action, focusing only on Bearman's misuse of the word "psychologist" and other terms in his advertising materials and conducting little investigation regarding the substance of the complaint, according to records obtained by the Express. The board determined that Bearman was "in compliance with the laws and regulation relating to the practice of psychology," and so he continued to operate his school. It closed a little more than a year later after a revolt by staff members who learned of the numerous sexual assault allegations against him.
The woman's daughter is now a plaintiff in the lawsuit against Bearman, according to attorney Catherine Adams with the Menekshe Law Firm in Campbell. Her mother agreed to share records of her interaction with the Board of Psychology with the Express on the condition that she and her daughter remain anonymous.
As the Express reported in an investigative report in December, Bearman had operated Interchange, an influential counseling school in San Francisco, since 2002. It grew rapidly starting in 2011, when Margo Brockman, a tech business development professional, joined as Bearman's business partner. At its peak, Interchange enrolled about 160 students annually, and was even attended by state-licensed therapists, though Bearman himself was never licensed to practice clinical psychology. In fact, his Ph.D. in psychology from UC Santa Cruz was for research only and did not qualify him to be a clinician.
Last summer, some students and staff members began telling peers that Bearman had sexually assaulted them, at times during therapy sessions or at parties at his Oakland home after he talked them into taking large doses of powerful psychedelic drugs (see "The 'Fulfiller of Nightmares,'" Dec. 13). Members of Bearman's leadership team — mostly volunteer staffers who helped run the school — confronted him in September, which led to Bearman shutting down the school and posting a long apology on Facebook. A 60-plus-page lawsuit against Bearman was filed in Alameda County Superior Court in December.
But the California Board of Psychology had been warned of misconduct by Bearman long before he was confronted by his staff. The board is tasked with "working to ensure that psychologists provide consumers appropriate and ethical psychological services" and preventing abuse of the power dynamic "inherent in any psychotherapeutic relationship," according to its website.
But the records obtained by the Express show that the board's investigative office is apparently overworked and ill-equipped to handle complaints about misconduct by unlicensed practitioners. In Bearman's case, it closed the file without addressing its substance after Bearman removed key words from his LinkedIn and Yelp pages.
The mother first reported Bearman to the Board of Psychology on Feb. 12, 2016. "This institute appears to be offering psychological counseling services without license," she wrote, providing a link to Interchange's website. "I am complaining because Steve Bearman lured my daughter who is a fragile individual into his care, seduced her, forced her into a naked group encounter, and as a result she has suffered an acute psychiatric breakdown in front of him."
She received a form reply from board enforcement technician Joana Castillo on Feb. 18, 2016 that appeared to have nothing to do with her complaint. "The Board is currently experiencing an extended processing time for complaints," Castillo wrote. "At this time, we will not respond to requests for processing checks, as this delays the processing time further."
Enforcement analyst Crystal Martinez then sent the mother a letter on Feb. 25, stating that she needed further information before proceeding. Martinez asked how the woman's daughter became aware of Bearman's services, what kind of services she received, and the frequency of therapeutic sessions. She said that if she did not receive the information and documentation by March 10, the board would automatically close the case.
The mother replied on March 10, explaining that her daughter had received word-of-mouth recommendations about Interchange and had visited its website. She explained that Interchange was a year-long program, meeting monthly for several days at a time.
The mother explained some of the psychological challenges her daughter had been going through and some of her therapeutic history. "Yet he talked her out of money she might have spent on housing," the mother wrote. "He tipped her over the edge again. Her ability to make good decisions on her own behalf is not intact, and he is fully aware of that. He has preyed on her, with an awareness of her victimology, a special awareness as a therapist."
Martinez sent a cease and desist letter to Bearman on March 28, stating that he was misrepresenting himself as a psychologist without a state license. It warned him to remove language from his advertising materials that asserted he worked in "psychology," "mental health," or as a "therapist." Under state law, there are no restrictions preventing Bearman from calling himself a "counselor" or "coach."
It took more than a month for Martinez to respond to the mother. In an email on April 13, she apologized for the delay and said the previous communication had been sent to her "junk e-mail."
At that point, Martinez said that to proceed, the mother would need to provide written correspondence or documentation reflecting the services rendered by Bearman, such as receipts, checks, appointment cards, and documented evidence of Bearman misrepresenting himself as a psychologist, such as letterhead, business cards, or brochures. She also said that the participation of her daughter would be necessary. Despite her long delay in replying, she said that the board would close the case unless she received the documentation by April 27.
The mother responded four days later on April 17, providing a link to Bearman's LinkedIn page, where he described himself as a counseling psychologist. She said she could not guarantee her daughter's cooperation, because she had returned to Bearman's Interchange sessions. She recommended that the board contact her daughter and provided her phone number.
She said she had doubts that her daughter would mail any documents to the board, because she did not keep careful records. "If you have true interest in putting an end to the damage being done by this man who pretends to know how to 'fix' people and lead them into healthy relationships, you will need to pay her a visit and wait while she sorts through her papers to find what you need," she wrote.
Martinez sent a follow-up letter to Bearman on April 20, pointing out that some of the prohibited words remained on his LinkedIn page. She wrote back to the mother on May 2, stating that "the Board has determined that Dr. Bearman is now in compliance with the laws and regulation relating to the practice of psychology."
The mother wrote back the next day. "I am wondering how becoming compliant now resolves the matter of his sexual involvement with patients and use of techniques in open counseling sessions that throw unbalanced clients into psychotic states," she wrote. "I am wondering how his naked sessions where patients are shamed and humiliated in front of their peers falls into compliance."
Martinez responded: "The Board sent Dr. Bearman a cease and desist order for him to change his advertising online to take down the word 'psychologist' and advertise 'mental health care.' As far as being able to further act on the treatment your daughter has received from Dr. Bearman, there is insufficient evidence to establish a violation of the Laws and Regulations Relating to the Practice of Psychology with regard to Dr. Bearman's conduct in this matter."
Bearman continued operating Interchange for over a year after that, until he was forced to close the school in September, just before the 2017-18 session. During that time, four women said he sexually assaulted them.
The Express obtained a copy of the Board of Psychology's cease and desist letter to Bearman in October and asked the board for comment. Enforcement manager Sandra Monterrubio said in an interview at the time that she was prohibited from discussing the details of the complaint but can disclose any actions the board takes.
Had Bearman pursued the proper licensing for his practice, the board could revoke his license or take other disciplinary steps. The board has limited authority against non-licensees but can work with local authorities if confronted with particularly serious allegations. If the board received a complaint about sexual misconduct by a non-licensee, "we would refer that caller immediately to their local authorities to file a report," Monterrubio said.
She confirmed then that in Bearman's case, there was no referral to any law enforcement agency. Monterrubio did not respond to a request for comment on the newly obtained documents.
The Oakland Police Department opened a criminal investigation into Bearman before the lawsuit was filed last year, but so far he has not been charged. The suit is still pending. Bearman's attorneys have argued that some of the allegations against him are invalid, in some cases because the statute of limitations has run out. They are seeking to have Alameda County Judge Michael Markman dismiss the allegations at a hearing on April 17.